Danny, 24, was born in California, but was raised in Phoenix, Arizona. He completed the RSI Electro-Mechanical Technologies (EMT) program in March 2019, and walked the stage at graduation in April.
Thanks for your time, Danny. What did you do after high school?
I went straight to community college. I was a football player and played for Glendale Community College until I got into a bad accident. After that, I gave up school and just started working. I worked fast food jobs, call center jobs, all types of jobs, for two or three years while living with my mother.
Get Started on the Path to a New Career
Fill out our form to learn how we can help you change your life.
Why did you decide to go back to school?
I'd wanted to go back to school since I left college a few years before. I always knew I wanted to keep learning. One day I sat down with my significant other Tanay; she pretty much told me that I needed to do something with my life, get a career so I could progress. So I got to thinking, what do people need?
How did you decide on RSI and an HVAC career?
I have a friend who had told me about RSI and the EMT program, and living in town I'd seen billboards for the school. So I thought about what Tanay had said, what my friend had said, and I came to the realization that I live in Arizona where everybody needs air conditioning. So I called up my friend and said let's go check out RSI and see what it's all about.
Did you and your friend enroll together?
That was the plan. The idea was for us to start a business together and start making some money. Because I'd been to community college, I already knew about Financial Aid, so mine was done within a day. But my friend's application had a few complications, which he never took care of. I got started in late June without him. He was going to follow me but just never got to it. So I really started to get into the program, meeting classmates, making friends. There were people in my class with more experience who knew what they were doing. They helped me and that made it a little easier for me.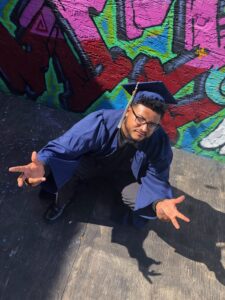 Did you have any HVAC or electrical experience?
When I started this, I didn't know a thing about HVAC! But my mom raised me not to be a quitter, to strive at everything I do, and finish, so that's what I did and here we are today.
No HVAC experience, but were you handy? Could you turn a wrench?
I was. My uncle, who fought in the Vietnam war, was a handyman when I was growing up, kind of a Bob the Builder guy! So I helped him add rooms to my grandmother's and my great-grandmother's houses. He used to have me help him around the houses and I was familiar with swamp coolers. Plus, as a kid, I used to play around with electrical, like twisting speaker wires together. How can I get six speakers on one stereo? So I knew a little bit.
What was your favorite part of attending RSI?
I would say the hands-on work and actually being able to interact with people who had been in the field, gaining knowledge from them. I used to go to Circle K and wonder, "how do they make ice?" I eventually started learning about chillers later in the program, and that was a pretty good time. I had friends who helped me out, and the instructors were pretty great. But the hands-on was the fun part.
You graduated a month ago. Where are you working?
I work for a private company called Armer Air. I'm his first hire. They are based in Ahwatukee where I stay, and 95% of our work is here. Matt is the most honest person I've run into in this industry. He looks out for his customers, and builds relationships with them. I told him, "This is perfect. I feel like God sent me towards you."
Congratulations – how did you get the job?
I was working for Honeywell as a commercial package handler at the time; that was the job I had through school. I was applying to all kinds of HVAC jobs on Indeed.com. Then a friend told me about Ahwatukee 411, a Facebook group. So I posted that I had just graduated from RSI, and I was trying to get into the field. I had all these people message me, but I called Armer Air back and it just seemed to fit.
So what are you doing for them? Commercial, residential?
It varies. When I first started, we replaced a compressor on a commercial A/C unit, but we do mostly residential maintenance. Today I was doing commercial swamp coolers.
When did you start?
It was about two or three weeks ago, right after graduation.
Are you working with the boss every day, or does he leave you to it yet?
It depends on the job. Today he left me by myself to do the swamp coolers; I had to replace bearings, a motor and some belts. Hopefully, in two to three months, I'll be getting my own van.
Are you happy with the money?
They offered me more than what anyone else offered to start with. But I won't really know how happy I am until I get my first full check. My priority is to pay bills, but I do plan on repairing my vehicle and taking my girlfriend on a trip. If it wasn't for Tanay, I wouldn't be where I am today.
Where do you see your career taking you ultimately?
It's always been my goal to own my own business. I plan on going back to school within a couple of years to finish my associate's degree in business. I want to start building my empire!
What do you enjoy most about your new trade?
The fact that I have something to fall back on. That I can tell my friends I have a career now, not just a job. I have a career that I can progress in, and I can be my own boss one day.
Did you make some connections at RSI?
I'm in a group chat with a few friends from school. Even though we may not talk all the time, every couple of weeks I message everybody and stay in touch. You never know when you're going to need each other—maybe questions while out on a job, or new opportunities that come up.
What advice do you have for new students just starting out at RSI?
Pay very close attention to what you are learning and don't ever give up. It may get hard, but it's only the beginning. Attendance is important. I'll be honest, my attendance wasn't perfect. It was hard; I was going to school in the morning and working full-time afternoons and nights. I was catching a bus, only getting three to four hours sleep. But if I overslept because I was sleep deprived, if I was going to be late, I always made sure I went to school. My attendance issue was tardiness, not absence. I had to work extra hard to pass the class at times. That's where my friends helped, by catching me up. The instructors were sympathetic to my situation and also tried to help me out, but missing school did make it harder.
If you're an RSI graduate and would like to share your success story and be an inspiration to others, please email [email protected] to be considered for a Graduate Connection interview. Please include details such as your graduation date (month/year), and program. 
This blog has been labeled as archived as it may no longer contain the most up-to-date data. For a list of all current blog posts, please visit our blog homepage at https://www.rsi.edu/blog/