Beau, 26, from Soldotna, Alaska, was an RSI welding program graduate himself in 2018. He is now a Welding Instructor at The Refrigeration School. Beau has been teaching at RSI for about six months.
Thanks for your time, Beau. What brought you from the cold of Alaska to the heat of Arizona?
I was born and raised in Alaska, but my mom had family here in Arizona. Her last real close relative was passing in 2008, so that's what brought us to Arizona. We just stayed here. I was about 12 at the time, so I went to high school here.
One temperature extreme to the other! How did you get started with welding?
I've been welding since I was 16 years old, about 10 years. I started out just fabricating in a garage, honestly. It was me and my buddy, not even really knowing what we were doing. But through that same friend, we got noticed by a race team and we started building race cars with them. I then joined the Army for a while, and when I came back, I decided welding was something I wanted to do more seriously. It wasn't just something I wanted to do in a garage.
Get Started on the Path to a New Career
Fill out our form to learn how we can help you change your life.
Thank you for your service. What happened after you came back from the Army?
I decided to go to welding school at RSI in 2018. I was in one of the first welding classes to graduate. During school and after, I worked in machine shops. I did all different types of fabrication until finally I got the job that I really wanted, which was doing shutdowns and turnarounds in oil refineries. I traveled with a company called JVIC. I traveled for about two and a half years before it slowed down. The pandemic and the politics around it played a huge role in slowing down and shutting down refineries. That had an impact on how many turnarounds were happening, and that had an impact on how many jobs were out there.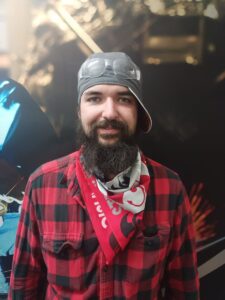 How did that job turn out?
I refer to that kind of work as "feast or famine." If you're not careful with your finances, it can get sketchy really quick. You have to plan well and handle your money. It is very lucrative when you're working, but if you get a long break between jobs, now you've got to have the money to get to your next job, you've got to feed your yourself, pay rent. You have to be sensible with all the money you're making.
When you were a kid, what did you want to be when you grew up?
I just wanted to be a guy who could fix things. The time I spent in Alaska as a kid, I saw what was valuable: a guy who was able to fix and repair things was valuable. We looked on that as a real man, someone who, if there's a problem, they can fix it, solve it, whatever it is. That's kind of who I wanted to be. I didn't have a job that I was really interested in growing up. I wanted to be a guy who could get it done!
So, the pandemic slow down brought you to teaching?
I have been considering teaching for a long time. In fact, there was a short time after I graduated, while I was waiting to go to work for JVIC, that I actually worked maintenance at RSI. During that time, I told everyone, all the way up to the campus president, that I wanted to be the Director of Training for the RSI welding program at some point. So, it's been something I've been interested in forever.
That's interesting. What do you enjoy most about teaching?
I get a lot out of teaching people. Whenever a student applies what I've shown them and I see them get better results than they got before, that gives me something—I don't know what to call it. I've had training positions over the years that made me realize I really enjoy teaching. Even while going to school here, just helping other students, teaching just interested me.
What's the best piece of advice you'd give to new students considering RSI?
I would say trust the process and don't give up on yourself. That's what I tell people who come here.
You're a young man with a lot of earning potential. Will you/can you stick with teaching?
I think it is something I can stick with because, long-term. I'm not planning on staying as just an instructor. So, the honest answer to that question is, "I don't know." I actually came here to work with Alex (Alex Declair – Director of Training – Welding) and my intentions are to grow. I told him I wanted to give it a year and see how it went, to see if it's something I was into or not. So, I'm really happy doing it. I love doing it. Is it forever for me? I just don't know.
Tell us something most people don't know about you?
I dropped out of high school when I was 15 years old. Here's another one: I was part of a land speed race team, a car with a top speed of over 458 miles an hour. We would race on the Bonneville Salt Flats in Utah.
Are you married, Beau? Have a family?
I'm in a relationship. My girlfriend and I live together. But no, I'm not married, no kids. Closest thing I've got is a dog!
What was your favorite tool in the field?
My grinder. In a perfect world, you don't need a grinder, but as a welder, everyone makes mistakes and without a grinder you're pretty crippled. So I would say my grinder. When your job is on the line, you really need that grinder.
You get an unexpected afternoon to yourself, what would you do with that time?
In a perfect world where I'm all caught up in my life, I'd get my girl and my dog and go on a hike; just try to enjoy the rest of the day. But right now, honestly, I'm still behind on things, so I'd go and work on my truck. There are so many things I want to fix on that.
What was your favorite part of your time in the field?
In terms of enjoyment, I'd have to say fabrication. There's something about starting with heat and stock metal and turning it into a product, an item, a part. Maybe that's just me because I love building things. I love seeing progress in my work. As a fabricator, you always see progress. It doesn't matter if you're grinding a metal part, machining a part, or welding metal parts together, it's all a step in the process. It's continuous progress forward and that's something that I really love seeing and get a lot of enjoyment out of.
And it's always something different, at least in the fab shops I've worked at. A shop I worked at in Washington we did literally everything. I built things that went into space for NASA and Boeing, and things that went down to the ocean floor for Washington State University. We did all different types of things. That kept everything interesting. I wasn't just going into a place and welding a piece of pipe and leaving.
That's surprising, as you said turnarounds/shutdowns was the job you wanted?
Well, to elaborate on that, I did always want that job. I'd even go back if they got busy and they didn't need me here at RSI. I had more fun fabricating! The realism of the income and everything about that makes me say, "Oh yeah, that was the job I wanted," but the other side of that work is that every weld has to be x-rayed. If I failed multiple welds, that could be my job. I could be fired. In fabrication, yeah, sometimes things get x-rayed, but it's much more relaxed, much more stress-free. Sometimes work is not all about the money.
If you were to tell someone "thank you" for making you the person you are today, who would it be?
Jose Figueroa. He was a neighbor when I first got here to Arizona and he taught me how to be a good man, how to be a good person. My father was kind of absent and Jose, just by being a good human, showed me what to be and how to treat people with respect by just being a good example. That's something that I value more than most things.
This blog has been labeled as archived as it may no longer contain the most up-to-date data. For a list of all current blog posts, please visit our blog homepage at https://www.rsi.edu/blog/