Bryan, 41, from Walnut Creek, CA, graduated from the nine-month Electro-Mechanical Technologies (EMT) program at RSI in March 2021.
Thanks for your time Bryan; tell us about your career before coming to RSI?
I previously worked in sales and education. I worked for Home Depot for many years selling to contractors and construction companies. After that I worked as a special needs teacher's assistant.
What was it that brought you to RSI at 40?
The pandemic! I worked with kids with special needs; because in-school learning was cancelled, my position group was the first to be laid off. That made me take a long, hard look at what I was going to do next.
Get Started on the Path to a New Career
Fill out our form to learn how we can help you change your life.
What made you look at the HVAC industry?
When the pandemic hit and after I lost my job, we moved from the Portland, Oregon, region to Phoenix with my wife's job in the mortgage industry. She was given the choice to move to Phoenix or face getting laid off. Having just lost my job, we decided to move down here even though it wasn't our ideal plan for our two boys. That was in May 2020. I was assessing things when I got here, seeing what a viable career might be, and obviously if you don't have air conditioning in Phoenix, Arizona, life is going to be very uncomfortable! I thought this career might present some good opportunities.
Did you have any experience in this field?
100% zero experience; this was a complete career change. Sure, during the summers as a teacher's assistant when school wasn't in session, I'd go help out contacts I still knew from my Home Depot days doing some basic construction work for them, but nothing in the electrical or refrigeration field.
What did you enjoy most about RSI?
The people I met there. RSI has just absolutely phenomenal instructors, but I also really liked the students and the friends I made there. Obviously, I gained a wealth of knowledge which I enjoyed, but probably the people I met was the highlight of my experience. I was sad when my time there ended because I enjoyed it so much. I legitimately looked forward to coming in every day and learning. Going to RSI was a great experience for me.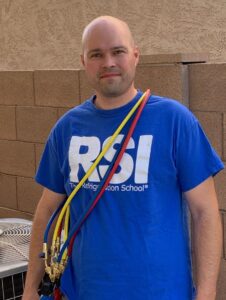 How did you find the program having "zero experience" as you put it?
RSI does a phenomenal job of getting you from zero knowledge of anything to do with electrical or HVAC systems, to slowly integrating you into it. Maybe the first couple of days were overwhelming, but after that they really baby stepped us into it. They do a really good job of taking their time…first crawling, then walking, then running with you. They do a good job of slowly building your knowledge base.
Did you ever have any moments where you thought, "What have I done?"
Maybe in the first week I did, but after that if you listen to what the instructors tell you and you follow their direction, it gets easier. The program is very carefully engineered for people like me who know nothing about the subject coming in. It purposely steps you slowly through everything. As long as you commit, do the work, and show up every day, which I did, it's designed for you to succeed.
You graduated three weeks ago, where are you working?
I work for a healthcare company called Sagewood, as one of their HVAC maintenance technicians. It's a huge retirement community in Scottsdale. The size of it is breathtaking. My primary responsibilities are making sure their heating/cooling systems, their kitchen systems – anything that freezes or refrigerates – are functioning, well maintained, and cleaned. But also, if a resident has a plumbing issue or anything else, I try to help them however I can. I'll do anything from changing a light bulb, to fixing a faulty HVAC unit, to helping a resident with their bags! 
How did you get the job?
The career services team at RSI did a wonderful job. Everything they promised, they delivered on. I worked with Jessica; she got me numerous interviews and calls; they did a great job. I met with the hiring manager at Sagewood who chose me for this position. I did have other opportunities at other places, but they were more mass hiring events. This felt like a good fit, rather than just being another 'body' in a crowd.
When did you start with Sagewood?
I started March 22nd, a week after I finished school. I had to wait a week for an orientation day, plus they are big on COVID protocols, so I had to get tested and vaccinated before I started.
Coming from previous careers in sales and education, talk to us about money.
This is definitely a step-up for me. Just two weeks into this career, this is the most money I've ever made. I'm grateful for where I am at right now. Besides the pay, I learn new things each day and I just want to keep progressing.
It's crazy that two weeks in, you're already making more than you did before.
I know, it's amazing what having a trade, a skill, does for you when you come from an unskilled background. My current schedule is Tuesday through Saturday, 8am to 4.30pm. I expect that during the busier summer season I'll have overtime opportunities too. 
What's your career plan from here?
School gives you a great foundation, in terms of a knowledge base, but once you get into the field it's obviously a lot different. So, I just want to get really good at what I'm doing right now. I'm a technician level II, but they go up to level IV. I just want to progress within that system and get really proficient and comfortable at what I'm doing. Maybe in three to five years, I'll assess where I'm at and see if I want to start my own company. I don't know, we'll see. I've not been here long, but Sagewood is a very welcoming, comfortable place, a good place to learn. This is definitely a place that affords you the opportunity to build a career, I don't view it as a steppingstone. With the growth opportunities, I also could see myself here long-term.
What do you enjoy most about this trade?
It's a really fun trade to work in; it's kind of like solving puzzles every day. I feel energized and excited because it's never the same thing every day with HVAC. There's always something different that will challenge you and make you really think; things that will frustrate and confuse you at the time, but after you realize that's how you grow and build your knowledge. I just feel excited about learning. There are so many new systems to learn as well; if you think you know it all in HVAC, you're in trouble.
Did you make some lasting connections at RSI? People you'll stay in touch with.
Oh yes, absolutely. Both students and instructors.
Are your classmates working?
If you go to RSI and graduate, if you want a job, they will get you a job. Every single one of my classmates, whether they got offers through RSI career services or arranged it themselves, got a job before school ended or had offers on the table.
What advice do you have for new students just starting out at RSI?
In order to be successful at RSI, you need to show up day in and day out and listen. If you listen, your instructors will tell you what you need to do because they all want you to succeed. I graduated RSI with a 4.0 GPA having come into the school not knowing a thing about any of it. I did that by doing what was expected of me, listening to my instructors, and putting in a considerable amount of extra work. But if you listen, buy-in, and follow the program, without a doubt you will be successful.
If you're an RSI graduate and would like to share your success story and be an inspiration to others, please email [email protected] to be considered for a Graduate Connection interview. Please include details such as your graduation date (month/year), and program. 
This blog has been labeled as archived as it may no longer contain the most up-to-date data. For a list of all current blog posts, please visit our blog homepage at https://www.rsi.edu/blog/