Greg, 47, was born and raised in the Phoenix/Mesa area. He is the HVAC technician supervisor for Servicon, contracted to Boeing. Greg graduated the Electro-Mechanical Technologies program in 2010.
Thanks for your time Greg. You came to RSI in your late 30s, was it a career change?
Definitely a career change. I'd been in the medical field for about 10 years. Everybody says "go into the medical field, there's always work." There was always work, but there wasn't always pay. I started off as a pharmacy technician, then went into medical billing; I was laid off three times in that field. Every time I was let go I had to start at the bottom of the totem pole with the next company. I was taking pay cuts like crazy and getting laid off. It wasn't a good situation with no real education to fall back on.
How long did you think about it before making the jump to RSI?
Less than two years. It was in my mind but it was a big decision to change careers in my late 30s.
Get Started on the Path to a New Career
Fill out our form to learn how we can help you change your life.
So why did you decide on HVAC?
It's one of those things you see a lot out here when you grow up in Arizona. Everyone says "we're always going to need air conditioning in the desert!" RSI was a school I'd heard of, and it seemed like a field where there would always be a need; a field where I could make good money and enjoy some stability.
Did you have any electrical skills?
Only what I'd learned through my dad; he was decent at that stuff. He was a bit of a jack-of-all-trades. He built additions to our house and rewired it himself; I always thought it was kind of interesting. I picked a few things up from him through my childhood, just to be able to do a few things on my own.
How was it being 20 years older than some of your classmates?
It came up a few times with some of the younger guys in the group teasing, but it was all in good fun. It was never really a difficult thing for me to get used to. I never felt an age separation in class; there was never anything that had me thinking I'm too old to be doing this. I like taking on new challenges and learning stuff that I'm interested in, so I had no concerns about going back to school.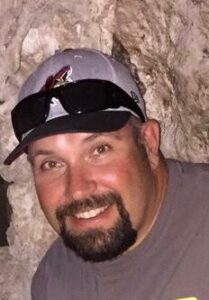 What was your favorite part of the RSI program and why?
I really enjoyed getting into the nuts and bolts of it…literally just getting into the machines. That's when I felt like I was really learning something, when I was working with my hands.
Talk to us about getting your first job?
Career Services were very helpful; they supplied plenty of leads. I'm not saying it was easy, it was a pain. I graduated in the middle of summer and found that a lot of companies were set already. It wasn't easy getting hired as a rookie, but you have to take what you can get. I started out with a company that did new construction, remodels, and a lot of demos. So I started out demolishing stuff; I remember they stuck me on the roof of a Walgreen's!
So patience and perseverance are important?
For sure. It was a challenge to get your foot in the door; you have to stay on top of it and contact everybody. I think I sent out around 200 applications, a whole bunch. But if you stick with and are prepared to go the extra mile and get out there, you'll make it happen. Do all the things the school tells you about applying for a job – show up to places, show your face, don't just send a résumé electronically and think people are going to call you back because that's not going to happen.
So how long have you been with Servicon and Boeing?
This is my seventh year with Servicon, but my first year here was in their flooring department. So it's been five/six years as an HVAC guy. I actually picked this up as a side job; I didn't know they had HVAC workers here! A friend of mine got me in; I was close to quitting when the call came for a position as an A/C tech in the maintenance department. I got lucky; I've been contracted to Boeing the entire time.
As a HVAC supervisor now, how many people do you have working for you?
If we were fully staffed there would be six to nine people. I actually just went back to RSI and hired a young man who graduated from the EMT program in March this year.
What kind of machines do you work on for Boeing?
It's a variety of work which I love. We have 11 buildings on this campus; it's over two million square feet of work space. We have regular package units, split units, mini-split units, we have low-temp freezers up -80f below, we also have counter-top ice machines, walk-in coolers, walk-in freezers, we have raised-floor cooling systems for the data center units, as well as great big air handlers. I'm looking at an outdoor freezer, wondering why we have outdoor freezers in AZ? It's one of the craziest things in the world!
What do you enjoy most about your new trade?
Solving problems. There's nothing that feels better than figuring something out and getting a problem solved. That's the best! You can sit there and brag about it a bit while everybody is reveling the cool air!
Moving from the medical field you were looking for better pay and stability; have you found it?
Definitely yes. It has worked out a lot better. From my experience there is always work, and I moved around a few times before I came here. When I moved jobs the starting pay was a good 25% more than the pay I was getting when I moved jobs in the medical field, and I was new to the industry too. I didn't take a hit every time I switched jobs like I did in the medical field.
What's your career plan from here?
There's a possibility that I could jump on at Boeing at some point. There are project management positions here. It would be nice to be running HVAC projects instead of turning the wrenches because you do get a little beat up. It can be a harsh environment, constantly on your knees, lots of lifting – although Boeing does a lot of things to help employees stay ergonomically correct…like two man lift rules.
Do you still have connections with guys at RSI?
A couple of guys, in fact I just talked with one guy last night. Ben is up in Colorado now, he went into the solar field when he graduated. He's still doing electrical stuff up in Colorado. There's another guy Chris who took his first job in Death Valley of all places!
What advice would you give to new students just starting out at RSI?
You're going to get out of it what you put into it! Sure you can just do the minimum – sit there read books, take tests, pass them, and get a grade. But if you actually get in there, study the materials, ask questions, take the hands-on time seriously and really get your hands dirty it will be so much more beneficial. Don't goof off and just go for a passing grade, as you won't be employable when you get out; that's assuming you make it through the program. You can tell the guys who want it more; they will be the ones who will make it in the field and get the jobs everybody wants.
If you're an RSI graduate and would like to share your success story and be an inspiration to others, please email [email protected] to be considered for a Graduate Connection interview. Please include details such as your graduation date (month/year), and program.
This blog has been labeled as archived as it may no longer contain the most up-to-date data. For a list of all current blog posts, please visit our blog homepage at https://www.rsi.edu/blog/