Looking for a career with a lot of potential?
The sky's the limit for solar photovoltaic installers. It's the fastest growing occupation on the Bureau of Labor Statistics' list, with an astounding 105 percent job growth expected through 2026.[1]
What exactly do these tradespeople do? And just where are all of the jobs for them? We have some answers.
What Does a Solar Photovoltaic Installer Do?
Solar photovoltaic (PV) systems are a welcome technology at a time when concerns about global warming and environmental problems are high. Solar panels are the part of PV systems that absorb sunlight and convert it into electricity.
It's the job of PV installers to assemble and install these systems on the rooftops of homes and businesses, as well as other structures. They may also return to worksites to perform routine maintenance. Here's a closer look at their job duties.
Get Started on the Path to a New Career
Fill out our form to learn how we can help you change your life.
Solar PV Installer Job Duties
Customize the configurations of PV systems to the conditions of the worksite and to customers' specific needs.
Measure and cut materials for the solar panel support structures.
Construct support structures for solar panels.
Comply with building standards and codes when installing PV systems.
Hook up PV systems to the electrical grid.
Turn on and test PV systems.
Perform routine maintenance on PV systems.[2]
Learn more about what else do PV installers do.
Where Can Solar Photovoltaic Installers Find Work?
The solar PV installation and maintenance industry is booming. Which industries and locations can the most PV installer jobs be found?
Top Industries for PV Installers
HVAC and plumbing contractors: 43 percent
Wiring and electrical contractors: 20 percent
Independent contractors: 20 percent
Utilities: 1 percent[3]
Top States for PV Installers
California: 3,900 jobs
New York: 830 jobs
New Jersey: 750 jobs
Florida: 630 jobs
North Carolina: 500 jobs
Find out more about the job opportunities in the solar industry in California.
Top Metropolitan Areas for PV Installers
White Plains-New York-Jersey City, New York-New Jersey: 620 jobs
Berkeley-Oakland-Hayward, California: 540 jobs
San Bernardino-Riverside-Ontario, California: 230 jobs
Newton-Boston-Cambridge, Massachusetts: 190 jobs
San Rafael, California: 120 jobs[4]
How to Become a Solar Photovoltaic Installer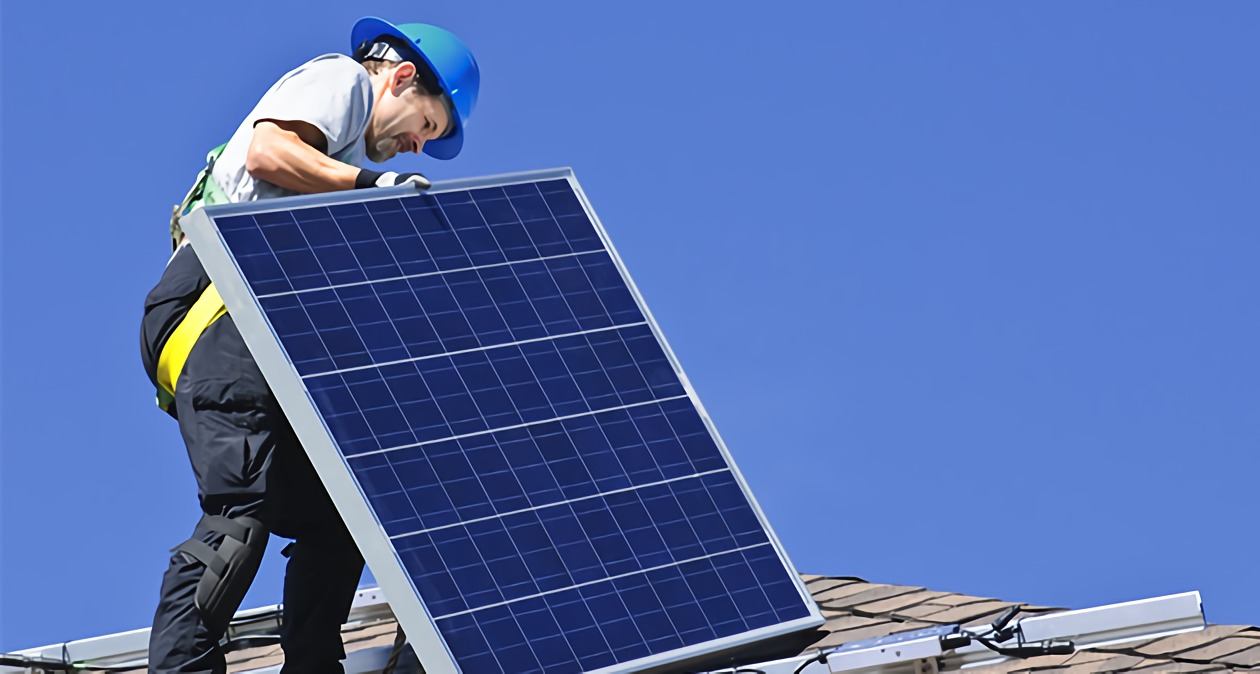 Does a career installing and maintaining PV systems sound good to you? Wondering where to sign up?
The process for becoming a solar installation technician can vary.
Step 1: High School Diploma or GED
The first step for most individuals is to complete high school or pass the GED test. This is a good idea on its own. Employers prefer to hire applicants with a high school diploma or equivalent over those without these credentials. Plus, you'll usually need one or the other to get into trade school or college.[5]
Step 2: Solar PV Installer Training
You have two options when it comes to learning the PV installation trade.
The first is to receive on-the-job training for up to one year. The second is to study electro-mechanical technologies or similar solar installation courses at a trade school. Programs can be completed in just nine months.
If you're looking for the route with the greatest job opportunities, completing formal training courses at a technical school is the way to go, according to the Bureau of Labor Statistics (BLS).[6]
Step 3: Solar PV Installer Certification
Earning solar PV installer certifications and licenses can show potential employers your skills and knowledge are up to industry standards. Two agencies that grant certifications are the North American Board of Certified Energy Practitioners (NABCEP) and the Solar Rating Certification Corporation (SRCC).
Many states, including solar powerhouse California, require certifications. Read Solar Certification and Licensing Requirements by State to learn which ones.
Start Your Green Career
PV installers help promote the use of renewable energy, making their line of work a green career. These professionals not only enjoy great job security, but also the satisfaction of doing their part for the environment.
Learn more about how to get  clean energy and other vocational jobs.
[1] https://www.bls.gov/ooh/fastest-growing.htm
[2] https://www.bls.gov/ooh/construction-and-extraction/solar-photovoltaic-installers.htm#tab-2
[3] https://www.bls.gov/ooh/construction-and-extraction/solar-photovoltaic-installers.htm#tab-3
[4] https://www.bls.gov/oes/current/oes472231.htm#(1)
[5] https://classroom.synonym.com/eight-school-diploma-important-future-7958985.html
[6] https://www.bls.gov/ooh/construction-and-extraction/solar-photovoltaic-installers.htm#tab-1
This blog has been labeled as archived as it may no longer contain the most up-to-date data. For a list of all current blog posts, please visit our blog homepage at https://www.rsi.edu/blog/