Alex, 26, from Phoenix, AZ, is a welding instructor at the The Refrigeration School (RSI) in Phoenix. Alex, a graduate of Tulsa Welding School (TWS)—the largest welding school in the nation—teaches the new Welding Specialist program at RSI. Alex was interviewed back in 2015 for TWS's Graduate Connection interview series, and you can read more of his back-story here.
Thanks for your time, Alex. Tell us about this new welding program at RSI.
It's basically a Tulsa Welding School program here in Phoenix. It's the same curriculum I went through in Tulsa in 2013. It's 75% hands-on instruction with only one day a week in the classroom.
So when did you join RSI?
It's been about three months now. The welding program started in January this year, and I came on about a month after that. This is my first teaching job, and I love it. I teach the class from day one through the entire seven months. I really get to see their progress.
Get Started on the Path to a New Career
Fill out our form to learn how we can help you change your life.
When TWS spoke with you in 2015, you were welding at a refinery, weren't you?
Yes, I was with JV Industrial for over three years, actually. I worked mostly in Texas, Oklahoma and Northern California. I was pipe welding at refineries, power plants and chemical plants. I was on the road with JV for about three years in total, I guess, making a lot of money. Then I came back to Phoenix and worked at a dairy plant here for about a year.
So why did you give up the JV job and come back to AZ?
There are tradeoffs for making that kind of money. I could do anything and buy anything, but my girlfriend and I started getting more serious. I got to a point where I wanted more stability and to build a life.
Why did you decide to go into teaching?
I've tried for a while to get the younger generation, my generation, to move toward the trades because I know firsthand how a trade like welding can change your life. I started at the bottom, going to welding school with no experience. Within a couple of years I was making six figures, moving around the country, doing whatever I wanted to do.
I didn't think there was a better way to get that message out than to teach. That was my goal. I wanted to show younger people that this is a field that has outrageous opportunities for them. I really wanted to connect with them and to tell them that I started where they are, but I put in the hard work, I grinded for years, and I made it essentially to the top. I thought it was a good story for students.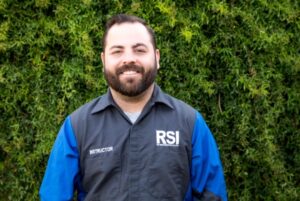 Why did you choose RSI?
I applied to some schools around town, but they weren't really what I was looking for. They didn't have the same set-up as Tulsa. Then I saw an RSI billboard for their new welding program. I remembered that RSI and TWS are sister schools, so I went online and applied. I even went down to the campus to talk with someone. They were in the transition period, trying to get the program set up last year, so it took a little while, but they reached out to me.
What do you enjoy most about teaching?
I like the challenge, but it's really about helping students and seeing them grow and progress. It's really fun. I've already had a couple get welding jobs only two or three months into the program. Having the students come into school, all excited, making money they've never made before while they're only a couple months into the program—it's awesome.
What have you learned about teaching in these last few months?
I underestimated what it would be like to have 20 students with their own ways of doing things. I've learned how to work with 20 different personalities and techniques. I've learned to be more open-minded and accept that everyone is going to do everything a little differently. It's not a math book where there's only one way of doing something.
Tell me something that most people don't know about you.
I'm kind of a vintage guy. I like old cameras, typewriters and records. I'm an old soul in that sense.
If you weren't a teacher and you could pick your job, what would you do?
I've always wanted to own my own business, but I'm not sure what. I think I'd travel; I'd like to experience new places and get paid for it somehow.
If you could have dinner with anyone, alive or dead, who would it be?
There's a Pastor in North Carolina called Steven Furtick. It just gives me chills, thinking about having dinner with him. I've never met the guy, but I've listened to his podcasts and his sermons online. I almost gave up on welding years ago because I wasn't doing very well at the start. But I listened to one of his messages, and it just turned everything around. He's a great speaker and a great motivator.
What's the best piece of advice you'd give to new students who are just starting?
Put in extra time and practice. Eventually, you're going to get there. They say practice makes perfect, and it couldn't be any truer when it comes to welding. That's pretty much what I did.
What's your favorite tool? What could you not do without?
I'm going to say my gold welding lens that sits in my welding helmet. It's kind of an old-school technique. The new technology has an auto-darkening lens that turns on and off as you're welding, so you can see what you're doing, but when you start welding, it turns black. Mine is just a dark piece of glass. There's no battery or solar. It's just a fixed shade lens.
Thinking of your time in the field, what was your favorite part of the job?
Firstly the travel. I found places I'd like to move to one day. Secondly, the people. I was working 84 hours a week, 12 hours a day, 7 days a week, with these guys, and I got close. I probably miss the people most.
You get an unexpected afternoon to yourself. What would you do with that time?
I'd probably go fishing and hang out at the lake. We were up on the lake a couple of weeks ago, and I was straight off the water on Craigslist looking at very inexpensive boats.
If you were to tell someone "Thank you" for making you who you are today, who would it be and why?
Definitely my parents, Joe and Bethann. I'd say more my mom than anything. She always encouraged me and never shot me down, even if I had a crazy idea. She believes in me the most, I'd say.
This blog has been labeled as archived as it may no longer contain the most up-to-date data. For a list of all current blog posts, please visit our blog homepage at https://www.rsi.edu/blog/