Todd, 53, an RSI graduate, is an instructor at The Refrigeration School. He currently teaches Phase 7 (Comfort Systems Commercial) and is training to teach Phase 8 (Advanced Troubleshooting) in the Refrigeration Technologies program. Born in Philadelphia, Todd moved to Phoenix in 1981 as a teenager. He joined RSI about 8 months ago and has 31 years of experience in the field.
Thanks for your time, Todd. Tell us how you got started.
My journey started here as a student. I graduated the Refrigeration Technologies program here at RSI in 1988. I've gone full circle. Coming to RSI back then literally changed the entire course of my life.
What made you enroll in RSI?
I was 21 or 22, a young father, and trying to figure out what to do with my life. I wanted to be a chef, but it wasn't paying the bills. I needed to find something to take care of my family. An older guy I worked with at a restaurant asked me what I was good at. I told him I was mechanically inclined, fascinated with electricity and how everything worked. I took things apart and put them back together, and I'd worked on cars since I was eight years old. He told me I should check out RSI, so I did. Later that day, I was in night class! I came home late and told my wife, "I guess I'm going to air conditioning and refrigeration school now!"
Get Started on the Path to a New Career
Fill out our form to learn how we can help you change your life.
Wow, that's cool. So, how did your career progress?
I got my first job working for an AC company as a driver/helper/maintenance guy while still in Phase 2 at school. After graduation, I went into facilities maintenance, which many of our guys do. That was great because I got to learn everything about building maintenance: plumbing, low-voltage electrical and drywall repairs. I spent the next five years going back and forth between working apartment maintenance jobs and being an AC service tech in the summer. I got to dive into commercial and residential air conditioning.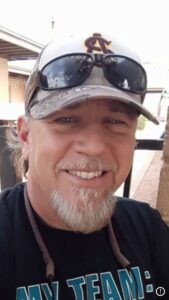 Did you have a career plan?
I was driven and wanted to advance. I took whatever jobs came my way, building my experience in the field. I was paying my dues, but it was really good because it exposed me to other aspects of the trade. I started getting promoted to supervisory positions, like lead service tech. After about 10 years in the field, having helped grow a division for an AC company in Phoenix, I realized I could do this on my own.
You went self-employed?
Yes, I got my contractor's license and have spent the last 20 years running my own business. I still operate it today. I teach from 2 p.m. to 10 p.m. and run my business during the mornings. My company is in cruise control. I have an established customer base. I keep it manageable, and that works for me at this point.
Why did you decide to become an instructor last year?
Some years ago, when I was training guys in my company, I knew a university educator who told me I should be an instructor. That sowed the seed. I live for this now, passing knowledge on to the next generation. I get to give back. I like hearing from guys who say, "Todd, you changed my life." I've had many of those stories now. I hear stories from guys who I trained on the job in my company, guys who are now making good money because of the opportunity I gave them years ago.
What do you enjoy most about teaching?
Those stories are what pump me up. I get to share my own stories, share things I would avoid, and help them navigate the trade better than I did. I love inspiring people with my experiences, making them think about all the opportunities. I live for it.
Tell us something most people don't know about you?
I'm a car guy. I love collecting classic cars. I'm into early import Japanese cars right now. But most people won't know that I have a deep passion for history. I love reading books on everything history.
What did you want to be when you were young?
I thought I wanted to be an auto-mechanic for a while. I loved working on cars. But then a passion for the culinary world developed when I was about 16, which is why I thought I wanted to be a chef.
If you weren't a teacher what would you be?
I'm a frustrated artist. I've been a lead singer in a band, and a wannabe musician all my life. Music and art are a huge part of life. If I won the lottery tomorrow, I'd be an artist!
If you could have dinner with anyone, alive or dead, who would it be?
I'm a massive history buff! There's too many throughout history. That's a tough question!
Tell us about your family.
I'm married. It's my second marriage. We're kind of a Brady Bunch family. We have eight children between us. I had four, she had three, and together we have one! Only one is still home, and he has a foot out the door. I have two sons, one 18 and one 25, who are about 99% sure that they will go to RSI. Maybe, in time, they'll take on the family business and move it to the next level.
What's the best piece of advice you'd give to new students considering RSI?
Throughout life we're going to have self-doubt about decisions we make. But try not to doubt the journey. I've seen guys and girls ready to quit because they have distractions, things going on in their lives. But let me tell you that everyone, every single person in adult education, has something going on. Whether it's kids, marriage, three jobs—some kind of drama or distraction. But stick with it.
I've taken this journey. I was a young father, working full-time, going to RSI at night. It was hard. But no matter what, you want to walk out of here saying, "I did it!" Don't give up. This field has provided for my family for over 30 years. This school, this trade, can open up more doors than you can possibly imagine, whether you stay in the field or not.
What do you mean by that?
Let's say you think you're going to be a tech, but you discover you're really great with people. Because of that skill, you end up going into air conditioning sales, but then someone offers you a job as a car salesman. Maybe you end up being the best car salesman ever. Stick with your plan. It will reward you in the end, if you put the work in. You'll get out what you put in. You never know where this will take you.
What was your favorite tool in the field?
I don't really have a favorite. Tools are very important to me, and I believe in high-quality, well-maintained and calibrated equipment because that makes me a better technician.
What was your favorite part of your time in the field?
My favorite part was meeting interesting people from all walks of life, and really absorbing who they are. That's what kept me going during the hard work. I'm fascinated with peoples' journeys.
You get an unexpected day to yourself, what would you do with that time?
I've just bought a boat, so I plan on hitting the water. I'm not a big fisherman, but I'll drop a line in the water and relax. The other thing is I'm a people watcher. I like funky, interesting people so I might sit in a vegan café. I just became a vegetarian in the last few weeks.
If you were to tell someone "thank you" for making you the man you are today, who would it be?
I don't have a name because it's so long ago, but I always wanted to thank that guy at work who suggested I check out RSI in 1987. He was probably 65 years old, so I'm guessing he's passed away 33 years later, but I always wanted to thank him.
This blog has been labeled as archived as it may no longer contain the most up-to-date data. For a list of all current blog posts, please visit our blog homepage at https://www.rsi.edu/blog/