David, born in Mesa, AZ, graduated from the six-month Refrigeration Technologies program in January 2019, just days before his 20th birthday.
Thanks for sharing your story, David. What did you do after high school, before you came to RSI?
I attended community college for a short stint. I tried it out but realized it wasn't really my thing at that point in time. I needed to mature a bit. I was given this opportunity to come to RSI and I took it.
What were you studying at college?
Electrical engineering.
Get Started on the Path to a New Career
Fill out our form to learn how we can help you change your life.
What is about the electrical field that interested you?
It was something that I didn't completely understand. I enjoyed electronics and robotics in high school, but I didn't understand what was going on behind the scenes. The idea of being able to control electricity, making it do what I wanted it to do, kind of fascinated me. I had a bunch of different career choices actually. I wanted to be a dentist for a while, then I wanted to get into psychology. But I'm happy with the path I decided on. It's less schooling and less debt than the other two!
What made you think you would be better suited to RSI than college at this point in your life?
My dad kind of pushed me this way, but I appreciate that he did. It was the right thing for me to do. My dad is a very handy man, so I picked up things from him here and there, but the field didn't really speak to me at first. It was only once I went to RSI that I really started to appreciate the hands-on aspects, and that's why I preferred RSI to community college.
What do you mean by that?
RSI is a lot more hands-on. It's like "we are doing this because of this, so go do it." This way of learning allows you to take book knowledge, which is important, and transfer it into physical knowledge that you need. That's what kept me engaged, I guess. At community college, we didn't really have that. It was just bookwork, whereas at RSI you can take the knowledge that you learn and bridge it over to something technical, hands-on, and engaging.
Did the instructors help make it engaging?
The instructors go through things in multiple ways. They provide their students with the same information in a lot of different ways, and I really appreciated that. People learn and pick things up differently.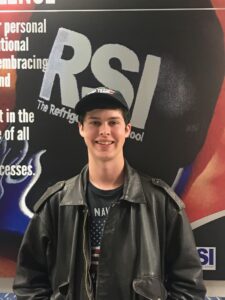 What was your favorite part of school?
The hands-on work, really. It's kind of a 50-50 mix. You do your bookwork and hands-on work in the same room, so that makes it an easy transition between finishing the bookwork and hitting the boards.
Why did the Refrigeration Technologies program appeal to you?
It was shorter than the Electro-Mechanical Technologies program! I could be in and out in six months. I kind of had a shaky academic record prior to RSI, so I wanted to prove to myself that this was something I could handle and see through.
You start work on Monday, just a few weeks after graduation. What will you be doing?
I'm starting with Retronix as a maintenance technician. I will be maintaining production equipment. I hope to get into facilities at some point because I don't want to lose my HVAC skills. It is nice stuff to know. So I'd like to find some balance and be able to do both, but we will see how it goes.
Congratulations. How did you get the job?
I actually spoke with a representative at a campus career fair that RSI arranged. A representative from Retronix attended. We talked through it all and hit it off. I called them again a couple of months later to follow up when I was closer to graduation. I had an interview, and they hired me on.
Are you excited to get your first pay check in a couple of weeks?
Oh, yes, I'm looking forward to it. It will be nice to have a source of income for once. This will really be my first job. I've done side-work with my dad before, but aside from that, nothing really consistent.
What plans do you have for your first few paychecks?
I have lived in Tolleson since first grade, but I'm going to be living with my grandparents as they live fairly close to where I'll be working. That's going to be an interesting shift for me! My first aim is securing transportation, then hopefully housing, and after that I think I'd like to go back to college and get my degree. I will get it while I'm working, either online or at night school.
So back to electrical engineering?
Yes. The electrical side of HVAC is what really spoke to me, being able to do electrical troubleshooting jobs. I think that's the side of it I enjoy, controls and all that. That's the field I'd like to enter.
Where do we see your career taking you ultimately?
Maybe hardware design, controls for HVAC, possibly? Designing circuit boards, switches, temperature sensors—that kind of jazz! I have to see where things go from here and plan accordingly.
What do you enjoy most about your new trade?
I'd say the problem-solving side of things—troubleshooting to figure out what's wrong with the machine and how can I make it better.
What advice do you have for new students just starting out at RSI?
Take it seriously, treat it like a job. You're paying to be there, so understand that fact. Attendance is a huge thing to pay attention to. It's the number one thing employers like to ask the career services folks at RSI: "How is their attendance?" Apparently attendance is an area employers have huge issues with. So be there, show some passion for what you're doing, be engaged, and make the most of your opportunity.
Did you discover your passion or go in with it?
I discovered it about two or three months in. It was all about getting used to the environment for me. It takes me a while to warm up to things. Once I had warmed up to the environment, figured out what was going on, I started to enjoy it a lot more.
If you're an RSI graduate and would like to share your success story and be an inspiration to others, please email [email protected] to be considered for a Graduate Connection interview. Please include details such as your graduation date (month/year), and program. 
This blog has been labeled as archived as it may no longer contain the most up-to-date data. For a list of all current blog posts, please visit our blog homepage at https://www.rsi.edu/blog/