Chris, 28, from Casa Grande, Arizona, graduated the nine-month Electro-Mechanical Technologies program at RSI in May 2022.
Thanks for sharing your story, Chris. What did you do after high school before you came to RSI?
I dropped out of high school because I was always in trouble. So, I went back at 18 and finished up three years. I graduated high school aged 21 in 2015. I've had a bunch of different types of food jobs. I worked at Little Caesars Pizza, Applebee's, a drive-through. But mostly I worked the pizza job for a very long time.
Well done for going back and finishing high school. What made you go to RSI last year?
A year after high school, I had my son. Before he was born and after, I was struggling really hard. I didn't know where I was going to stay and stuff. I was tired of switching jobs. With a son I decided that I needed a job, a skill, that I could have for the rest of my life, something nobody could take from me.
Get Started on the Path to a New Career
Fill out our form to learn how we can help you change your life.
Where did the idea of HVAC come from?
I've been in Arizona my whole life. I know how hot it gets here, and how much work the A/C systems need to keep working. I knew there are companies that would hire me because they always need people. Another push was that my son, just before he turned five, said that one day he wanted to work with me! I showed him YouTube videos of what I was going to be doing, and he said, "Yeah, dad, I want to work with you. I want to do that too!" He's only almost six now, so in 10 or 12 years when the time comes, if he doesn't want to do it, I'm not going to force him. But if I'm able to help my son later in life, take care of him so he won't have to job hop like I did, then that's a great motivator for me.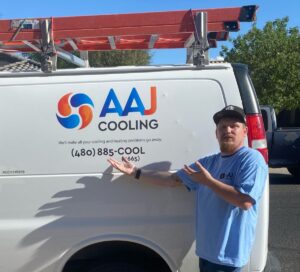 What schedule did you do at RSI?
I did the morning shift at school. I had to be there 7: 30 a.m. till Noon. I had two jobs while I was at school to help me pay for it. That was the deal to me. I'd work one or other of the jobs each day.
What did you enjoy most about your time at RSI?
What I enjoyed the most was the help there. If you needed it, if you asked for it, they gave it to you. It was there. No matter what it was, they'd always have somebody to help you. When you're frustrated with it, they have somebody to help you with that. They didn't leave you there and let you just figure it out.
Were you good at asking for help? A lot of people don't do that.
Oh, when I didn't understand things that I needed to know, I would ask. Didn't matter if it was a dumb question to somebody else, it wasn't dumb to me. For me, there's no such thing as a dumb question. My question was my question. If you don't get what you need to know out of a class, you're going to be stuck when you try to move forward. You have to ask questions.
Did you have days of frustration when you doubted yourself?
Yeah, I had a lot of doubts, a lot of those days, but like I said, there was enough help there to calm me down and make me realize that if today's not my day, I'll just do what I've got to do for class then put it behind me. I had a lady there, Ashley, in Career Services. She would be there to talk to me and help me figure out things. It wasn't just me there by myself. She actually helped me get through it. She would say like today's just a bad day, you know. Come back tomorrow stronger. She got me where I needed to be – calm and relaxed. Then I pushed myself forward.
Before RSI, I thought it was going to be a struggle in the field. I felt they wouldn't be able to teach me enough. But when I actually got to the school, I figured out that RSI teaches you everything you need to do before you install something. They do all the book work and give you the knowledge you need. When I got in the field on a job, I knew what all the parts are, what they do, and what I need.
That's great to hear. Who are you working for?
I'm working for AAJ Cooling. We're right off Washington, just down from the school. We do residential and light commercial HVAC services around the Valley. I just started there a couple of weeks ago.
How did you find the job?
When I graduated RSI in May, I just needed to take a break from everything. I put my two weeks' notice at my other jobs. After I put in my notice, they didn't really call me in at all. I took two weeks, then Ashley put my résumé in with AAJ Cooling, and they called. I had an interview the next day and here I am!
Are you still in training just two weeks in?
No, I'm doing service calls on my own in my van. I rode three days with somebody, and they felt I was ready to go out on my own.
Are you happy with what you're making starting out?
I'll get my first check this week. They pay every two weeks. It's more than I ever made in my life. So, I'm really happy with it. I'm working over 10 hours a day, sometimes 12 hours a day, and they pay overtime at. My first week I got the 40 hours and then I put 10 more on top of that. So, I'm pretty sure I'm going to have a good check on Friday!
Sounds like a good start! You're enjoying the new job?
I'm going to put it like this: This is the only job I've had that I wake up and want to go to. I've been happy every morning. I go to bed on time because I'm excited to go to work next day to learn more. I like the company. They don't overwhelm me. If I'm stressed out, they tell me, "Hey, if you're stressed and you can't solve this problem, just take 10 or 15 minutes to chill out, calm down. If you can't get it, I've got another tech near you, I can send one over there to help you." They remind me of a team. You know the phrase, "Teamwork makes the dream work."
It's only been two weeks, but what's your career plan from here?
I'm taking it day by day. It's all going up from here. Eventually, whatever I can get out of this career, I'm going to get out of it. If this path takes me to having my own business, then one day I'll have my own business. I can't promise you next week, I can't promise you tomorrow. I wake up day by day.
Right now, I just need as much hands on experience and knowledge as possible. I think I'm in a good spot starting out. I think they're going to take care of me and show me all that I need to know. I don't want to keep moving companies. I want to stay and learn what I can, because they've been great to me so far. They're the best company I've ever worked for. My goal, if everything goes as it's supposed to, is to be out here running my own thing eventually with my son!
What do you enjoy most about your new trade?
I like that I go out and I don't have a boss over my shoulder yelling at me for what I'm doing wrong. I like that this company trusts you enough to go on your own, know what you're doing, and support you.
Did you make some lasting connections, people you'll stay in touch with?
Yeah, I've got a couple I keep up with. I just met up with a dude at one of the warehouses when I was getting some screws. He's a dude I went to school with, and he's like, "Hey, you're already out in the field working too?" Another dude is  doing commercial work at the casino in Payson. He sent me pictures and videos of the units they're working on there, so I got to see a little bit of what he's doing. A lot of people I went to RSI with have graduated and went straight into the field doing it like I did.
What advice do you have for new students thinking about coming to RSI?
You've got to get comfortable. Once you're comfortable, don't overwhelm yourself with stuff that you don't need to. Just know that things are going to get frustrating. There are going to be bad days there and good days. On your bad days, keep your head up and your chin up. Keep going forward. Whatever it is that's bothering you, just don't let get in the way of going to school. Because that's really what I did. I kept my chin up. I mean some days it felt like I was wearing a backpack full of bricks. So as much as possible. Take the bricks you don't need out of your bag so you're not weighing yourself down.
If you're an RSI graduate and would like to share your success story and be an inspiration to others, please email [email protected] to be considered for a Graduate Connection interview. Please include details such as your graduation date (month/year), and program.