Ivan, 30, was born in Mexico but has lived in Phoenix since he was 8 years old. Ivan graduated from the RSI Electro-Mechanical Technologies (EMT) program in December 2018.
Thanks for your time, Ivan. What did you do after high school?
I was a day porter for Pivot Building Services, basically janitorial work. Slowly but surely, I went into commercial businesses with engineers. The idea of working with my hands, problem solving, intrigued me, so I started asking them questions. I was there for five years, eventually becoming a maintenance tech.
What made you go into janitorial work?
I wasn't sure what I wanted to do. I thought janitorial work would keep me moving. I knew traditional college or desk jobs weren't for me, so decided I'd "do it for now" and figure it out later! It worked; that path brought me to HVAC.
Get Started on the Path to a New Career
Fill out our form to learn how we can help you change your life.
How did you get from maintenance to HVAC?
In 2014 an engineer I'd known a few years earlier, Don Whittaker, called me out of the blue for a utility engineer position. Don remembered me from his time at Pivot. It surprised me that he'd kept me in mind a few years later. He said I had struck him as a nice guy and a hard worker. I went in for an interview and was hired on the spot with Pinnacle Property Management.
Is that where you got exposed to HVAC?
Don really mentored me. I started doing light plumbing and light electrical work, and then slowly Don brought me into the HVAC world. That's where my interest began. I had no real interest in HVAC to start with, but I kind of fell for it. It is just problem solving and helping people.
Was attending RSI your idea or did Don encourage you?
It was a mutual understanding that if I wanted to further my career, it was something I'd have to do. Don actually went to RSI himself. He graduated in 1991. He told me what to expect and helped me through the whole process. He told me that going to RSI would give me a depth of understanding that you don't get from just doing the job.
Why did you take night classes at RSI?
It takes a little longer to complete the program at night, but it allowed me to keep my job at Pinnacle. It's four nights rather than five days, and each night is four hours rather than five. But even though it takes 14 months instead of nine, the time flies by. It really does. The night class was the biggest class, too. That was good for me because I had more people to bounce ideas off, rather than just the instructors. Everybody learns in a different way, so it's great to work with your classmates.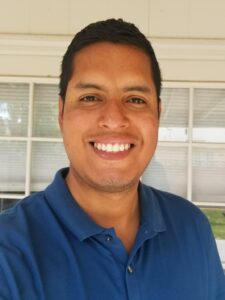 What was the schedule for the night class?
6 p.m. to 10 p.m. It wasn't too early or too late. I had time to go home after work, get changed, eat and see my wife Mayra and my do. Then I'd go to school, and then repeat. It's only Monday through Thursday, so you're not run into the ground. You have a little time to catch up, reflect, think of questions, and relax.
What was your favorite part of school?
What I really liked about the program is the progression. First they teach you the basics, then they stack the rest on top. It just ties everything together. You get a full understanding of the workings of an air conditioner. That was my favorite part—when you put your hands on a machine and it just makes sense.
Where are you working now?
I left Pinnacle in March and started at Day & Night Heating and Air. I'm training to be a residential service technician. I'll be riding with someone for the first two months, but in these first three weeks on the job I have learned so much. School helps me pull it together. Instead of being lost, I understand what he's talking about and can put it all together.
Congratulations. How did you get the job?
An RSI student I knew got a job while we were still at school. I was giving serious thought to going into HVAC full-time, so I gave him a call. One thing led to another, and I got hired.
So you made some good connections at RSI?
Absolutely, I made quite a few. That was one of the great parts of going to school, not just the learning but meeting people and making friends. It makes the experience easier. It made it more enjoyable. Now we're all fresh out of school and we don't know everything, so it's good to have contacts to call and ask them questions. We troubleshoot together. It's a great sense of relief to know you have guys who can help you, and who you can still learn from. It makes us all better technicians.
Are you happy with the money?
I was at the last company for five years, so I got a few raises there. Honestly I've taken a bit of a hit at first. But my wife and I know this will only be a blip. When I finish training, I'll get a pay raise, and eventually I'll make more. The main reason I took this job wasn't money, it's the experience I'm gaining. Better money will come with experience. The money will always go up, but you can't buy experience. You have to take it where you can. I'm thinking long-term, not short-term. This is the right company, too. I didn't want to go just anywhere; I wanted a company I could grow with.
Where do we see your career taking you ultimately?
I've only been here three weeks, but I can see myself here for the long run. I always want to move up and challenge myself. Once I've eventually mastered residential, I want to move up to commercial, to work on bigger, more technical systems. Then once I've mastered that, maybe I'll go back to residential as a supervisor. I'd like to help people coming out of school. I'm very fortunate that the guy training me is very knowledgeable and not afraid to share his knowledge. I'd eventually like to become that person, someone who can help a graduate fresh out of school progress their career.
What do you enjoy most about your new trade?
I enjoy working with my hands. I really enjoy problem solving and talking to and helping people. HVAC has all three. Seeing customers happy, knowing you made someone's day, is a pretty good feeling.
What advice do you have for new students just starting out at RSI?
Go above and beyond. Don't just do the minimum. Take interest, and don't be afraid to ask questions. The instructors are there for you, so make the most of them and the opportunity. Work hard, then go home and read the books, read your notes, watch the videos, learn more. Go deeper than just showing up to school. You can tell who is there to really learn and who is just there because they're a little lost and giving it a try. Surround yourself with people who share the same mentality. If you put effort and time into it, you'll get it done. It's a little scary, but you'll be fine.
If you're an RSI graduate and would like to share your success story and be an inspiration to others, please email [email protected] to be considered for a Graduate Connection interview. Please include details such as your graduation date (month/year), and program. 
This blog has been labeled as archived as it may no longer contain the most up-to-date data. For a list of all current blog posts, please visit our blog homepage at https://www.rsi.edu/blog/