Seir, 25, from Elko, Nevada, graduated the nine-month Electro-Mechanical Technologies (EMT) program at RSI in late September 2021.
Thanks for sharing your story, Seir; what did you do before coming to RSI?
I graduated high school in 2015. I had two jobs after, as I wanted to have my own apartment. For the last year before my fiancée and I decided to leave our small town, I did warehouse work. We moved from Elko to Phoenix, Arizona, in early 2020.
Get Started on the Path to a New Career
Fill out our form to learn how we can help you change your life.
What brought you to Phoenix?
My fiancée and I wanted a fresh start. We were going to Austin, Texas; my parents were going to take early retirement and move to Santa Fe. When COVID hit, they decided to stay. I'd already given notice at work and on my apartment, so we decided to come to Arizona as my fiancée has a brother in the military here.
What did you do for work?
When I got here, I started working for Rent-A-Center, a company I worked for in high school. It was a super-easy job. After a while I realized I didn't want to be sitting behind a desk for the rest of my life.
Why did you decide on an HVAC career?
I'd worked briefly for an electrical company doing some warehouse work, and I really enjoyed that. Then there was a company in Coolidge that was getting ready to start developing electric super trucks and semi-trucks. I thought it would be really neat to design those vehicles. I looked into what that would entail education-wise. The answer was eight years' education – all bookwork, none of it hands-on – and $70,000. That's not what I wanted to do. I'd already done small electrical, plumbing, and construction stuff with my family, just home-improvement stuff. I thought it's always hot in Phoenix, Arizona, so what's the one thing that everybody needs? I knew I'd always have a job and maybe I'd enjoy air conditioning because it's very hands-on. So, I researched schools in Phoenix that offered HVAC training.
Why did you decide on RSI?
I really enjoyed talking to the people in the office, I took a tour, and I liked the curriculum; it takes you through the electrical side, so you understand what you're working on, and you get hands-on with the equipment. I've always been a hands-on learner. At high school I didn't do well book-wise, but I always did better hands-on. I was excited to hear that the program is about 90% hands-on, so I signed up.
I believe you got a sponsorship? Tell us about that.
About three months into my program, Chas Roberts – one of the major HVAC companies in Phoenix – offered ten student sponsorships through RSI. They offered to front $10,000* towards students' tuition, payable to the school on your behalf upon completion of the program if the students met the requirements set. In order to receive it, I needed to graduate with no less than a 3.5 GPA and miss no more than one day per class. I had to work 20 hours a week in the field with one of their full-time service technicians, for which I got paid $15/hour. Upon graduation, they offer a full-time service technician position that you have to stay in for a minimum of two years, otherwise you have to repay the $10,000 they paid to the school. I got an interview; they liked me enough to offer me a sponsorship! I was already doing pretty well in the program, so that didn't worry me, but I knew I needed to put my nose to the grindstone a little more. So, I buckled down, got through it, and graduated with a 3.78 GPA.
That's awesome, congratulations! What did you enjoy most about your time at RSI?
Being in the hands-on laboratories troubleshooting, diagnosing, and repairing equipment. To be able to get hands-on with real equipment and figure out how to fix it properly, I really enjoyed that. I was afraid it wouldn't be as hands-on as they claimed on the tour, but they really meant it – I was excited by that!
How as working 20 hours and going to school? What shift did you do?
I took the afternoon shift at RSI. Once they selected me, Chas Roberts gave me the choice of either doing a few hours before or after school each day or doing two 10+ hour shifts on the weekends. I wanted to do the weekend shifts, so I would really know what I was getting into, in terms of doing a full day's work. I wanted the experience of the ten to fourteen hour shifts they do down here, especially in the summer. I wanted to know what it's actually like, rather than just showing up for a couple of hours and thinking it's easy. Those long days are draining; it's a different kind of tired!
You finished class just yesterday; when do you start full-time?
Tomorrow! They have their own introductory training; they take all the new hires and show them how they do things…because everybody does things a little different! So, I have four weeks of training with the company at 20 hours a week, plus another 20 hours a week shadowing a service technician. It's similar to what I've been doing the past six months, so I'm not sure how much more I will learn. But there will be certain things that are new; you can never think you know it all. After four weeks, I'll be out on my own.
Are you excited to get a full-time check?
Yes, I'm excited for it; full-time entry level is $18/hour once I complete the training period at $15/hour. I'm excited because of the number of hours I'll be working. With Chas Roberts, after training, I expect to do 60 to 90 hours a week. Everything over 40 hours is overtime. Chas Roberts also has a bonus structure – driving performance, customer feedback etc. When I talked to them about the sponsorship position, they said, on average, their full-time service technicians can make almost $32,000 a year on bonuses alone. It's a nice addition on top of just doing your job right, and not goofing off.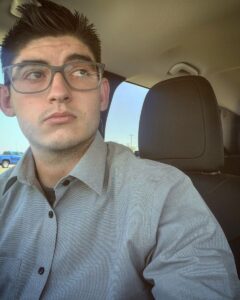 What do you enjoy most about this trade?
I really like getting my hands-on the equipment, troubleshooting the problem, and fixing things; it's almost like euphoria. I showed up because something wasn't working, but I fixed it, and now these people are happy. A happy customer is a customer I don't have to see again!
What's your career plan from here?
I am getting married in two weeks, and our plan is to stay in Phoenix for at least five years; hopefully I'll be able to stay with Chas Roberts. Beyond that, if we end up moving to be closer to family again, be it Nevada, Montana, or Texas…who knows? Then I will have to find another company. Eventually, down the road, I'm going to get my Home Inspector's license and I'll offer an HVAC service with my home inspections.
Did you make some lasting connections, people you'll stay in touch with?
Most definitely. My class was pretty close knit. We all kept each other's phone numbers in case we had questions on the job. I also helped two of the kids in my class get hired at Chas Roberts, so I see them at the office. There are at least two classmates who are coming to my wedding.
Congratulations on the wedding! What advice do you have for new students just starting at RSI?
Just show up every day and give it your best. Even if you don't think you know it, just try! The only way you'll fail is by not trying.
If you're an RSI graduate and would like to share your success story and be an inspiration to others, please email [email protected] to be considered for a Graduate Connection interview. Please include details such as your graduation date (month/year), and program. 
* This is one graduate's volunteered personal financial situation as to his own experience with a sponsorship opportunity offered by a third-party company and is not typical. To learn more about your options for funding your tuition at RSI, visit Tuition Planning or speak with a Financial Aid specialist on campus.
This blog has been labeled as archived as it may no longer contain the most up-to-date data. For a list of all current blog posts, please visit our blog homepage at https://www.rsi.edu/blog/