Mike, 42, graduated from the nine-month Electro-Mechanical Technologies (EMT) program in October 2017. Mike now works for Goettl Air Conditioning – "It'll keep you cool but it's hard to spell."
Thanks for your time, Mike. Tell us what brought you to HVAC at 41 years of age.
It was a total career change. I was doing office work; I'd been laid off twice, and I was tired of starting at the bottom and having to work my way up through the ranks. I was looking to do something different, something that would give me stability and enable me to better provide for my family. We have three kids: Mia, 12, Brianna, 18, and Anthony, 20, who also went to RSI. On April 18 that will "officially" become four, as we are adopting Jasmin, 12, who has been with us for the past three years.
Congratulations! So why did you choose RSI?
I saw an RSI commercial, and it looked interesting. I looked into it and liked what they offered: graduating from an accredited trade school, the EPA certification. I wanted something that nobody could take away from me. I wanted stability, a career. Even if the job changed, I'd still have an education and experience that would mean something.
Get Started on the Path to a New Career
Fill out our form to learn how we can help you change your life.
Had you considered HVAC before seeing the commercial?
No, it was straight out of left field. My interest in HVAC started because of that commercial. I had respect for electricity, but I wouldn't touch it. I wasn't the kind of guy to do electrical stuff at the house.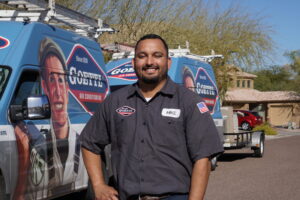 So you took a tour of the school?
I called and spoke with Joel in the Admissions department—a really nice guy—and took a tour with him. He introduced me to the programs and took me through all the different phases. I got to see what I'd be learning; he threw numbers at me like graduation statistics and job placements, and he told me about the huge support team you get when you join the RSI family.
I figured there's no way they're going to let me fail because there is this network of people to help me succeed. That's what I liked about it.
Did the fact that RSI has a dedicated Career Services team help with your decision?
That's one of the things Joel touched on. He explained that there are a lot of younger students who have never had a résumé, or had to go through a job search, or had an interview. That's why Career Services is there: to help students from beginning to end with all that.
They were absolutely phenomenal. They'd pop in and do presentations: résumés, the do's and don'ts of interviews, phone etiquette, proper handshakes, all stuff like that. Yeah, the Career Services team was good.
What was your favorite part of the RSI program and why?
The instructors were great, every single one of them. I can't say enough about them. Dave, the Phase One instructor, had a huge impact on me. When I first got there, I had no idea how to do anything. I thought "Man what did I get myself into? I'm 41." But after the first day with Dave—his demeanor, his commitment, just the way he talked to us—I knew I'd made the right decision.
Did you make some lasting connections at RSI?
There was a group of about ten of us. I surrounded myself with good people there. We all did very well; four or five of us graduated with Honors, and then four or five continued on with RSI's associate degree program – Mechanical Maintenance Engineering. I became very good friends with one guy in particular—Gary—and we're still very good friends now. He works in the low-temp side, like restaurant equipment.
You work for Goettl. Is this your first job? How did you get it?
Yes this is my first job after graduation. My résumé was out there. I live in San Tan Valley, but some of the people interested in hiring me were two hours away. So I just called Goettl; I told them I was in my last phase at RSI, shared a little of my background, set up an interview and landed the job. I started a couple of weeks after graduation, as they had to do background checks and things like that.
What do you do for Goettl?
I'm a residential HVAC installer. I pull all the old equipment out and put the new HVAC system in. I do it the Goettl way, making sure everything works and is running perfectly.
How does the money compare to your time in office work?
It pays very well. Let's just say my salary has more than doubled. If you want to provide for your family and do something that's challenging where you get paid for hard work, then consider HVAC.
What's your career path?
I'm taking it one step at a time. I can eventually become a lead, depending on how fast I learn, or maybe move into the Field Technician side of things, but I'm very happy with where I'm at right now. It's an awesome place to work, a real family environment. I work with a great group of guys with a very supportive management team. As long as you keep your nose clean and do your job, you'll have no worries.
What do you enjoy most about your trade?
A satisfied customer and the completion of a beautiful installation is a good day for me. We're always driving around town meeting new people. Being stuck in an office is overrated.
What advice would you give to new students considering RSI?
If you want to have a career in HVAC, then RSI is the way to go. RSI will give you all the fundamentals you're going to need, and they have a great support system. But you have to work hard. Keep in mind, this isn't high school. This is student driven. The more you put into it, the more you're going to get out of it.
If you're an RSI graduate and would like to share your success story and be an inspiration to others, please email [email protected] to be considered for a Graduate Connection interview. Please include details such as your graduation date (month/year), and program. 
This blog has been labeled as archived as it may no longer contain the most up-to-date data. For a list of all current blog posts, please visit our blog homepage at https://www.rsi.edu/blog/