In your HVAC classes, you likely practice on the same equipment in the same lab setting every day, right?
When you graduate from school, that could change. If you get a job as an HVAC technician in the residential sector, you could be paying service calls to people's homes. This could have you working on a variety of types of equipment in different environments.
Many homeowners have cats, dogs or other pets, which can wreak havoc on an HVAC system.[1] It could be your job to not only clean and repair their equipment but also recommend maintenance to improve system performance.[2] You'll want to factor in the extra equipment stressors that accompany pets in a home when doing so.
Pets Can Make an HVAC System Work Overtime
When they shed, fur, hair or dander can make its way into the home's ventilation system, clogging the components. This can force an air conditioner or furnace to work harder to condition and circulate the air. The result could be a decrease in energy efficiency, lifespan of parts or the entire unit and indoor air quality.[3]
How can you tell if pets in the home may be contributing to the above problems?
Get Started on the Path to a New Career
Fill out our form to learn how we can help you change your life.
Frequent Equipment Failures
Filters and vents could be clogged.
Allergy Symptoms
10 to 20 percent of the global population experiences allergies to cats and dogs. Compromised indoor air quality from pet hair or dander can result in:
Eye, nose or throat irritation
Dizziness
Headaches
Fatigue[4]
HVAC Maintenance Tips for Pet Owners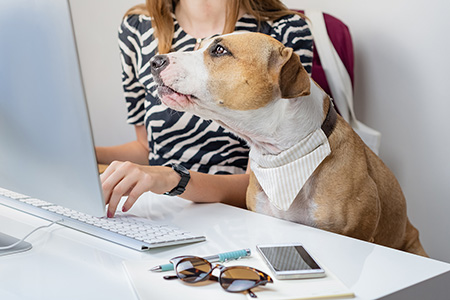 If your pet-owning customers are complaining about the above issues, it may be time to make some customized maintenance recommendations.
Tip 1: Groom Pets Regularly
Pet hair can quickly accumulate on the surface of HVAC air filters and clog air ducts. One of the easiest ways homeowners can prevent this is to regularly groom their pets. Suggest routine baths, brushing and trimming.[5]
Tip 2: Vacuum Vents
Recommend that your customers use the hose mode on their vacuum cleaners to remove pet dander and hair from air vents, as well as any other dust or debris.[6]
Tip 3: Increase Filter Maintenance
Possibly one of the best DIY-HVAC maintenance tips you can give your customers is to clean their air filters. In the case of homes with pets, increasing cleaning can reduce allergy symptoms from poor indoor air quality and prevent premature component malfunctions. Keeping air conditioner filters clean can reduce energy consumption by 5 to 15 percent.
How often should pet owners clean or change their filters? Whereas homeowners without pets could go as long as 90 days, those with critters should change their filters every month.[7]
Tip 4: Install an Air Purification System
The Environmental Protection Agency indicates that reducing or removing the source of pollutants and ventilating the home with clean outdoor air are two of the most effective ways to improve indoor air quality. But suggesting that customers get rid of their pets would be out of the question.
Fortunately, there may be a pet-friendly alternative. An air purification system can be an effective supplement to source control (removing cats or dogs from the home) and ventilation, according to the EPA.[8]
Tip 5: Protect HVAC Equipment from Pets
Cats and dogs may play with or chew on exposed wires or parts, potentially endangering themselves and their owners' equipment. Advise customers to keep HVAC system parts and wires out of reach of their furry friends.[9]
Tip 6: Call in HVAC Pros to Clean and Seal Ducts
While homeowners can do many things on their own to minimize the stress their pets cause to their HVAC systems, sometimes they should call in a professional HVAC technician, particularly for cleaning and sealing air ducts.
Leaks or cracks in the ductwork can be entry points for pet dander. Once inside, that dander and other dirt particles can become trapped, creating excellent conditions for bacteria and mold growth. As the air circulates through the ducts, it carries dander, bacteria and mold to the rest of the house, compromising indoor air quality. That's why it's especially important to clean and seal ducts in homes with pets.[10]
HVAC Maintenance for Happy Customers
Suggesting the above tips to your customers with pets can help prevent unnecessary break downs, prolong the life of the equipment and improve the quality of indoor air. This could help them save money and prevent the discomfort of indoor pollutants.
These customized maintenance recommendations are just one way to promote customer satisfaction. Building trust is also key to keeping customers happy.
[1] https://homeaircheck.com/2015/10/09/how-do-pets-affect-indoor-air-quality/
[2] https://www.bls.gov/ooh/installation-maintenance-and-repair/heating-air-conditioning-and-refrigeration-mechanics-and-installers.htm#tab-2
[3] https://www.coloradoan.com/story/sponsor-story/lion-home-service/2019/03/01/pets-bring-you-joy-but-bring-your-hvac-more-work/3008107002/
[4] https://www.epa.gov/indoor-air-quality-iaq/introduction-indoor-air-quality
[5] https://sansone-ac.com/hvac-maintenance-tips-for-pet-owners/
[6] https://sansone-ac.com/hvac-maintenance-tips-for-pet-owners/
[7] https://www.servicechampions.net/blog/4-hvac-maintenance-tips-cat-dog-owners/
[8] https://www.epa.gov/indoor-air-quality-iaq/air-cleaners-and-air-filters-home
[9] https://stilesheatingcooling.com/hvac-pet-tips/
[10] https://www.mcmasterair.com/blog/home-comfort/5-hvac-tips-homes-pets/
This blog has been labeled as archived as it may no longer contain the most up-to-date data. For a list of all current blog posts, please visit our blog homepage at https://www.rsi.edu/blog/