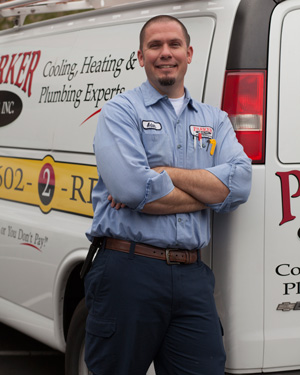 A lifelong career in heating, ventilation and air conditioning (HVAC) is waiting for you right now.
We need more men and women to fill positions in the manufacturing and construction industries.  Why? The skilled labor shortage in the United States is hitting these industries hard. Not enough people are entering them to fill jobs in the residential and commercial construction sectors in the coming years.
The good news about this labor shortage? HVAC is a field brimming with opportunity for people who want a steady, stable career.
Why Is HVAC Technician a Good Career Choice?
The HVAC technician installs, maintains and repairs refrigeration, heating, cooling and ventilation equipment. If you've never considered this as a viable career option, you might be surprised to learn it is not only bountiful in supply, but also comes with a lot of benefits.
1. Short Training Time
At a minimum, traditional university programs require 4 years to complete and earn a degree.
Get Started on the Path to a New Career
Fill out our form to learn how we can help you change your life.
HVAC programs are much more concise. Our program, for example, only takes 7 months to complete, and it equips you with all of the skills you need to excel at these types of jobs:
New equipment installation
Routine unit maintenance
Troubleshooting system problems
Repairs
2. Fast Job Growth
The Bureau of Labor Statistics reports that the average rate of job growth for all occupations from 2016 to 2026 will be 7 percent.
Jobs for HVAC technicians, however, are expected to grow by 15 percent during the same amount of time,[1] with lots of work for these types of projects:
Installing equipment in newly constructed homes and buildings.
Repairing and replacing older units.
Retrofitting and upgrading systems for improved energy efficiency. [2]
Florida, California, Texas, New York and Pennsylvania are the states with the highest levels of employment of HVAC technicians.[3]
3. No Outsourcing
Lots of jobs get outsourced to other countries for the sake of producing the same amount of labor at a cheaper price. HVAC jobs do not.
The nature of an HVAC technician's work makes it difficult to outsource. Installing, maintaining and repairing equipment requires techs to visit homes and businesses on a daily basis. Someone thousands of miles away in another country simply can't give onsite jobs like these the attention they require.
No outsourcing equals more stability.
4. Active Work
Installation, maintenance and repair workers are considered to have some of the most active jobs in the country.[4]
HVAC technicians' work can take them indoors and outdoors on a daily basis, as well as to a variety of different job sites.[5] Moving, walking, and spending time outdoors on the job also comes with some attractive health benefits:
Reduced risk of heart disease
Reduced risk of cancer
Reduced risk of type 2 diabetes
5. Career Advancement
The HVAC career path doesn't end at landing a job. With additional training, experience and specialized certifications, technicians can grow their careers throughout their lives.
Some technicians starting off with servicing equipment transition to physical installing equipment. Technicians with many years of experience under their belt go on to manage company operations and distribution.
Some technicians even start their own businesses.
6. The Chance to Do Good in the World
Everyone, everywhere needs heating, air conditioning, ventilation and refrigeration equipment.
Air conditioning lets hospitals shut windows and doors to keep out allergens and pollutants.
Ventilation systems purify indoor air.
Refrigerators preserve food.
Heating keeps people warm from the freezing cold.
HVAC technicians have the satisfaction of saving the day when they repair customers' A/C units during sweltering weather. This is especially important in hot and humid places like Florida.[6]
HVAC is more than just a job; it's a steady, stable, cool career that keeps your bank account full and customers happy.
If the path to becoming an HVAC technician interests you, you can learn everything you need to know with our refrigeration technologies program.
[1] https://www.bls.gov/ooh/installation-maintenance-and-repair/heating-air-conditioning-and-refrigeration-mechanics-and-installers.htm#tab-1
[2] https://www.bls.gov/ooh/installation-maintenance-and-repair/heating-air-conditioning-and-refrigeration-mechanics-and-installers.htm#tab-6
[3] https://www.bls.gov/oes/current/oes499021.htm
[4] http://www.businessinsider.com/most-active-jobs-in-america/#26-tie-extruding-and-drawing-machine-setters-operators-and-tenders-2
[5] https://www.bls.gov/ooh/installation-maintenance-and-repair/heating-air-conditioning-and-refrigeration-mechanics-and-installers.htm#tab-3
[6] http://www.contractingbusiness.com/residential-hvac/30-reasons-fall-love-hvac-again
This blog has been labeled as archived as it may no longer contain the most up-to-date data. For a list of all current blog posts, please visit our blog homepage at https://www.rsi.edu/blog/