One of the biggest parts of working as an HVAC technician is billing for HVAC services. An HVAC invoice is an itemized bill for the equipment and services you provided.
But it can be much more than that: an opportunity to track HVAC system efficiency and performance, offer incentives for future repair work or even secure customer loyalty through a service contract.
Follow these best practices to get the most out of your HVAC invoicing process.
The Basics of an HVAC Invoice
Understanding what a standard invoice should cover can help you spot opportunities to improve on it. Below is a look at the basic information an HVAC invoice should include:[1]
Information Type
Details
Company Information

Company name
Logo
Address
Telephone number
Website URL
License Number

Customer Information

Customer's Name
Address Home
Cell Phone Number

Equipment

HVAC unit make
Model and serial number
Notes on parts that may need to be repaired or replaced soon

Parts

List parts needed for the job:

Item description
Quantity
Item price
Total costs

Labor

Section for detailed service description
Charge for service(s)
Charge for labor
Recommendations for future service

Warranty

Detail the warranty length on parts
Labor and equipment

Customer Service Consent

A statement confirming the customer is satisfied with the work and understands the payment agreement
A Line for the customer's signature

Total Cost

A list of charges and the total bill for equipment and services

Payment Type

Check boxes for cash, check and credit card
Billing Transparency
The importance of a detailed invoice cannot be overstated. One of customers' most common complaints about businesses is a lack of transparency, especially when it comes to billing.
Start each service call by being up front about the cost of labor and equipment. Make sure your invoice describes what was discussed and reflects any agreements made. The more specific, the better.[2]
Get Started on the Path to a New Career
Fill out our form to learn how we can help you change your life.
Maximizing Business Potential With Your HVAC Invoice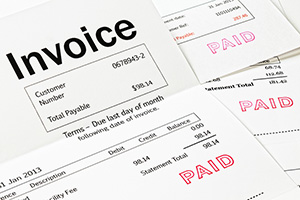 Since you're already discussing services and fees when you invoice a customer, why not expand the conversation to include additional work, future offers and even a service contract?
Mobile Quoting
It's not uncommon for HVAC technicians to spot more system issues while they're inspecting equipment. With mobile quoting software, techs can not only bring these additional needed repairs to customers' attention but also quote them for the work. Oftentimes, customers are more likely to authorize extra work when they know the price up front.[3]
Incentivize the Next Service Call
If you've done a great job the first time around, why not make the decision to call you for the next repair or seasonal HVAC maintenance even easier for your customers?
Include a coupon or promotion with your invoice. Follow up with an email to remind customers of the offer.
Highlight Service Contract Benefits
Add a section to your invoice detailing the benefits of your service contract and a spot for customers to sign up. Create a seamless link between the repair work done that day and service needed in the future.[4]
Foster Customer Trust and Loyalty
Offering customers a detailed invoice that adheres to verbal agreements about the equipment and services to be rendered—as well as the price—can help build trust.
An invoice can also provide a chance to offer customers additional services and contracts, thereby extending the business relationship and fostering customer loyalty.
Improve the customer experience and advance your HVAC business goals with important HVAC customer service tips.
[1] https://www.printit4less.com/blog/hvac-form/
[2] https://www.sherpadesk.com/blog/9-ways-to-create-transparency-with-clients
[3] https://www.achrnews.com/blogs/16-guest-blog/post/126402-simple-steps-to-improve-your-customer-service
[4] https://www.contractingbusiness.com/residential-hvac/invoicing-best-practices-hvac-professionals
This blog has been labeled as archived as it may no longer contain the most up-to-date data. For a list of all current blog posts, please visit our blog homepage at https://www.rsi.edu/blog/