The COVID-19 pandemic could bring some changes to the types of equipment and maintenance commercial HVAC technicians perform.1
Given the potential for infection via airborne, virus-laden droplets and the challenges of social distancing in commercial spaces, HVAC industry professionals and governments have been brainstorming ways to make these areas safer, including changing commercial HVAC systems.2
4 Ways Commercial HVAC Could Be Changing
In their efforts to get a handle on the pandemic, top government agencies have focused on the role HVAC can play in minimizing the spread of the virus indoors.2
The Environmental Protection Agency (EPA) has stated that HVAC systems and ventilation can impact the airborne spread of COVID-19.2 The Centers for Disease Control and Prevention also recognizes the important role that HVAC systems can play in limiting the spread.3
As a result, changes are being made to the HVAC systems in many commercial buildings.1
Get Started on the Path to a New Career
Fill out our form to learn how we can help you change your life.
Let's take a look at 4 changes students in HVAC training may want to keep in mind for when they enter the field.
1. Increased Ventilation
Proper ventilation in larger commercial spaces can be a factor in helping limit the spread of airborne particles that might carry COVID-19.1
In fact, research suggests that the novel coronavirus has a higher chance of surviving in areas that are poorly ventilated.4
Although commercial buildings have typically pulled in air from the outside to boost circulation, there is now a renewed sense of importance on ventilation. Increasing the total amount of outdoor air being taken in may create a safer space for both employees and customers.
In order to increase ventilation, some commercial buildings might have to invest in a dedicated outdoor air system (DOAS), which is designed to boost turnover rates by enhancing the capacity of fresh air that can be brought into a system. This can greatly increase the quality of air in the entire building.
2. More Routine Maintenance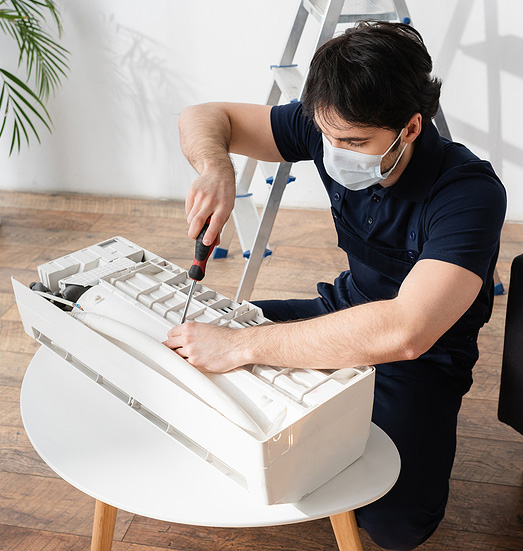 With an increase in outdoor airflow, commercial HVAC systems might need more routine maintenance and inspections.5
One reason could be that the system is processing more outside air and, as a result, working harder.
In addition, filters should be cleaned more often in order to prevent the buildup of mold, particles and harmful bacteria.
Any adjustments made to commercial HVAC systems can benefit from follow-up inspections where techs can assess performance and recommend maintenance.5
3. Rise in Sustainable Systems
A transition to more sustainable systems is another change that HVAC technicians could see moving forward due to the COVID-19 pandemic.1
When energy is used in a sustainable manner, commercial HVAC systems can perform better and be more efficient.1
Given the extra energy required to increase the influx of outdoor air along with other changes, technologies like high grade MERV air filters can help offset carbon emissions and energy costs.
Even as many construction projects have been put on hold, the market for green building materials is expected to double within the next few years.5
4. Advancement of HVAC Equipment
The advancement of HVAC equipment is another change that could come out of the pandemic.
Many commercial building owners might need to invest in new equipment and smart systems to help keep their spaces safe and comfortable for patrons.
With humidity levels and temperature playing an important role in minimizing the spread of bacterial infections in commercial buildings, some buildings might be equipped with remote monitors that can boost indoor air quality.1
Continuous HVAC monitoring is already a technical reality, and it's already having a positive impact in the commercial property space.
It's equally as important that these monitoring efforts take place in real time instead of being spread out to ensure consistent air quality.
HVAC Service Call Safety during COVID-19
HVAC equipment in commercial buildings may not be the only change coming to the HVAC industry as a result of COVID-19.
As an HVAC technician, you may also need to take greater precautions in order to stay safe on service calls.
1https://thermalcontrolmagazine.com/special-report/hvac-industry-post-covid-19/
2https://www.epa.gov/coronavirus/indoor-air-and-coronavirus-covid-19
3https://www.cdc.gov/coronavirus/2019-ncov/community/office-buildings.html
4https://karmaimpact.com/how-hvac-upgrades-fight-covid-19-and-climate-change/
5https://www.publichealthontario.ca/-/media/documents/ncov/ipac/2020/09/covid-19-hvac-systems-in-buildings.pdf?la=en
This blog has been labeled as archived as it may no longer contain the most up-to-date data. For a list of all current blog posts, please visit our blog homepage at https://www.rsi.edu/blog/