Did you know there are about 36,000 public K-12 schools across the country that need HVAC repairs or improvements?1 The United States Government Accountability Office (GAO) estimates that around 41% of public school districts are due for HVAC updates or replacements.1
HVAC-related problems in schools, if left unaddressed, can lead to some serious issues:1
Poor indoor air quality
Leaking or damaged floor or ceiling tiles
Mold1
As disturbing as these numbers are, they do suggest there could be a need for HVAC technicians in the school sector in coming years. If you're considering enrolling in an HVAC training program, then helping to make schools healthy learning environments for kids could be one benefit of this career decision.
How Is HVAC Regulated in Schools?
HVAC (heating, ventilation and air-conditioning) systems are responsible for maintaining healthy indoor air quality in schools through adequate ventilation and filtration.2 HVAC systems also regulate temperature, humidity and comfort levels.2,3
ASHRAE
ASHRAE (American Society of Heating, Refrigerating and Air-Conditioning Engineers) sets the national industry standards for airflow in classrooms, gyms and kitchens in a school building.2 On the state and local level, some states or regions also set further requirements for energy efficiency, ventilation or other aspects of indoor air quality.2
Get Started on the Path to a New Career
Fill out our form to learn how we can help you change your life.
School Districts
According to the GAO, most states do not conduct statewide assessments to find out what kind of improvements their schools need, so this job is left to the school districts.1 School districts determine the budget for individual school improvements, and utility bills are a big expense.3
HVAC can play a big role in the school district budget. Considering that each school may need to meet different zoning requirements based on age, size and construction, updating HVAC systems can be a huge task for school administrators with substantial costs involved.3
What Are the Dangers of Neglecting HVAC in Schools?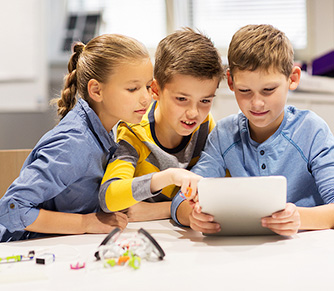 Updating HVAC was not a top priority for school officials surveyed by the GAO in a report released in June 2020.1 Yet, school facilities play an important role in civic life, not only as sites of public education, but also as community centers, voting places and emergency shelters.1
Poorly maintained HVAC in schools could create hazardous conditions that compromise the health and safety of students, teachers and staff.1 In response, schools may be forced to adjust their schedules or temporarily close.1 This happened to several school districts across the country within the last few years.1
Faulty HVAC System Hazards
It's helpful to understand what's really at stake when school districts fail to update or replace HVAC. Here are some examples of hazardous conditions that could arise from old, outdated or inadequately maintained HVAC systems.1
Leaking roofs can cause water damage, which could lead to mold or asbestos.1
Older HVAC systems frequently malfunction or leak, which can cause property damage.1
Using outdated systems, such as old boilers, can require constant monitoring and threat of explosion if not properly maintained.1
Schools without air-conditioning units sometimes need to cancel class due to extreme heat.1
School closings can result in lost educational time and lower productivity.1
How Does HVAC Influence Schools Reopening in the Pandemic?
Time spent in school buildings could possibly lead to transmission of the coronavirus.4 The CDC (Centers for Disease Control and Prevention) has issued considerations for schools to help slow the spread of COVID-19 during the reopening process, including ventilation recommendations.5
Ultimately, it is up to school administrators, in collaboration with state and local health officials, to develop reopening strategies for each unique community based on federal, state and local guidelines.5
Schools Upgrade HVAC Systems
Some school districts have decided to upgrade their HVAC systems.4 New Jersey school districts Collingswood and Oaklyn, for example, have decided to update their air filters to higher-rated models.4
The Haddonfield district will increase their fresh-air intakes on district ventilation systems from 20% to 100%, weather permitting.4 In the Pennsauken school district, HVAC facility checks are performed daily, and in New Haddown Township, a certified master HVAC technician is tasked with evaluating every system in the district.4
How Do HVAC Technicians Work with Schools?
Schools can consider upgrading their HVAC systems to help slow the spread COVID-19.5 The CDC specifically recommends that schools consider ventilation system upgrades to dilute potential contaminants in the air and increase the delivery of clean air.5
The CDC suggests that schools consult with experienced HVAC professionals to determine what types of HVAC upgrades need to be done.5 A certified HVAC technician can discuss system malfunctions with school administrators and recommend maintenance or replacement, considering each unique scenario.6
Indoor Air Quality
Indoor air quality is an important element of healthy school environments.7 HVAC technicians help maintain or improve healthy indoor air quality in schools by ensuring that HVAC systems are operating properly, maintaining minimum ventilation and airflow values and abiding by ASHRAE standards.7
It is part of an HVAC professional's job to perform HVAC maintenance, cleaning, assessments, installations and replacements, all of which contribute to a safer and more productive learning environment.5,6,7
1https://www.gao.gov/assets/710/707374.pdf
2https://www.epa.gov/iaq-schools/heating-ventilation-and-air-conditioning-systems-part-indoor-air-quality-design-tools
3https://www.csemag.com/articles/hvac-consideration-for-schools/
4https://www.njpen.com/back-to-school-or-something-like-it-local-district-plans-in-a-pandemic/
5https://www.cdc.gov/coronavirus/2019-ncov/community/schools-childcare/schools.html
6https://www.bls.gov/ooh/installation-maintenance-and-repair/heating-air-conditioning-and-refrigeration-mechanics-and-installers.htm#tab-2
7https://www.epa.gov/iaq-schools/epa-supports-healthy-indoor-environments-schools-during-covid-19-pandemic
This blog has been labeled as archived as it may no longer contain the most up-to-date data. For a list of all current blog posts, please visit our blog homepage at https://www.rsi.edu/blog/