"The issue of recruiting the next generation into the skilled trades is one of the biggest challenges facing our industry today." -Palmer Schoening, vice president of government affairs for the Heating, Air-Conditioning & Refrigeration Distributors International (HARDI).[1]
All of the talk of the skilled HVAC technician shortage probably has many refrigeration school students feeling pretty good about their career path.
But landing a job after graduation from HVAC/R training could still be a process, with many different steps to account for:
Composing a resume
Practicing for interviews
Finding open positions near you to apply to
Contractors Struggle to Find Qualified HVAC Technicians
How severe is the skilled HVAC technician shortage? Finding new talent has been described as a "treasure hunt."[2]
The Demand for Skilled HVAC Workers Is Rising
Why? Increasing demand for skilled technicians and diminishing supplies of them. The Bureau of Labor Statistics indicates HVAC jobs should be added at a rate of 15 percent through 2026—twice as fast as the national average for all occupations.
Get Started on the Path to a New Career
Fill out our form to learn how we can help you change your life.
In the coming years, HVAC techs will be needed in the residential and commercial building sector for jobs like working on high-tech, energy efficient climate-control systems, as well as repairing and replacing older units. And not just any HVAC techs. Employers usually prefer those with vocational training, given the increasing complexity of the equipment.[3]
The Supply of Qualified Techs Is Diminishing
At the same time, the HVAC industry is largely comprised of Baby Boomers. They're retiring, and younger workers aren't replacing them in large enough numbers. It's one reason 62 percent of firms are struggling to fill important skilled trades positions, according to a report by global staffing firm Adecco.
This leaves those with the right technical skills in a good position to seize opportunities in the HVAC industry; they just have to know where to look for them.
Where HVAC Contractors Are Recruiting Techs
"Finding employees with experience is almost an impossibility, even with $5,000 sign-on bonuses available." –Scott Merritt, owner of Fire & Ice Heating & Air Conditioning, Columbus, Ohio
So where exactly are contractors finding skilled HVAC technicians?
HVAC Contractor Recruiting Tactics
Trade schools[4]
Online job websites:

Craigslist
ZipRecruiter
LinkedIn[5]

The radio[6]
Social media
Facebook[7]
Poaching from other HVAC contractors:

HVAC equipment supply houses (Cork boards)[8]
Using their technicians to scout recruits during training classes[9]

Hiring in-house recruiters[10]
Employee referrals[11]
Recruiting bonuses for in-house technicians[12]
Local departments of veterans affairs:
Newspapers
Classified Aas[14]
Contractor company websites[15]
How HVAC Contractors Are Attracting and Keeping Qualified Technicians
"Young people today want and need future opportunity, a good salary, benefits, and to feel as if they are valued." -Paul Ainsworth, owner of M.L. Building Technologies in Millsboro, Delaware[16]
When HVAC technicians with the rights skills are hard to find, many contractors up the ante to attract and keep workers. In addition to compensation, some contractors are investing in their technicians' professional development, viewing them as assets to the company.[17]
HVAC Technician Hiring Incentives
Sign-on bonuses[18]
Benefits[19]
Competitive wages[20]
Listening to employee concerns and needs[21]
Helping technicians achieve career goals[22]
Productivity pay incentives[23]
Post-HVAC school on-the-job training in company practices[24]
Opportunities to learn innovative industry practices[25]
Continuing education and paid professional development activities[26]
Sending technicians to industry events[27]
Mentoring programs[28]
Hiring employee recruitment and retention experts[29]
Employee appreciation events:

Fishing
Bowling
Sports[30]
Tips for Landing HVAC Jobs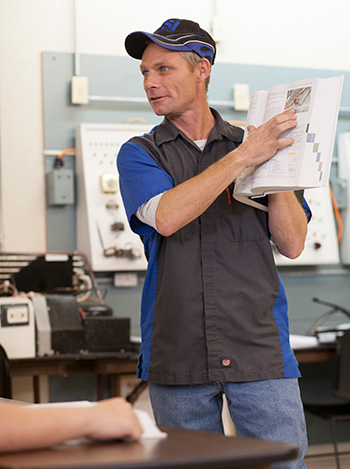 Just because there is a strong demand for qualified HVAC technicians, doesn't mean contractors aren't selective about who they hire. Many contractors adhere to the old credo, "hire slow; fire fast."
They're paying attention to resumes, work experience, attitude and character. Some screen and test applicants on their skills. They want to make sure they've found the right candidate before investing in him or her.[31]
What can you do to better appeal to such contractors? Below are just a few tips. You can always visit our Career Services department for more help.
Learn the right skills in HVAC training.
Refine soft skills like communication.
Prepare a professional resume.
Fill out profiles on career networking sites and online job boards.
Be careful what you post on social media.
Practice interviewing for Jobs.[32]
Dress professionally.
Savvy Job Searching
After graduation from your HVAC program, finding a job is often the next step—or several. From searching for jobs to applying and interviewing for them, the more informed you are about how to optimize each step, the smoother the process could go.
And don't forget to network while in school and during your job search. Find out why HVAC/R trade associations and attending conferences is a great way to meet others in the industry, including potential employers.[33]
[1] https://fieldboss.com/2018/08/addressing-the-hvac-technician-shortage/
[2] https://www.achrnews.com/articles/136690-hvac-contractors-reveal-the-best-places-to-recruit-new-employees
[3] https://www.bls.gov/ooh/installation-maintenance-and-repair/heating-air-conditioning-and-refrigeration-mechanics-and-installers.htm#tab-4
[4] https://www.achrnews.com/articles/136690-hvac-contractors-reveal-the-best-places-to-recruit-new-employees
[5] https://www.achrnews.com/articles/136690-hvac-contractors-reveal-the-best-places-to-recruit-new-employees
[6] https://www.achrnews.com/articles/136690-hvac-contractors-reveal-the-best-places-to-recruit-new-employees
[7] https://www.contractingbusiness.com/contracting-business-success/how-recruit-plumbers-hvac-techs-and-electricians-much-faster
[8] https://www.contractingbusiness.com/contracting-business-success/how-recruit-plumbers-hvac-techs-and-electricians-much-faster
[9] https://www.achrnews.com/articles/136690-hvac-contractors-reveal-the-best-places-to-recruit-new-employees
[10] https://www.contractingbusiness.com/contracting-business-success/how-recruit-plumbers-hvac-techs-and-electricians-much-faster
[11] https://www.achrnews.com/articles/136690-hvac-contractors-reveal-the-best-places-to-recruit-new-employees
[12] https://www.contractingbusiness.com/contracting-business-success/how-recruit-plumbers-hvac-techs-and-electricians-much-faster
[13] https://www.achrnews.com/articles/136690-hvac-contractors-reveal-the-best-places-to-recruit-new-employees
[14] https://www.achrnews.com/articles/136690-hvac-contractors-reveal-the-best-places-to-recruit-new-employees
[15] https://www.achrnews.com/articles/136690-hvac-contractors-reveal-the-best-places-to-recruit-new-employees
[16] https://www.achrnews.com/articles/136690-hvac-contractors-reveal-the-best-places-to-recruit-new-employees
[17] https://www.achrnews.com/articles/136690-hvac-contractors-reveal-the-best-places-to-recruit-new-employees
[18] https://www.achrnews.com/articles/136690-hvac-contractors-reveal-the-best-places-to-recruit-new-employees
[19] https://www.miamiherald.com/news/business/article215100165.html
[20] https://www.achrnews.com/articles/137083-addressing-the-labor-shortage-in-the-hvac-industry
[21] https://www.achrnews.com/articles/136690-hvac-contractors-reveal-the-best-places-to-recruit-new-employees
[22] https://www.achrnews.com/articles/136690-hvac-contractors-reveal-the-best-places-to-recruit-new-employees
[23] https://www.contractingbusiness.com/rant/nine-vital-practices-running-successful-hvac-contracting-business
[24] https://www.achrnews.com/articles/136690-hvac-contractors-reveal-the-best-places-to-recruit-new-employees
[25] https://www.achrnews.com/articles/137083-addressing-the-labor-shortage-in-the-hvac-industry
[26] https://www.hvacschool.org/how-one-contractor-is-thriving-amidst-an-hvac-talent-shortage/
[27] https://www.achrnews.com/articles/136690-hvac-contractors-reveal-the-best-places-to-recruit-new-employees
[28] https://www.achrnews.com/articles/136690-hvac-contractors-reveal-the-best-places-to-recruit-new-employees
[29] https://www.achrnews.com/articles/136690-hvac-contractors-reveal-the-best-places-to-recruit-new-employees
[30] https://www.contractingbusiness.com/rant/nine-vital-practices-running-successful-hvac-contracting-business
[31] https://www.achrnews.com/articles/136690-hvac-contractors-reveal-the-best-places-to-recruit-new-employees
[32] https://www.careeronestop.org/ResourcesFor/EntryLevel/entry-level.aspx
[33] https://www.careeronestop.org/ResourcesFor/EntryLevel/entry-level.aspx
This blog has been labeled as archived as it may no longer contain the most up-to-date data. For a list of all current blog posts, please visit our blog homepage at https://www.rsi.edu/blog/