The HVAC industry, like any industry, is not immune to occasional misinformation or exaggeration, which is why staying informed of the facts and not believing everything you hear is important. Such is the case with the R-22 phaseout.1
Some customers mistakenly believe:
R-22 is illegal.
They'll have to replace their R-22 HVAC systems.
R-22 is going to be too expensive to obtain.1
Here's what HVAC training program students and techs working in the field really need to know about the R-22 phaseout.
What Is the R-22 Phaseout?
R-22 is one of the most commonly used refrigerants in older air conditioning systems, so it's easy to see why its phaseout is such a big deal to the industry.2
The R-22 phaseout is a result of Environmental Protection Agency (EPA) regulations, including Section 608 of the Clean Air Act, designed to minimize the release of ozone-depleting substances (ODS) into the atomosphere.3,4
Get Started on the Path to a New Career
Fill out our form to learn how we can help you change your life.
Essentially, the EPA is phasing out the production of hydrochlorofluorocarbons (HCFCs), including HCFC-22 or R-22, and chlorofluorocarbons (CFCs) because of their detrimental effect on the planet.4
What Are the Top 3 Myths about the R-22 Phaseout?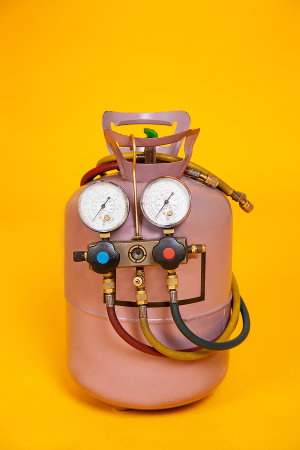 There are a number of myths taking root regarding the R-22 phaseout in the HVAC industry.
However, three myths in particular can be especially misleading to your customers.1
Myth 1: R-22 Is Illegal
It is a fact that after January 1st of 2020, the production and importation of virgin R-22 is illegal.5
However, it is not illegal to have a cooling system that uses R-22, for a technician to use R-22 or for a technician to purchase R-22 from a reputable seller that still has a stock of R-22.1
According to the EPA, the production of R-22 is undergoing a phaseout, and there are no requirements to stop using the R-22 that is still available. Nor is there a reason for anyone to replace their systems that rely on R-22.6
Myth 2: Customers Have to Replace Their R-22 HVAC Systems
HVAC systems that rely on R-22 do not have to be replaced right away; the systems can continue to be serviced as usual using stockpiled R-22 or recycled R-22 products.6
Some air conditioning systems can use R-22 refrigerant as well as R-410A, which is an acceptable alternative refrigerant that is not a threat to the ozone.6  Other alternatives include R-421A, R-427A and R-407C.1
It is also important to note that routinely adding refrigerant may not be necessary if instead leaks are located and sealed. Properly sealing a refrigerant leak can prevent the need for topping off the system on an ongoing basis, which can help protect the environment and reduce reliance on R-22.6
Myth 3: R-22 Is Too Expensive to Keep Using
R-22 is still available, both in new and recycled forms, and it can still be affordable. In fact, the cost of R-22 has been steadily declining.7
Between 2017 and 2018, the cost of a thirty-pound cylinder of R-22 fell to almost half the price. Even though the refrigerant is on its way out and it would seem logical that remaining supply prices would climb as stockpiles get smaller, that hasn't been the case. This may be due, in part, to the numerous alternatives to R-22 that have been introduced to the market.7
The EPA does state that the cost to service R-22 equipment may rise eventually due to diminishing supply. However, if you have a customer who is being quoted an outrageous price for servicing R-22 equipment by another contractor, you can double check the price quote and look into what alternatives may be available.6
Serve Customers Correct Information
As an HVAC tech, your customers may turn to you for guidance about their HVAC equipment, including the R-22 phaseout.
Taking time to prepare for the phaseout and familiarize yourself with the facts versus myths can help you offer the right information and better customer service.
1https://www.achrnews.com/articles/142132-fighting-the-fake-news-of-the-r-22-phaseout?oly_enc_id=6088A0228056D8Z
2https://www.brighthubengineering.com/hvac/61758-r22-refrigerant-or-freon-22/
3https://www.epa.gov/ods-phaseout
4https://www.epa.gov/ods-phaseout/what-phaseout-ozone-depleting-substances
5https://wilksair.com/the-truth-and-lies-about-the-big-bad-r22-monster/
6https://www.epa.gov/sites/production/files/2015-07/documents/phasing_out_hcfc_refrigerants_to_protect_the_ozone_layer.pdf
7https://refrigeranthq.com/falling-price-r-22/
This blog has been labeled as archived as it may no longer contain the most up-to-date data. For a list of all current blog posts, please visit our blog homepage at https://www.rsi.edu/blog/