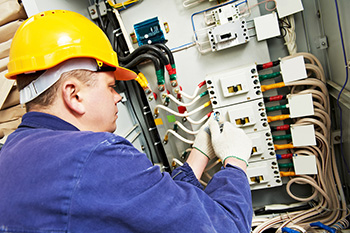 College is often seen as the only path towards a rewarding and well-paying career. This common misconception is starting to lose its weight as more and more people look for alternative career paths, with many turning towards the skilled trades. Here, we're going to look at how long it takes to learn a trade skill along with some specific positions that are in high demand.
HVACR

HVACR technicians and installers are experts in heating, cooling, and refrigeration. These skilled tradespeople install and provide maintenance services on both residential and commercial systems to keep homes and businesses comfortable.1
Foundational Education
If you're planning to become an HVACR technician, you'll need to pursue a post-secondary education at a trade school that offers classes in heating, air conditioning, and refrigeration. The length of these programs can vary anywhere between six months and two years. Upon completion,  graduates have a certificate to practice.2
Vocational Training
After graduating from trade school, it's common for qualified HVACR technicians to gain hands-on experience by working with experienced technicians.2 Other professionals gain their on-site training through apprenticeships that last anywhere between three and five years. Here are some key skills taught during this period:
Get Started on the Path to a New Career
Fill out our form to learn how we can help you change your life.
Blueprint reading
Safety guidelines
Using industry-specific tools
System operations2
Career Advancement
There are plenty of opportunities for career advancement in the HVAC industry. Experienced HVACR technicians can be elevated to project management positions to oversee operations. If you're looking for something a little different, you can also transition into design or sales roles by drawing upon your experience in the field.2
Electrician

Electricians are experts in all things electricity in both residential, commercial, and factory settings. They can install, service, and maintain electrical systems for a variety of applications including communication and lighting.3
Foundational Education
You need a high school diploma or general education development (GED) to work as an electrician. It's common for electrician students to start out at technical schools where they receive classes in basic circuitry and safety practices.4
Vocational Training
After earning the required level of education, electricians typically enter into an apprenticeship to further hone their skills and expertise. These trade apprenticeship programs tend to last four to five years.4 Some of the things covered during this vocational training include:
Electrical theory
Blueprint reading
Relevant mathematics
Soldering
Electrical code compliance
Safety standards
First-aid practices4
When electricians graduate from vocational training, they're known as "journey workers" as they're free to practice on their own or with another company.4
Career Advancement
As with many skilled trades, there's significant upward mobility for electricians. With a few years under your belt working as a qualified electrician, you have the potential to advance to a role as a master electrician. You can even venture outside the position as an electrician without leaving the field by becoming a project manager or supervisor if a more hands-off, managerial approach interests you.4
Solar Panel Installer

Solar panel installers, also referred to as PV installers, are experts in installing, maintaining, and servicing rooftop devices that capture sunlight and convert it into electrical energy. These skilled tradespeople are well-versed in electrical systems as solar panels connect and communicate directly with these configurations.5
Foundational Education
Generally, solar panel installers are required to have a high school diploma to enter the field. Some of the essential courses students take cover everything from basic safety standards to complex system design.6 Courses can last anywhere between a few days and several months.6 There are even options for PV installers to get started with online courses.6
Vocational Training
After completing the required education, many solar panel installers work under experienced tradespeople through on-the-job training. This period of working directly under a professional installer can last from one month to an entire year.6 During this time, solar panel installers continue to learn more about varying types of installation techniques, how to use tools properly and what safety precautions are necessary.6 Some on-site training includes instructions on installing a certain brand of product for specific manufacturers.6
Career Advancement
There are plenty of career trajectories solar panel installers can pursue after receiving their qualifications. After at least a few years on the job, you can transition to a project supervisor position where you'll be in charge of planning, managing, and overseeing installation jobs.6 If you want to stay in the field with a different job description, you can put your in-depth knowledge of solar panels to use as a salesperson.6
What skilled trades are in demand?
There's currently a major shortage of skilled laborers and an increased demand for trades professionals. HVAC technicians, electricians, and solar panel installers are all highly coveted positions with good growth projections. Here are some numbers illustrating the future demand of these skilled trades:*7,8,9
| | | |
| --- | --- | --- |
| Trade | % of Growth from 2020-2030 | # of Additional Jobs/Year |
| HVAC Technician | 5% | 38,500 |
| Electrician | 9% | 84,700 |
| Solar Panel Installer | 52% | 2,300* |
Putting It All Together: How long does it take to learn a skilled trade?
One of the greatest advantages the skilled trades have over college is the length of time between graduation to employment. While it takes the average undergraduate student more than four years to complete their degree, most vocational schools only last a fraction of the time.10 For example, RSI trade programs last anywhere between three and 15 months! If you want to learn how to learn trade skills, visit the RSI site for more information on trade programs and career opportunities.
Interested in learning more about what it takes to become a skilled tradesperson. Read about what you should consider when choosing a trade school.
1 https://www.bls.gov/ooh/installation-maintenance-and-repair/heating-air-conditioning-and-refrigeration-mechanics-and-installers.htm#tab-2
2 https://www.bls.gov/ooh/installation-maintenance-and-repair/heating-air-conditioning-and-refrigeration-mechanics-and-installers.htm#tab-4
3 https://www.bls.gov/ooh/construction-and-extraction/electricians.htm#tab-2
4 https://www.bls.gov/ooh/construction-and-extraction/electricians.htm#tab-4
5 https://www.bls.gov/ooh/construction-and-extraction/solar-photovoltaic-installers.htm#tab-2
6 https://www.bls.gov/ooh/construction-and-extraction/solar-photovoltaic-installers.htm#tab-4
7 https://www.bls.gov/ooh/installation-maintenance-and-repair/heating-air-conditioning-and-refrigeration-mechanics-and-installers.htm#tab-6
8 https://www.bls.gov/ooh/construction-and-extraction/electricians.htm#tab-6
9 https://www.bls.gov/ooh/construction-and-extraction/solar-photovoltaic-installers.htm#tab-6
10 https://www.cnbc.com/2019/06/19/just-41percent-of-college-students-graduate-in-four-years.html