There's no struggle comparable to the sacrifices the brave men and women of our armed forces endure when they selflessly protect their country. Unfortunately, another significant challenge awaits Veterans even after their combat ends: returning to civilian life.
According to a Pew Research poll, 27% of Veterans find it difficult to readjust to civilian life. This percentage nearly doubles to 44% for Veterans who served after the 9/11 attacks.1 Fortunately, an increasing number of schools across the country strive to meet the needs of Veterans specifically to support their transition back to everyday life.2
Why Do Veterans Struggle To Transition?
Military Veterans are considered non-traditional students because they don't fit the profile of the average college student. Service members are typically older than their student counterparts, double as likely to work while attending school, and are more likely to have a family.3 The unique experiences that service members have before returning to civilian life raise a number of obstacles on their path to further education.4
The gap between the average student and the average Veteran can make service members feel isolated when trying to return to school as though they don't fit in at college. Furthermore, Veterans might struggle to find helpful resources outside of the rigid conditions of the military, making their educational attainment that much harder.5
The challenges Veterans face when pursuing higher education can make it harder for them to reach their academic goals with many struggling to maintain high grades.4 A good way for Veterans to ensure they get access to helpful support and resources catered to their needs when transitioning back to civilian life is attending a trade school.
Get Started on the Path to a New Career
Fill out our form to learn how we can help you change your life.
The Benefits of Attending Trade School for Veterans?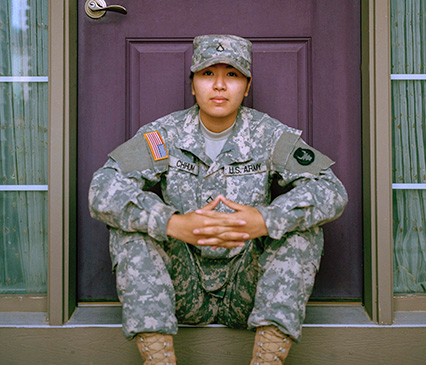 Transition to Civilian Life More Smoothly
Going from the battlefield to the classroom isn't an easy transition for many Veterans, especially without targeted resources available to support the transition. When you attend a trade school, you might experience a smoother return to civilian life because of the emphasis this designation places on creating civilian opportunities for service members.
Attend Classes With Fellow Veterans
The military is well-known for creating a special bond amongst Veterans that endures well after returning to civilian life. Attending a trade school like RSI, school can put you in touch with fellow service members who share similar experiences which can enrich your educational experience.
Feel Welcomed and Appreciated
Some Veterans have experiences of isolation and rejection when interacting with traditional students who might not understand the complexities of history or war that military members know well.5 A trade school could have a more respectful and understanding environment where you feel appreciated as a Veteran instead of misunderstood.
Giving Back to the Military Community
The Refrigeration School has a proven track record of supporting Veterans in their transition to civilian life. As a trade school, we offer specialized training programs that provide people with the skills, knowledge, and expertise needed to succeed in a skilled trade profession. The hands-on work required by the HVAC/R, electrician, and welding trades make them compatible with skills Veterans learn in the military. Plus, you might be able to pay for part of the training with your GI Bill® .
Read about four skilled trades all Veterans should consider to learn more about this potential career path.
1https://www.pewresearch.org/social-trends/2011/12/08/the-difficult-transition-from-military-to-civilian-life/
2https://www.militaryfriendly.com/faqs/#
3https://www.mentalhealth.va.gov/student-Veteran/learn-about-student-Veterans.asp
4https://www.dce.ndsu.nodak.edu/otlweb/blog/student-Veterans-and-your-classroom/
5https://www.research.va.gov/currents/1017-Veterans-face-challenges-in-higher-education.cfm
This blog has been labeled as archived as it may no longer contain the most up-to-date data. For a list of all current blog posts, please visit our blog homepage at https://www.rsi.edu/blog/