Think welding is a job only men can do? Think again.
Women proved they were deft metal fusers when they helped win WWII. The real Rosie the Riveters welded the munitions, ships and airplanes that were pivotal on the front lines.[1]
Seventy-three years later, the nation faces a new crisis and needs women to pick up welding torches once again.
What is it? A massive skilled trades shortage.[2]
Find out how you could help keep America strong as a female welder.
Get Started on the Path to a New Career
Fill out our form to learn how we can help you change your life.
Why Women Should Consider Welding
Whether you're just graduating from high school or looking for a more lucrative career, the field of welding has much to offer women.
Job Security
With much of the current welding workforce retiring, there is a strong need for workers with welding training to replace them.
Unfortunately, too many young people are steered toward universities, leaving positions on shop floors unfilled.[3][4]
At the same time, population growth and an American manufacturing renaissance is increasing the need for skilled welders at construction sites and factories. These tradespeople are also needed to help rebuild crumbling highways, bridges and oil pipelines.[5]
Companies are scrambling to find skilled workers, regardless of their gender.[6] This presents a huge opportunity for women, who made up only 4 percent of the welding workforce in 2016.
Since many of these jobs must be performed on site, there is little risk of outsourcing. For those with the right skillset, welding can offer excellent job security.[7]
Higher Pay and Benefits
Businesses have been dealing with the skilled labor shortage by offering benefits, better pay and learning and development programs.[8]
On average, welders make nearly 3 times as much as the federal minimum wage: $20.87 an hour versus $7.25 per hour.[9][10]
One of the advantages of a welding career is that it offers a higher average annual income than traditionally female-dominated jobs:
Welders: $43,410.
Nursing Assistants: $28,540.[11]
Receptionists and Information Clerks: $29,640.[12]
Preschool Teachers: $33,590.[13]
Job Flexibility
Working women and mothers might find that welding training comes with a flexible schedule that can change depending on their needs. Many trade schools offer morning, afternoon and evening welding courses so students can work or care for children while they train.
Welders often ply their trade at different work sites throughout the week instead of clocking into one location from 9 a.m. to 5 p.m., so it's possible to set work hours around other obligations. In fact, five percent of welders are self-employed and can make their own schedules.[14]
Career Advancement Opportunities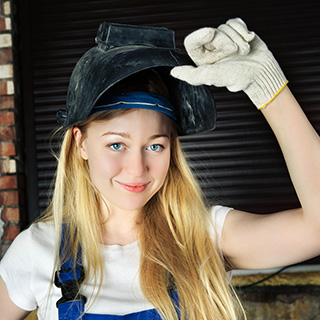 Those who opt to continue their welding education with specialized training can find opportunities to advance in the field.
They may become certified in different types of metals or welding processes, such as stick welding, or they could take on related positions as a welding inspector or welding instructor.[15]
Welding Training
Like all schools, trade schools have pros and cons, but consider this: Women can complete a welding training program at a fraction of the time and cost of a traditional university.
While college can take 4 to 6 years and cost between $100,000 and $150,000, trade school typically requires 2 years or less of training at a cost of $10,000 per year.[16]
Plus, welding school students learn the very arc welding processes and techniques they'll need to land entry level positions in the field once they graduate.
Scholarships
There are many scholarships specifically for vocational training and women. For example, the Soroptimist Live Your Dream: Education and Training Awards for Women offers education grants to women who provide the primary financial support in their families.[17]
Certain regions offer scholarships to local students, and we've gathered a few that you can read about here: 6 Scholarships for Arizona Trade School Students That You Can Apply to Right Now.
Women Welders Support Themselves, Their Families and the Nation
A career in welding can not only allow women to support themselves and their families, but also the whole country. Welders contribute to the economy through their role in manufacturing. They produce essential products like cars and computers. And they make sure our highways, buildings and bridges are maintained for future generations.
Feeling inspired by welding? Learn the stepping stones to becoming a welder and making it a successful career.
https://www.history.com/topics/world-war-ii/american-women-in-world-war-ii-1
https://www.npr.org/sections/ed/2018/04/25/605092520/high-paying-trade-jobs-sit-empty-while-high-school-grads-line-up-for-university
https://www.theatlantic.com/business/archive/2018/08/theres-a-shortage-of-welders-will-more-women-fill-the-gap/567434/
https://www.npr.org/sections/ed/2018/04/25/605092520/high-paying-trade-jobs-sit-empty-while-high-school-grads-line-up-for-university
https://www.bls.gov/ooh/production/welders-cutters-solderers-and-brazers.htm#tab-6
https://news.gallup.com/businessjournal/236180/new-solution-skilled-
https://www.theatlantic.com/business/archive/2018/08/theres-a-shortage-of-welders-will-more-women-fill-the-gap/567434/
https://news.gallup.com/businessjournal/236180/new-solution-skilled-workers-shortage.aspx
https://www.bls.gov/oes/current/oes514121.htm
https://www.dol.gov/general/topic/wages/minimumwage
https://www.bls.gov/oes/current/oes311014.htm
https://www.bls.gov/oes/current/oes434171.htm
https://www.bls.gov/oes/current/oes252011.htm
https://www.bls.gov/ooh/production/welders-cutters-solderers-and-brazers.htm#tab-3
https://weldingcareernow.com/blog/welding-career-advancement
https://www.rsi.edu/blog/skilled-trades/trade-school-vs-college-the-pros-and-cons/
https://www.soroptimist.org/our-work/live-your-dream-awards/index.html
This blog has been labeled as archived as it may no longer contain the most up-to-date data. For a list of all current blog posts, please visit our blog homepage at https://www.rsi.edu/blog/