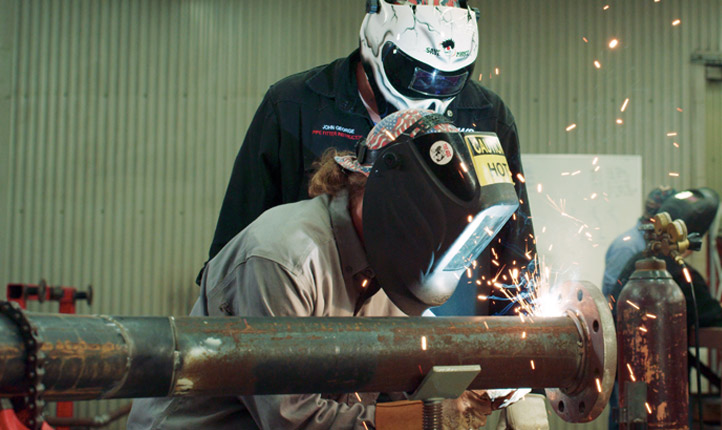 Are you interested in becoming a welder but not sure if you are ready to take the AWS certification exam?
In as little as 7 months, you can gain the classroom theory and hands-on experience you need to prepare for the AWS certification exam.
So, what is the AWS?
What is the AWS?

American Welding Society (AWS) is a professional association that certifies welders. They are a leading non-profit focused on promoting the welding industry and supporting welding professionals within the field. The organization is known for its professional welding certificates which cover all specialties of the welding industry.
What is AWS Certification in Welding?
AWS offers different levels of certification depending on the role a welder plays. From a traditional certification to an inspector or educator, AWS offers certifications to show that welders are serious about their career. They offer 14 professional certification categories.
Get Started on the Path to a New Career
Fill out our form to learn how we can help you change your life.
Is AWS certification worth it?
There are many benefits to getting AWS certified. They include:
Recognized Accreditation
AWS is recognized as the top accreditation in the industry. After receiving an AWS certification, you are added to a nationwide AWS database where employers can find your name and your credentials.
Employers Look for Certified Welders
Most employers have multiple candidates to choose from and they may give those with AWS certification more weight in the hiring process. Passing the AWS certification exam proves your proficiency in many welding techniques and confirms that you are able to perform the job without strict supervision.
Opportunity for Advancement
Those with the AWS certification are more likely to climb the ladder. Whether you want to work on more challenging welding projects or considering moving up to a supervisor position, the AWS certification will put you at the head of the pack.
Dynamic Skillset
The AWS certifications cover a wide range of welding techniques, so you will have many opportunities to increase your skill set. Whether you are working with SMAW, GMAW, FCAW, GTAW, or one of the other welding techniques, you will have the skill set to transition between techniques and use the one that best fits the project.
What Does a Welder Do?
Welders join and cut metal parts. They also fill holes, indentations, and seams in metal parts and components. According to the U.S. Bureau of Labor Statistics, welders typically:
Read and interpret blueprints, diagrams, sketches, and specifications.
Calculate and measure the dimensions of parts for cutting and welding.
Inspect structures and materials.
Monitor the welding process and use the correct temperature heat.
Maintain welding equipment, tools, and machinery.
How to Become a Welder
A great way to become a welder is to complete a Welding Specialist training program at The Refrigeration School (RSI). We offer hands-on workshops in real-life scenarios that you will find on the job. Our instructors help guide you through the curriculum and support you during the educational process.
Our Welding Specialist program allows you to become a qualified welding professional in as little as 7 months. Classrooms simulate real-world environments using the same equipment that professional welders use. Instructors guide you through the major skills of a welder, which include:
Welding Fundamentals
GMAW/FCAW Processes
Structural Welding
Pipe Welding
Welding Capstone
Once you have completed our Welding Specialist program, you will be ready to get certified by AWS. The certification exam is a performance-based test that proves you have the skills to perform welding techniques.
Is Welding a Growing Industry?
The U.S. Bureau of Labor Statistics projects in the United States that there will be 47,600 openings for welders each year over the decade. Most of these openings are a result of workers reaching retirement age. Plus, infrastructure bills passed by the current government could help expand the demand for welders through 2031.
Why There Will Still Be a Need for Welders in the Future
Although there is a revolution in robotics, there are still many welding jobs needed in places or in environments that robots can't easily access. And despite the savings a company may gain, the cost to purchase and maintain a robot is still extremely high. Automation bots are designed to perform limited tasks, and most can still only master one job at a time. Humans, on the other hand, can learn to perform multiple types of welding and choose the right weld based on the materials and environment.
Final Thoughts
Now that you know more about AWS, it is time to learn more about The Refrigeration School. If you want to start a career that is in demand, then becoming a welding specialist may be the right career for you.
Contact us to learn more about becoming a welding specialist today.