Pipelines are the veins of modern cities and towns. They transport drinking water, gas, oil and much, much more. Without them, keeping your home warm in the winter, cooking dinner and driving to work wouldn't be possible.
Who constructs, maintains, repairs, and replaces pipes and pipelines? Pipe welders, of course![1]
Learn more about this welding career below.
What Does a Pipe Welder Do?
The Bureau of Labor Statistics classifies pipe welders as "pipefitters." Plumbers and steamfitters fall under the same occupational profile because all three of these tradespeople install and repair pipe systems.
What sets pipefitters apart is the materials the pipes they work on transport. While plumbers work on pipes that carry water and sometimes waste and steamfitters on pipes through which steam passes, pipefitters connect pipes that transport gases, chemicals and acids.
Get Started on the Path to a New Career
Fill out our form to learn how we can help you change your life.
Primary job responsibilities are deciding on the type and quantity of materials needed for the project, welding the pipes together to connect them and testing to make sure the entire system is waterproof and airtight.
Tools of the trade include welding torches, drills, wrenches and saws.[2] Pipe welders typically use several welding methods to connect the pipes. They must understand all of the factors that impact, or even compromise, the quality of the welded connections they make. Since the pipes they install and maintain often carry hazardous materials, pipe welders are usually required to be certified in several welding techniques.[3]
Where Does a Pipe Welder Work?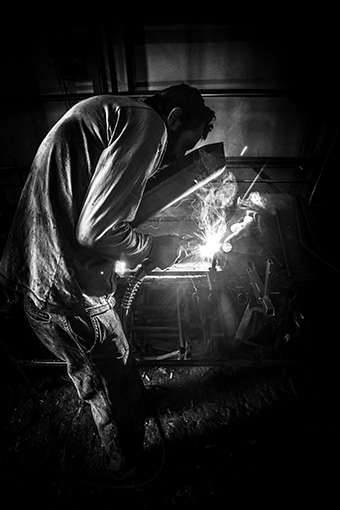 Wherever there are pipes, pipe welders are needed to keep them working properly. They play a big role in the petroleum industry, working on the piping necessary for each step of the process of bringing gas to the pump: from the oil rigs that extract the crude to the pipelines that transport it to the refineries that turn it into oil and gas.
Pipe welders work in a wide range of other industries, too:
Construction sites
Nuclear energy plants
Auto manufacturing facilities
Fabrication shops
Aerospace factories
The military[4]
These were the top employers for plumbers, pipefitters and steamfitters in 2016:
Plumbing, heating and air-conditioning contractors (62 percent)
Self-employment (13 percent)
The government (4 percent)
Heavy and civil engineering construction (4 percent)
Manufacturing (3 percent)
The majority of these tradespeople work full-time. It's not uncommon for them to be called to handle emergencies, even on nights and weekends. Those who work for themselves make their own schedules.[5]
How to Become a Pipe Welder
Fusing pipes can be challenging because systems tend to be set up in fixed positions that can be hard to reach—let alone weld. It's a job that takes thorough training and a versatile skillset. In fact, pipe welders are considered among the most highly skilled welders.
Since these professionals need to learn several welding processes, positions and metals, they usually start out with formal welding training at a trade school. These programs can teach the fundamental processes of shielded metal arc welding (SMAW) and gas tungsten arc welding (GTAW).
Technical schools may also provide instruction in safety, tool use and pipe system design.[6]
An apprenticeship is usually the next step to a career connecting pipes after trade school. Apprenticeships typically last up to 5 years and provide a combination of on-the-job training and classroom instruction.
Once they've completed all of the necessary courses and training, pipe welders may need to be licensed, especially if they want to work on gas lines. Requirements vary with the state.[7]
Pipe Welding: A Career with Big Potential
Pipe systems must be maintained and repaired regardless of how healthy the economy is, so there will always be a need for pipe welders. This is one reason why the Bureau of Labor Statistics predicts 16 percent job growth for these professionals through 2026. That's more than twice as fast as the national average.[8]
Since pipe welding tends to be more challenging to learn, many welding students choose to hone their skills in other areas like structural welding. Considering the need for pipe welders in so many industries, this presents a huge opportunity for students who take the time and put in the work to learn to fuse pipes.[9]
Once you finish welding school, where can you take your new skills? Read Where Are All the Welding Jobs? These States Have the Highest Employment to find out.
[1] https://awsweldlink.org/careers/detail/pipeline-welder
[2] https://www.bls.gov/ooh/construction-and-extraction/plumbers-pipefitters-and-steamfitters.htm#tab-2
[3] https://www.wisegeek.com/what-is-pipe-welding.htm
[4] https://awsweldlink.org/careers/detail/pipeline-welder
[5] https://www.bls.gov/ooh/construction-and-extraction/plumbers-pipefitters-and-steamfitters.htm#tab-3
[6] https://awsweldlink.org/careers/detail/pipeline-welder
[7] https://www.bls.gov/ooh/construction-and-extraction/plumbers-pipefitters-and-steamfitters.htm#tab-4
[8] https://www.bls.gov/ooh/construction-and-extraction/plumbers-pipefitters-and-steamfitters.htm#tab-6
[9] https://www.bakersgas.com/weldmyworld/2011/04/19/3-reasons-to-learn-pipe-welding/
This blog has been labeled as archived as it may no longer contain the most up-to-date data. For a list of all current blog posts, please visit our blog homepage at https://www.rsi.edu/blog/