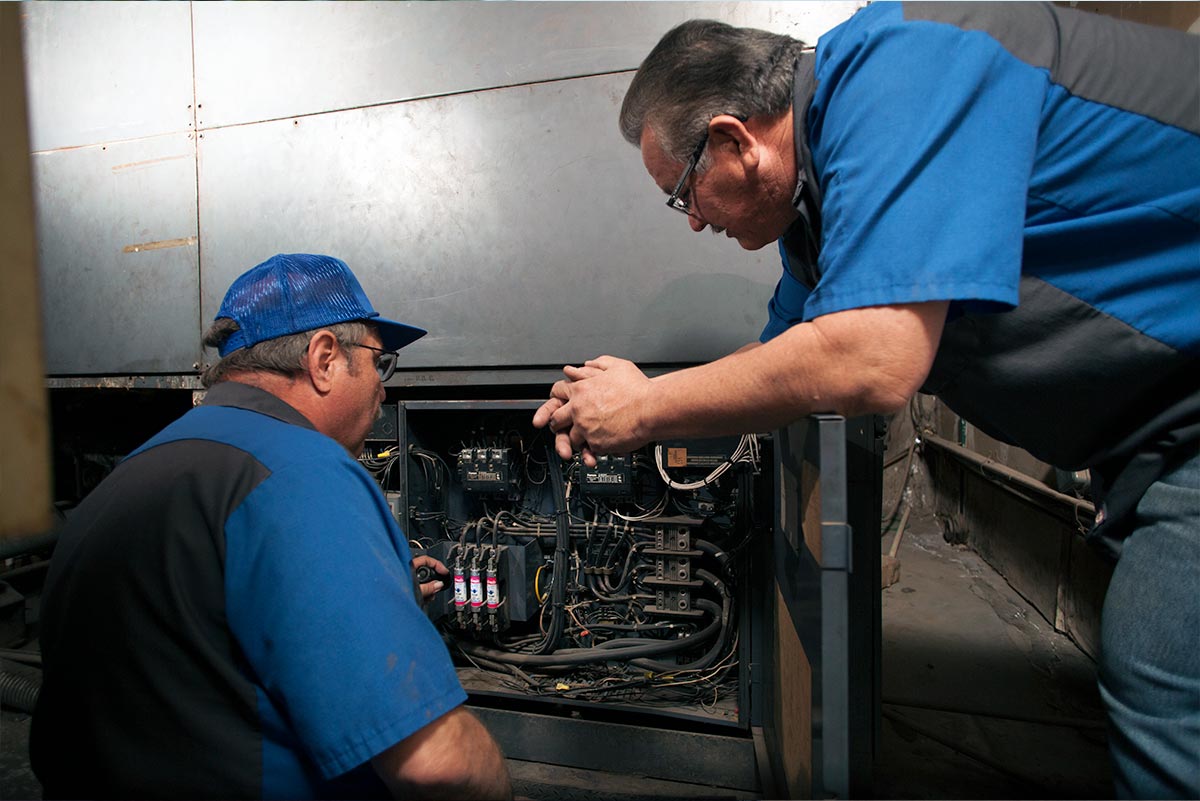 Are you considering working as a trade professional and want to know the difference between a HVAC/R and electro-mechanical technician? While there is some overlap, each trade offers a different role using a unique set of techniques, equipment, and tools.
What Does a Refrigeration Technician Do?
A refrigeration technician installs, maintains, and services heating, ventilation, air conditioning, and refrigeration (HVAC/R) systems. According to the U.S. Bureau of Labor Statistics, the role includes:
Installing electrical components and wiring.
Inspecting and testing HVAC/R systems.
Replacing worn or defective parts.
Their services involve inspecting the system, cleaning ducts, replacing filters, and checking refrigerant levels. An HVAC/R technician will also educate customers on proper HVAC use and care.
What Does an Electro-Mechanical Technician Do?
An electro-mechanical technician is responsible for installing, maintaining, and repairing HVAC, refrigeration, electrical circuitry, and solar systems. According to the U.S. Bureau of Labor Statistics, electro-mechanical technicians operate, test, and maintain electromechanical equipment. The role involves reading blueprints and schematics, precision measurements, operating metalworking machines, and soldering.
What is the Difference Between Refrigeration and Electro-Mechanical Technologies?
You will need to consider a few differences when choosing between a role as an HVAC/R technician or an electro-mechanical technician. These differences include:
Get Started on the Path to a New Career
Fill out our form to learn how we can help you change your life.
Length of Training
At The Refrigeration School, the HVAC/R program can be completed in as little as six months. While the electro-mechanical technologies program includes many of the classes in the HVAC/R program, additional coursework extends the program to nine months.
Curriculum 
HVAC/R stands for heating, ventilation, air conditioning, and refrigeration. These are the primary classes for both the HVAC/R and Electro-Mechanical Technologies programs. In addition to HVAC/R servicing, an electro-mechanical technician also manages electrical wiring and solar installation, maintenance, and repair. Both learn about the fundamentals of electricity, HVAC, and refrigeration systems.
Industry
HVAC/R focuses primarily on residential and commercial heating, ventilation, air conditioning, and refrigeration services for food, medical, and transportation industries. On the other hand, electro-mechanical technicians use sensors, actuators, and control systems to convert electricity into mechanical action. Electro-mechanical technologies involve industries like solar, manufacturing, automotive, and robotics.
Want to Learn More?
Ready to start working as an HVAC/R or electro-mechanical technician? The Refrigeration School offers classroom lectures, hands-on and virtual reality training. Every student attending The Refrigeration School can access Interplay virtual reality training. RSI is using technology to advance student's learning in an error-proof virtual environment.
Electro-Mechanical Technologies
This 9-month Electro-Mechanical Technologies Training program provides training based on a broad range of knowledge in electrical and mechanical technologies, along with heating, ventilation, air conditioning, and refrigeration.
HVAC/R Program
Ready to train for a new career within HVAC/R in Phoenix? Because HVAC is a hands-on job, technical training is typically required for anyone to enter this field. Many people invest in a trade program to learn the trade skills they need to be safe and effective as a professional.
To learn more about our trade program offered at the Phoenix, AZ campus, contact us at The Refrigeration School or call 1-888-671-5803.