Vocational training is an educational approach that teaches students only the skills and knowledge necessary for a career that does not require a bachelor's or advanced degree from a college.1
Offered at the high school and postsecondary level, vocational training is characterized by a combination of conceptual and hands-on instruction in career-specific subject matter.2
Vocational training programs tend to be shorter and cost less than university ones. Smaller class sizes, externships and educational partnerships with local employers are other hallmarks of vocational school.3
Credentials awarded at the postsecondary level upon completion of vocational training include a certificate, diploma or associate degree.4
What else do you need to know about vocational training? Find frequently asked questions about this career-focused style of education and their answers in this article.
Get Started on the Path to a New Career
Fill out our form to learn how we can help you change your life.
Your Q&A Guide to Vocational Training
If you're considering vocational training, you likely have questions. You're not alone. Get answers to some of the top questions about vocational training here.
Q. What Is the Purpose of Vocational Education and Training?
A. The purpose of vocational training is to prepare a student for a particular craft or trade.4 Examples of careers vocational training can prepare an individual for include welder, electrician or HVAC/R technician.
On the national level, the importance of vocational training is increasingly being recognized by lawmakers and business leaders, who have created several initiatives to support it. This is because of the role of vocational training in helping to close the skills gap.
Q. How Beneficial Is Vocational Training?
A. Vocational training can be beneficial for students who want to enter skilled trades like HVAC/R.
Students with limited time or resources may also find vocational training preferable to college, as well as those who are interested in learning only the skills necessary for the job they want.3
Q. What Careers Can You Prepare for in Vocational Training?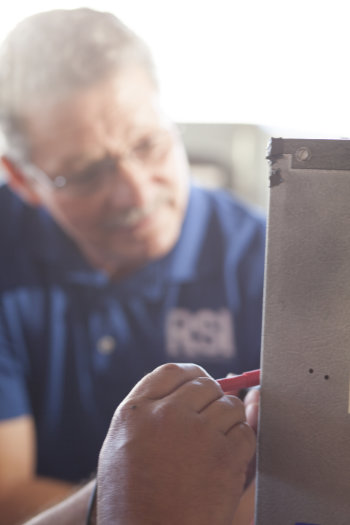 A. More than you might think. There are 79 vocational career paths, according to the National Association of State Directors of Technical Education Consortium.5 The group organizes these careers into sixteen vocational clusters:
Vocational Career Paths
Transportation, distribution and logistics
Agriculture, food and natural resources
Science, technology, engineering and mathematics
Architecture and construction
Marketing
Business management and administration
Manufacturing
Education and training
Law, public safety, corrections and security
Finance
Information technology
Government and public administration
Human services
Health science
Hospitality and tourism5
Q. Who Should Consider Vocational Training?
A. Vocational training can be a good option for these types of people:
High school seniors who don't like the idea of going to college and enjoy working with their
Moms going back to work and seeking careers that can pay more than traditionally female-dominated 6
Career changers at 40, or really any age, who want relatively quick and affordable training, two of the advantages of trade school.
Q. Which Type of Training Would Be Considered Vocational Training?
A. Let's start with what vocational training is not:
It's not instruction in theory, general education or other traditionally academic subject matter. No social studies or history classes are found at trade school.
Instead, vocational training focuses on teaching only the concepts of a specific trade and their practical applications via hands-on training. The classroom is often swapped out for more time in the lab, where students can quickly put their newly knowledge to work.7
Q. What Is a Vocational School?
A. A student can receive vocational training from a variety of institutions: trade schools, technical schools and vocational colleges. All of these schools focus on preparing students for a specific career and could be considered forms of vocational school.
Q. What Are Vocational Training Courses?
A. What can you expect from vocational training courses? Well, you won't find any English or geology books. Because general education is not taught in these classes.
For example, RSI's electrician training courses cover residential and commercial wiring, motors and lighting practices and the fundamentals of electricity. Students learn only what they need to know for entry-level jobs in the electrician field.
Q. What Is a Vocational Training Program?
A. Vocational training programs encompass the series of vocational courses a student would take to earn a certificate, diploma or associate degree.7
Q. How Long Is Vocational Training?
A. Vocational training typically takes two years or less to complete. For example, an HVAC training program can be completed in as little as seven months.
Q. How to Start a Vocational Training Program
A. If you're interested in pursuing vocational training, the first step is identifying the career you want. Next, research the vocational schools offering training for that career.
Consider what the facilities and instructors are like, the program's cost, length and success rate and whether or not the school is licensed and accredited.8
Once you've found the school you want, contact its admissions department to start the enrollment process.
And don't forget to explore ways to fund your vocational training.
1 https://nces.ed.gov/pubs/web/95024-2.asp
2 https://www.learnhowtobecome.org/vocational-trade-schools/
3 https://www.trade-schools.net/articles/trade-school-vs-college.asp
4 https://study.com/vocational_training.html
5 https://careertech.org/career-clusters
6 https://www.theatlantic.com/education/archive/2018/01/why-are-women-still-choosing-the-lowest-paying-jobs/551414/
7 https://www.vocationaltraininghq.com/what-is-vocational-training/
8 https://www.consumer.ftc.gov/articles/0241-choosing-vocational-school
This blog has been labeled as archived as it may no longer contain the most up-to-date data. For a list of all current blog posts, please visit our blog homepage at https://www.rsi.edu/blog/