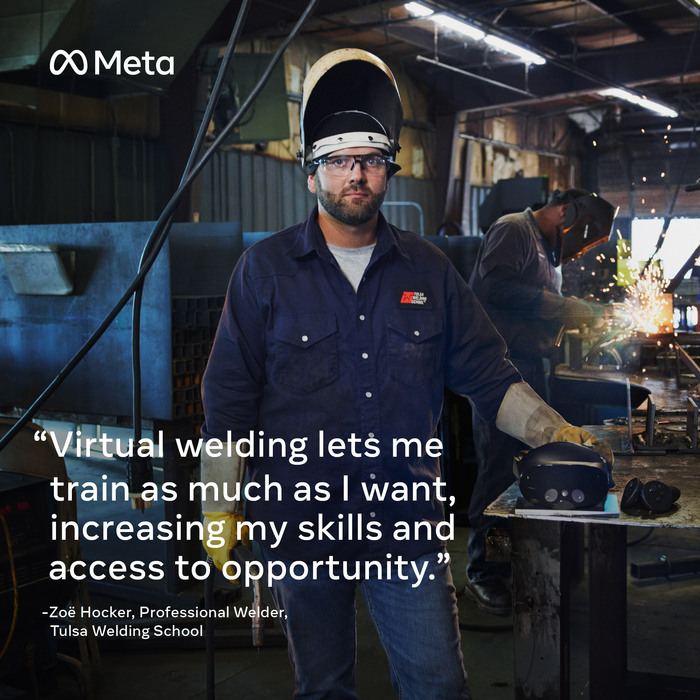 Get Ready for the Metaverse
The goal of the campaign is to help people understand why the metaverse matters and how it will provide real value to communities everywhere. This campaign promotes Tulsa Welding School's Virtual Reality (VR) training (OcuWeld), alongside a few other companies, to help people understand how the Metaverse is being used to drive change today across a range of industries including healthcare, education, vocational training, and sports.
Our Proprietary Virtual Reality Technology
Tulsa Welding School's (TWS) professional welding training programs utilize our proprietary virtual reality technology, OcuWeld, to complement our in-person training. We have found that virtual reality and OcuWeld, a first-of-its-kind proprietary VR app, effectively eases the stress that's linked to making on the job errors and instead empowers students to concentrate on the key aspects and maintain their engagement and enthusiasm during the learning process.
OcuWeld
The Meta campaign features our Tulsa Welding School Senior Lead Welding Instructor Zoë Hocker showing how he has used the VR training, the Metaverse and OcuWeld to advance his skills of the trade.
Thank you, Zoë, for being such a great brand ambassador and professional representative of Tulsa Welding School and the welding trade.
---
In a world driven by innovation, Tulsa Welding School's goal is to provide our students with training and skills that will prepare them for the future and meet evolving employer and industry demands.

Special thanks to our friends at Forge FX for your partnership in bringing this to life. We could not be more thrilled with the strides our students will make with this incredible partnership! The Impact is Real.
Get More Info
OcuWeld is an innovative Virtual Reality (VR) welding simulator designed by expert welding instructors for our welding students. Ready to learn more about OcuWeld and VR training to enhance education?
The Refrigeration School Inc (RSI) is owned and operated by StrataTech Education Group, parent company of Tulsa Welding School (TWS), as featured in the Meta campaign.
Virtual Reality (VR) training is part of the welding program at both TWS and RSI via OcuWeld ™