Thinking about becoming an HVAC technician?
There's a lot to like about this career: job growth, opportunities for advancement and a relatively short HVAC training time.
But the big question on your mind is probably, "How much money could I make?"
While the wage data for 2019 won't be out until the end of the year or later, looking at the most current salary information for HVAC techs can help give you an idea of potential earnings.
Check out the information below to see just where a career in HVAC could take you in 2019 and beyond.
Get Started on the Path to a New Career
Fill out our form to learn how we can help you change your life.
HVAC Job Outlook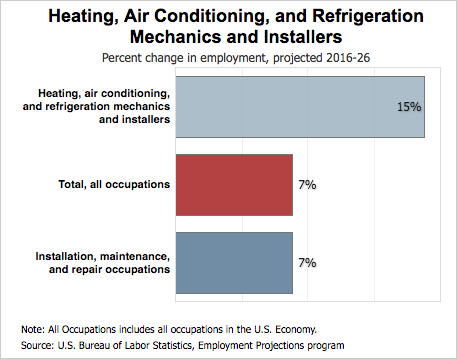 The HVAC career outlook is pretty strong. Jobs for HVAC techs are predicted to be added at a rate of 15 percent through 2026, according to the Bureau of Labor Statistics (BLS). This is more than twice as fast as the national average for all occupations.
Factors Predicted to Drive Job Growth
Residential and commercial construction
Energy efficiency and environmentalism
Equipment replacements, upgrades and repairs
HVAC techs with knowledge of electronics, computers and troubleshooting are expected to have the best career opportunities.[1]
2017 BLS HVAC Salary Data
HVAC technician salary varies across sectors and locations for several reasons.
HVAC Industry Salary Factors
Credentials
Industry or employer
Success and performance
HVAC skills and experience
Job tasks
Geographic location[2]
Location influences HVAC techs' salaries. These were the top paying states in 2017:[3]
District of Columbia
Alaska
Hawaii
Illinois
Connecticut
Top Paying Metropolitan Areas:
San Rafael, CA
Elgin, IL
Santa Rosa, CA
San Jose-Sunnyvale-Santa Clara, CA
Bay City, MI
Sheboygan, WI.
Bridgeport-Stamford-Norwalk, CT
Chicago-Naperville-Arlington Heights, IL
Peabody-Salem-Beverly, MA[3]
2018 HVAC Trends

How can HVAC technicians gain a competitive advantage in the field? As the BLS points out, the increasing number of complex HVAC systems will be one source of job growth in coming years. But only for qualified techs.[4]
While HVAC technicians can learn the fundamentals of the trade in an HVAC program at a trade school, it can also be helpful to stay current with industry trends.
2018 HVAC Industry Trends
Environmentally friendly HVAC equipment
Internet of Things (IoT) sensors
Building automation
Green construction[5]
New energy efficiency standards
Training: The Gateway to an HVAC Career
Many factors can contribute to how much you could take home as an HVAC technician. But education can make a difference in career opportunities and pay.[6]
If you're interested in the HVAC career path, enrolling in an HVAC program can be a good place to start. There's much to learn in an HVAC school.
[1] https://www.bls.gov/ooh/installation-maintenance-and-repair/heating-air-conditioning-and-refrigeration-mechanics-and-installers.htm#tab-6
[2] https://www.bls.gov/careeroutlook/2015/article/wage-differences.htm
[3] https://www.bls.gov/oes/2017/may/oes499021.htm
[4] https://www.bls.gov/ooh/installation-maintenance-and-repair/heating-air-conditioning-and-refrigeration-mechanics-and-installers.htm#tab-6
[5] https://www.msidata.com/2018-hvac-industry-trends-heating-cooling-ventilation-systems-evolving/
[6] https://www.bls.gov/ooh/installation-maintenance-and-repair/heating-air-conditioning-and-refrigeration-mechanics-and-installers.htm#tab-4
This blog has been labeled as archived as it may no longer contain the most up-to-date data. For a list of all current blog posts, please visit our blog homepage at https://www.rsi.edu/blog/