Are you thinking about becoming an HVAC technician?
To be successful in an industry like this, you need to be skilled in working on increasingly high-tech heating, ventilation, air conditioning and refrigeration equipment. To do that, you need to learn a lot of complex concepts.
You can learn all about these concepts, such as the refrigeration cycle and the laws of thermodynamics, in HVAC school.
HVAC training teaches you how to install and troubleshoot commercial and residential HVAC systems. Students typically also receive instruction in proper refrigerant handling to help prepare them for EPA Section 608 Technician Certification.[1]
HVAC School—Is It Worth It?
Let's get the big question out of the way. Is HVAC school worth the cost of tuition, fees and books? Our opinion: YES! Here's why:
Get Started on the Path to a New Career
Fill out our form to learn how we can help you change your life.
Employers prefer applicants with technical training.
HVAC school is shorter than community college and apprenticeships: 6 months versus 2 to 5 years.[2]
Hands-on training—no Gen Eds like english.[3]
Part-time and flexible training schedule options are available for people who have other responsibilities, like day jobs.
People with formal HVAC training have higher earning potential.
Greater career opportunities are available to technicians who have attended HVAC school.[4]
HVAC Education: What You Will Learn in School
Unlike many skilled trades, apprenticeship is not the most common path to an HVAC career. Working on HVAC equipment requires a combination of skills:
Electrical
Pipefitting
Soldering[5]
The right HVAC program equips people with well-rounded training and hands-on practice with the latest tools and technologies that professionals are currently employing in the field.
The Different HVAC Courses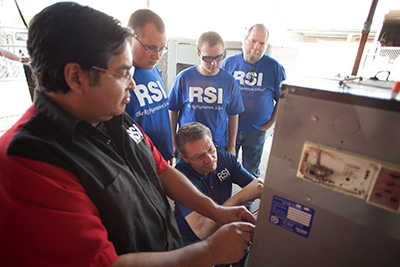 Here's a closer look at the courses offered in an HVAC program.
Fundamentals of Refrigeration
Refrigerants are used in many types of HVAC units.2 They help with the transfer of heat. A class in the Fundamentals of Refrigeration includes instruction in the following subjects:
The laws of thermodynamics
The refrigeration cycle
Pressure and temperature relationships
Refrigerant management safety practices
How to install, test and support a refrigeration system
Fundamentals of Electricity
HVAC students also learn about electrical concepts and theories used in the HVAC industry. Lessons in a Fundamentals of Electricity course consist of a range of subjects:
Electrical distribution systems, voltage circuits and low voltage controls.
Wiring diagrams
Installation and repair of electrical wiring and controls for residential and commercial HVAC units
Advanced Troubleshooting
When HVAC systems aren't working, techs often rely on basic and advanced troubleshooting techniques to diagnose and fix the problem. These methods can be learned in an advanced troubleshooting class:
Troubleshooting electric heat, gas furnaces, oil heating systems and heat pump systems
Plotting the refrigeration cycle
Comfort Systems
Comfort systems courses teach you how to work with residential and commercial HVAC equipment. Instructions and training on the following are covered in courses like these:
Cooling towers and chilled water systems
Psychometrics, split systems, comfort system accessories and valves
Training in safety practices to use during the installation, maintenance and repair of residential and commercial HVAC equipment
Refrigeration Systems and Practices
This course is an introduction to refrigeration systems and their parts. It includes training in how to install, test and service refrigeration systems. It also introduces students to piping, soldering, welding and brazing.
Additional Training Options
Electro-Mechanical Technologies
Electro-mechanical technologies is a field of its own, but many of the courses overlap with HVAC training courses:
Residential and commercial electrical wiring is covered.
Students learn how to apply basic electrical principles to the installation, repair and maintenance of HVAC/R voltage circuits, wiring panels and feeder circuits.
A solar module offers an overview of how solar panels works and the science of photovoltaic energy.
Prepare for a Promising Career
Job growth in HVAC service and repair is set to be much faster than average in the coming years than other industries.[6] HVAC training can give techs a competitive advantage over job applicants fresh out of high school and sets them up for a career that can last throughout life.[7]
Discover more about skills students learn in an HVAC school.
[1] https://www.bls.gov/ooh/installation-maintenance-and-repair/heating-air-conditioning-and-refrigeration-mechanics-and-installers.htm#tab-4
[2] https://www.bls.gov/ooh/installation-maintenance-and-repair/heating-air-conditioning-and-refrigeration-mechanics-and-installers.htm#tab-4
[3] https://study.com/blog/trade-school-vs-community-college-what-s-the-difference.html
[4] https://www.hvacschool.org/2017/08/is-hvac-school-worth-it/
[5] https://www.hvacschool.org/about/
[6] https://www.bls.gov/ooh/installation-maintenance-and-repair/heating-air-conditioning-and-refrigeration-mechanics-and-installers.htm#tab-1
[7] https://www.bls.gov/ooh/installation-maintenance-and-repair/heating-air-conditioning-and-refrigeration-mechanics-and-installers.htm#tab-4
This blog has been labeled as archived as it may no longer contain the most up-to-date data. For a list of all current blog posts, please visit our blog homepage at https://www.rsi.edu/blog/