With the electrical wiring, welding and HVACR industries facing shortages of qualified workers, there's never been a better time for women to consider learning a skilled trade.[1]
Thanks to relatively quick, affordable training programs, healthy job opportunities and sometimes higher earning potential, more and more women are entering the trades. And a growing number of resources are available to help them successfully make the transition.[2]
Check out some of the helpful resources available to women in HVACR below.
Sources of Support for Female HVACR Techs
Women in HVACR
For nearly 17 years, Women in HVACR has been providing mentorship, educational and networking opportunities for women of all ages entering or already working in the field of indoor climate control.
This nonprofit organization strives to promote growth for women from all reaches of the field:
Get Started on the Path to a New Career
Fill out our form to learn how we can help you change your life.
Sales
Technical
Management
Ownership[3]
Women in HVACR also offers scholarships, educational programs and an annual conference. Members receive a quarterly newsletter, access to active online communities and a digital directory to keep in touch with other members.
The National Association of Women in Construction (NAWIC)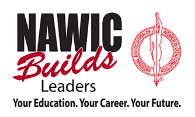 Founded in 1953 by 16 female construction workers, the National Association of Women in Construction (NAWIC) offers its members opportunities for education, leadership training, professional development, networking and public service.
The organization connects its members to educational resources, such as mentorship programs, scholarships and various training programs. Members also have access to the NAWIC online construction industry job board.
Once a year, members unite for the NAWIC Annual Conference, which provides a chance to meet other women in the industry and learn about the latest trends and innovations.
Scholarships for Women in HVACR
An HVACR training program at a trade school typically costs much less than a bachelor's degree—but it's not free. The good news is there are scholarships out there to help women pay for technical training.
Scholarships are gift aid that students can receive for various reasons:
Heritage
Academic record
Skills
Membership in certain groups[4]
Each year, the U.S. Department of Education, the nation's colleges and private organizations award students approximately $49.3 billion in scholarships and grants. Similar to scholarships, grants are a form of gift aid.[5]
Some of that huge chunk of money is available for women pursuing careers in HVACR. Examples of scholarships for women in HVACR school include:
The Women in HVACR (WHVACR) Scholarship Program
The Dwyer Group Women in the Trades Scholarship
Industry Groups for Women in the HVACR Field

Several major manufacturers of HVACR equipment have created organizations to support women in the industry.
Johnson Controls' Next Chapter Program & Women's Resource Network
Recognizing the challenge of attracting and retaining women in STEM (science, technology, engineering and math) positions, Johnson Controls created the Next Chapter program and Women's Resource Network.
The program creates STEM career opportunities for women who have been out of the workforce for two or more years. Attendees receive a customized, 8-week "experienced onboarding" process, training, a mentor and opportunities to network with other professionals.
Johnson Controls' female employees also provide support for professional development via their Women's Resource Network. Visit the company's "Women in STEM" careers page for more details.
Trane and Ingersoll-Rand's Project Scientist
When an industry is facing a skilled labor shortage and only 1.4 percent of its workers are women, manufacturing behemoths take notice. Ingersoll-Rand and Trane teamed up to support Project Scientist, a nonprofit organization offering STEM educational programs and camps for girls between the ages of 4 and 12.
At a recent event called Expedition, the Project Scientist team created hands-on interactive energy stations that taught girls the following subjects:
How energy management services, intelligent systems and building automation can help optimize a building's performance
The power sources for model rockets and rocket ships
Techniques for conducting electricity in Play-Doh with salt
How hydro and solar power work[6]
Additional Resources for Women in HVACR
Beyond support specifically for female HVACR technicians, there are numerous resources to help men and women in the industry develop professionally:
Trade shows and conferences
Continuing education
[1] https://www.forbes.com/sites/jimmorrison/2018/08/05/construction-labor-shortage-creates-increasingly-lucrative-career-paths/#6d5c92394cea
[2] https://www.marketplace.org/2018/03/26/economy/women-construction
[3] https://www.womeninhvacr.org/webapp/p/42/women-in-hvacr-history
[4] https://studentaid.gov/sa/types/grants-scholarships
[5] https://www.debt.org/students/scholarships-and-grants/
[6] https://www.achrnews.com/blogs/17-opinions/post/139586-where-all-the-hvac-ladies-at
This blog has been labeled as archived as it may no longer contain the most up-to-date data. For a list of all current blog posts, please visit our blog homepage at https://www.rsi.edu/blog/