In order to work as a professional HVAC technician, certain licensing and certifications are required.
EPA Section 608 Certification is required for all professionals working on systems containing refrigerants.
Depending on which U.S. state you plan on working in, you may need special state licensing or certification.
There are additional licensing tests for those who have experience in the field; passing specialized tests may make a candidate more desirable in the job market.
New HVAC technicians should figure out which particular credential type is needed for their career goals.
Three Types of Certification for HVAC Technicians
Why do HVAC techs need certification?
These days, most HVAC systems are so complex that technicians need comprehensive education to develop a true understanding of how they work. This includes training on common problems and the best methods to repair these systems.
Once they've completed an HVAC training program, HVAC techs prove their competency in working on HVAC equipment by taking certification and licensing exams.
Get Started on the Path to a New Career
Fill out our form to learn how we can help you change your life.
1. EPA Certifications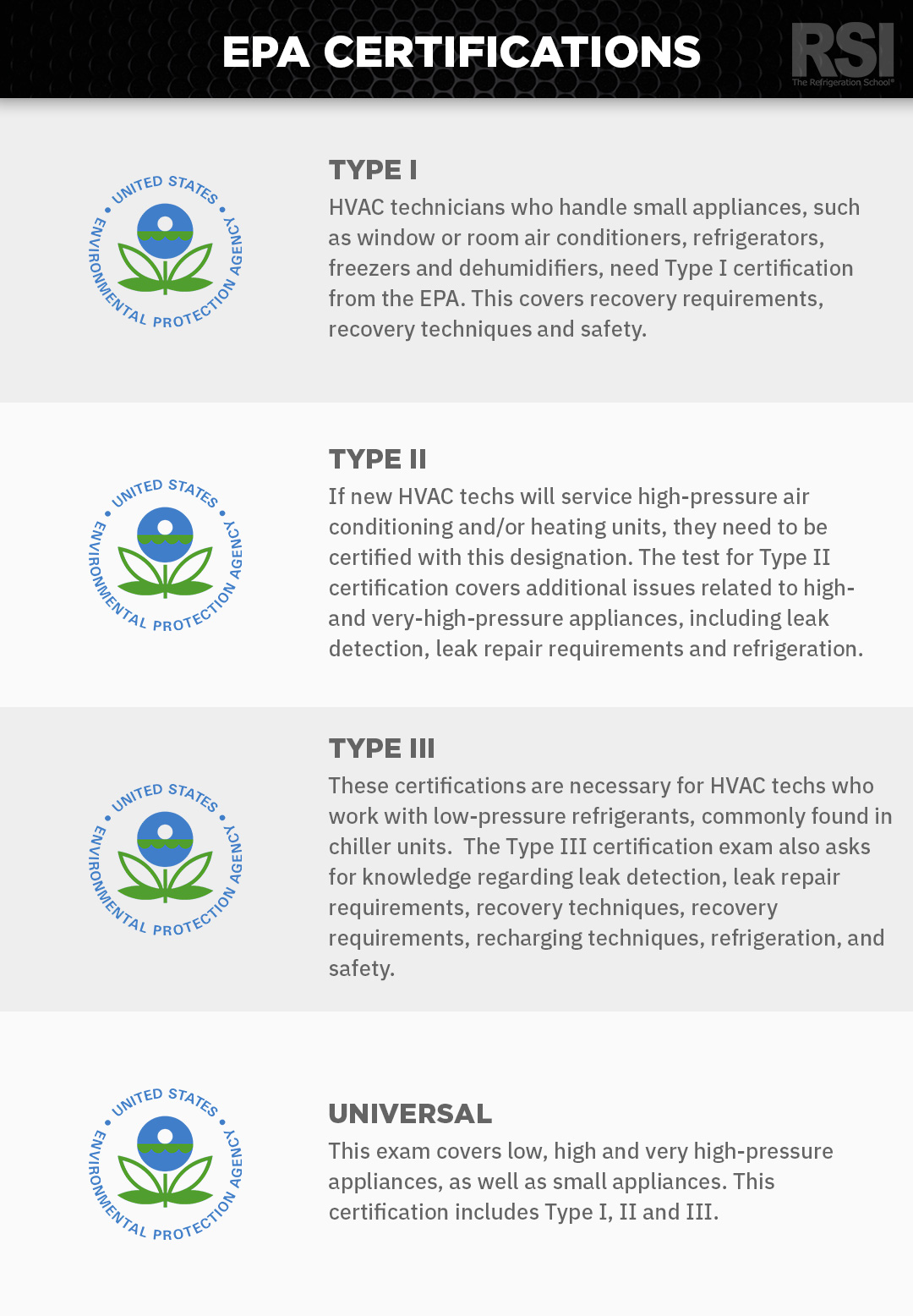 EPA Section 608 Certification is required for HVAC technicians who buy or work with any kind of refrigerants.
HVAC technicians must pass an exam specific to one of three specializations in order to become EPA certified:
Small appliances
High-pressure appliances
Low-pressure appliances
They may also earn EPA certification in all types of equipment.
Type I
HVAC technicians who handle small appliances, such as window or room air conditioners, refrigerators, freezers and dehumidifiers, need Type I certification from the EPA. This covers recovery requirements, recovery techniques and safety.1
Type II
If new HVAC techs will service high-pressure air conditioning and/or heating units, they need to be certified with this designation. The test for Type II certification covers additional issues related to high- and very-high-pressure appliances, including leak detection, leak repair requirements and refrigeration.
Type III
These certifications are necessary for HVAC techs who work with low-pressure refrigerants, commonly found in chiller units.2 The Type III certification exam also asks for knowledge regarding:
Leak detection
Leak repair requirements
Recovery techniques
Recovery requirements
Recharging techniques
Refrigeration
Safety
Universal
This exam covers low, high and very high-pressure appliances, as well as small appliances. This certification includes Type I, II and III.
2. State Certification and Licensing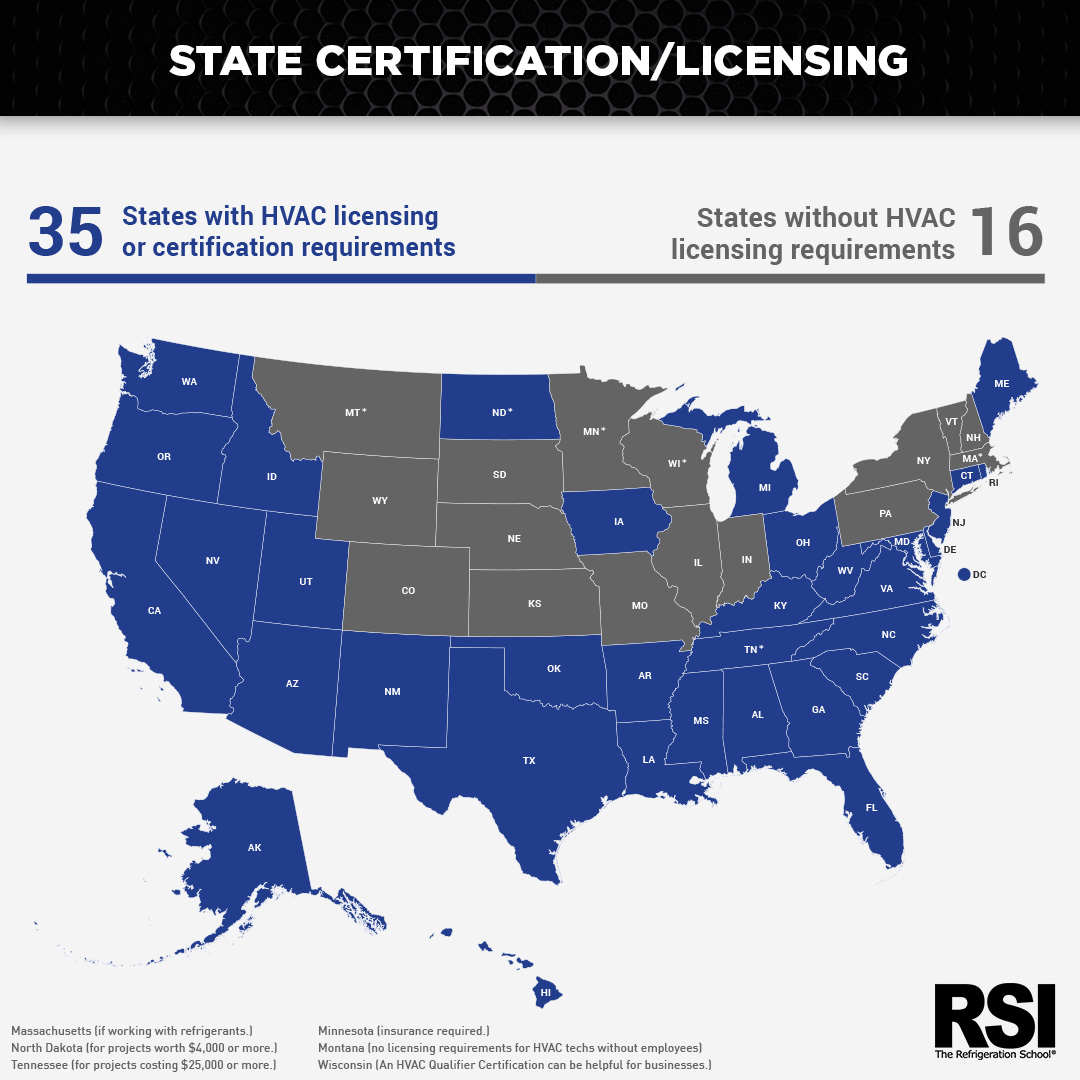 Since state regulations can change, be sure to verify requirements for your state if you need to obtain a credential in order to work with HVAC systems.3
According to Next Insurance4, this is the breakdown of states with and without licensing requirements.
States
with

HVAC licensing or certification requirements:
Alabama
Alaska
Arizona
Arkansas
California
Connecticut
Delaware
Distract of Columbia
Florida
Georgia
Hawaii
Idaho
Iowa
Kentucky
Louisiana
Maryland
Massachusetts (if working with refrigerants.)
Michigan
Mississippi
Nevada
New Jersey
New Mexico
North Carolina
North Dakota (for projects worth $4,000 or more.)
Ohio
Oklahoma
Oregon
Rhode Island
South Carolina
Tennessee (for projects costing $25,000 or more.)
Texas
Utah
Virginia
Washington
West Virginia
States
without

HVAC licensing requirements:
Colorado
Illinois
Indiana
Kansas
Maine
Minnesota (insurance required.)
Missouri
Montana (no licensing requirements for HVAC techs without employees)
Nebraska
New Hampshire
New York
Pennsylvania
South Dakota
Vermont
Wisconsin (An HVAC Qualifier Certification can be helpful for businesses.)
Wyoming
Keep in mind that requirements sometimes vary for technicians and contractors. In Arizona, for example, contractors need licenses, but technicians don't.
3. Additional Opportunities for HVAC Certification and Licensing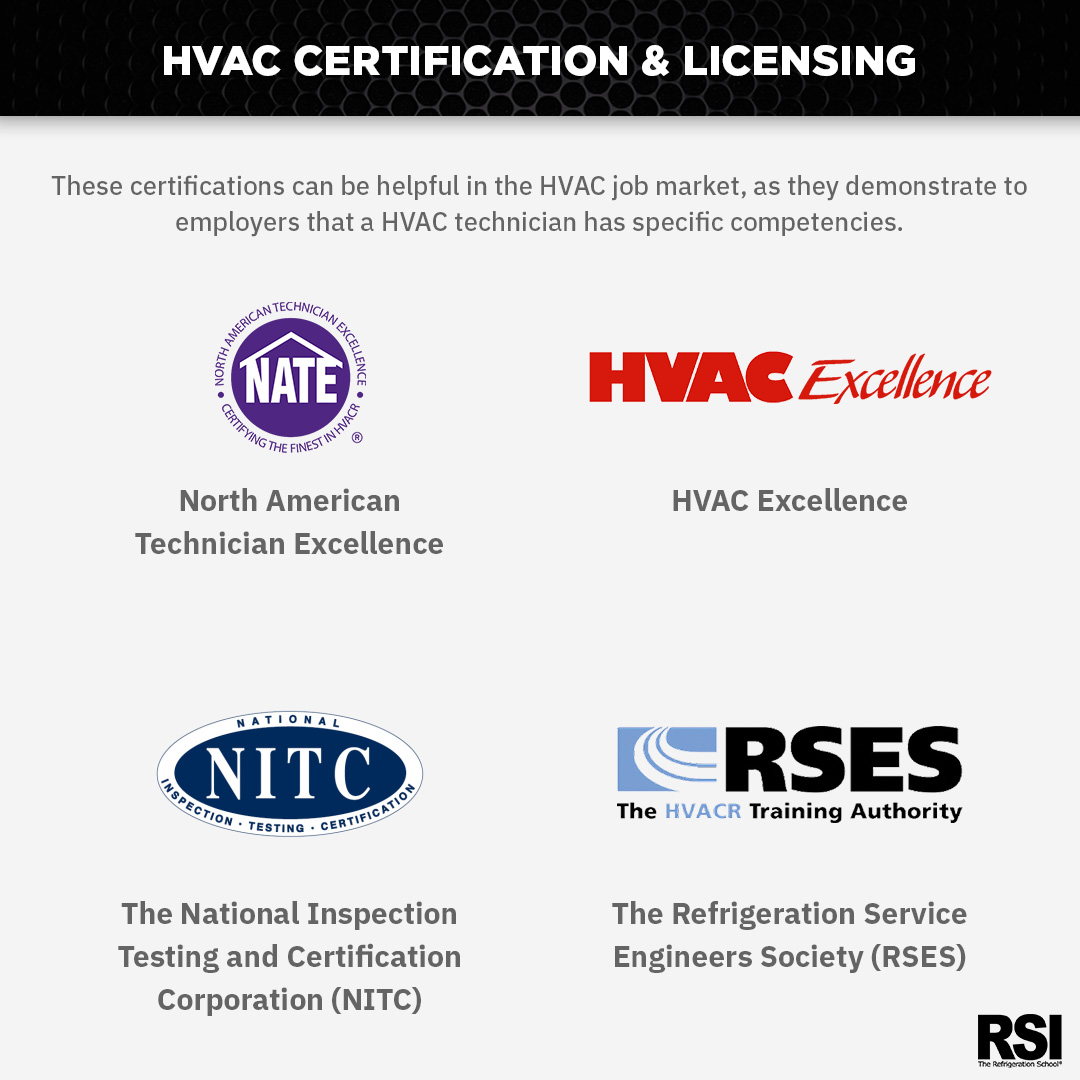 There are various specialized tests for HVAC technicians to become certified with specific types of equipment. Some require a certain amount of work experience or HVAC training before you can take them.
A number of organizations offer these types of exams:
These certifications can be helpful in the HVAC job market, as they demonstrate to employers that a HVAC technician has specific competencies.
RSI Prepares You for HVAC Certification
RSI's HVAC/R programs train students for a variety of skills in the industry that will help them prepare to test for EPA 608 certification and other HVAC licensing.
1. https://www.epa.gov/section608/definitions-section-608-terms
2. http://www.hvwtech.com/hvac-certification/
3. https://www.bls.gov/ooh/installation-maintenance-and-repair/heating-air-conditioning-and-refrigeration-mechanics-and-installers.htm#tab-4
4. https://www.next-insurance.com/blog/hvac-license-requirements/
This blog has been labeled as archived as it may no longer contain the most up-to-date data. For a list of all current blog posts, please visit our blog homepage at https://www.rsi.edu/blog/