Types of HVAC Careers and Jobs
Updated: 07/13/2022
These days, most new homes and buildings are constructed with some type of heating or cooling system. This means not only is HVAC service and repair a growing industry, but also that many different types of career and job opportunities are available for workers with the right training, skills and HVAC certifications and licenses.
HVACR technicians may work in the residential, commercial or industrial sectors, or they may specialize on a specific type of equipment, such as solar panels.1,2
See some of the possibilities for a career in HVAC in this article.
Have Questions?
A team of advisors are available to answer questions you may have.
M – Th: 7AM – 7:30PM (PST)
F: 7AM – 4PM (PST)
Sat: 8AM – 12PM (PST)
(855) 318-9203
E-Mail Us
Section 1
What Are HVAC Jobs?
Learning what HVAC technicians do can help give you a better idea of the types of jobs they might have. Classified by the Bureau of Labor Statistics (BLS) as "heating, air conditioning, and refrigeration mechanics and installers," HVAC technicians work on the systems that control the air quality and temperature in an array of settings.2
When you see an "R" at the end of the acronym for heating, ventilation and air conditioning (HVAC), it means the technician also works on refrigeration systems: HVACR.
An HVAC job may entail the installation, maintenance or repair of the systems that keep structures warm or cool depending on the season and well ventilated, as well as the units that maintain appropriate temperatures for food and other perishable items.2
What kind of structures? That depends on where the HVACR technician works. They may service equipment in homes, stores, hospitals, schools, factories and office buildings.3 Those who focus on renewable energy technologies may work on rooftops or other locations.4
Individuals who include solar photovoltaic technologies in their training to become an HVAC technician, however, may not work on heating and cooling equipment but instead on solar panels.2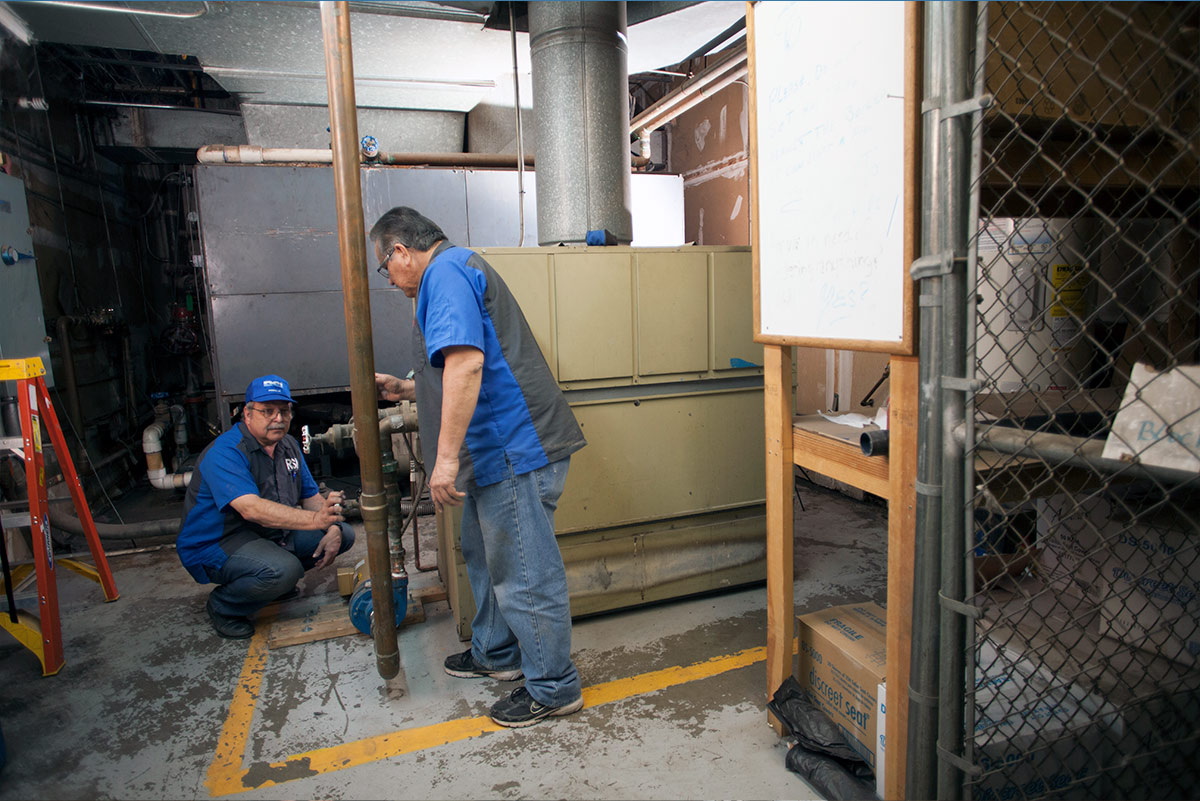 Section 2
Is HVAC in High Demand?
HVAC service and repair is in high demand relative to other occupations, and there have even been reports of a shortage of qualified technicians in the industry. The BLS projects 4% job growth for HVAC technicians through 2029, which is considered as fast as average.5*
In some states, job growth for HVAC technicians is expected to be even higher than the national average of 4%.5-10
States with the Fastest Job Growth for HVAC Technicians
Arizona

Job growth is projected to be 21.4% for HVAC technicians in Arizona through 2028.6*

Colorado

Through 2028, HVAC technicians are predicted to see 29.7% job growth in Colorado.7*

Texas

In the state of Texas, HVAC jobs are expected to be added at a rate of 15.9% through 2028.8*

California

The Golden State should see 12.5% job growth for HVAC techs through 2028.9*

Florida

Job growth is predicted to be higher than the national average in Florida: 16.2% through 2028.10*
Section 3
Where Can HVAC Technicians Work?
Indoor climate control is vital for not only homes and businesses but also numerous industries. This means HVAC technicians can work in an array of settings.
HVAC Service Company Jobs

A popular option for men and women fresh out of an HVAC training program can be taking an entry-level position at a company that offers HVACR products or services. As the BLS notes, 66% of HVAC technicians found employment with plumbing, heating and air conditioning contractors in 2019.3*

Self-Employed HVAC Technicians

While the majority of HVAC technicians are employees at plumbing, heating and air- conditioning contracting companies, about 7% are independent contractors, according to the BLS. As the title suggests, these technicians work for themselves and have the ability to make their own schedules.3

With greater freedom, however, can come more responsibility. Self-employed workers are obligated to pay state and federal taxes own their own, unlike employees who usually have the option to have these taxes deducted from their paycheck. Since they may be able to deduct business-related expenses, keeping a record of certain items purchased for work may be necessary. Obtaining and paying for health insurance and saving for retirement are other responsibilities that can accompany self-employment.11

HVAC Contractors

For many, starting a business is part of the American Dream. Fortunately, in the HVAC industry, it is possible to start a business with a small investment of time and resources and grow as demand for your services increases. Sometimes independent contractors transition into starting their own HVAC company.12
Section 4
What Types of HVAC Careers and Jobs Are There?
The field of heating, ventilation, air conditioning and refrigeration service and repair offers a wide array of opportunities.
HVAC Service and Repair Career Ladder
HVAC school students, however, are likely most interested in the career ladder they could climb within the fields of installation, maintenance and repair. The HVACR field can be diverse in the types of jobs it offers to people who specialize in this profession, depending on their level of training and experience.
HVAC Installation, Maintenance and Repair Jobs
The HVACR industry is comprised of various types of occupational focuses:
Residential air conditioning and heating.
Commercial air conditioning and heating.
Industrial and commercial refrigeration.
While the equipment in these fields operates on the same principles, they have differing capacities and levels of complexity.1 The technician's job title and years of experience can determine what types of equipment they operate on a jobsite.
Entry-Level Helper
Entry-level helpers assist senior technicians with the installation and servicing of residential and commercial equipment, taking on tasks like these:

Carrying
Lifting
Placing Parts
Cleaning Up after Installation
Service Calls1

They may also drive to pick up components or complete other errands. Basic safety training and a clean driving record are required. Medium-to-large contracting companies typically employ entry-level helpers.1

Rough-In Installer

"Rough-in" is another term for the initial phases of installing HVACR equipment:

Electrical, control and refrigerant Lines
Thermostats
Placing Parts
Duct boots
Duct runs

Requirements for the position include knowing how to read blueprints, lay out ductwork, braze and use basic hand tools.1
Professional-Level HVACR Jobs
Start-Up Technician

After the rough-in installer's job is complete, a start-up technician arrives on the site to check that the equipment operates to the manufacturer's standards. This includes several steps:1

Checking for proper startup
Checking that the equipment runs safely and efficiently
Recording information necessary for the warranty1

These professionals must possess good writing and reading comprehension skills, know how to troubleshoot electrical equipment and be proficient in refrigerant charging.1

Service Technician

HVACR service technicians are responsible for regularly assessing equipment and identifying what type of maintenance is required.1

Troubleshooting basic HVAC problems and making repairs is a big part of their job, so they must be good at diagnosing air distribution, electrical and refrigerant problems.1

Service Manager

Service managers direct the operation of an HVACR company or maintenance department, from assigning specific jobs to technicians to overseeing the outcome of each employee's work.1

These professionals must have excellent communication and management skills, as well as technical expertise.1

Systems Designer or Engineer

Individuals with a background in HVACR, bachelor's degrees in mechanical engineering and professional engineering licenses can design components and systems.13

Their jobs are comprised of the following responsibilities:

Design mechanical and thermal sensors and devices.
Develop and build such designs into finished products.
Test newly constructed thermal sensors and devices.13

In some locations, the law may require systems designers or mechanical engineers to design and specify the HVAC systems for large buildings.1

HVACR Business Owner or Supervisor

Starting an HVAC business can mean thinking about more than how to service or repair equipment. It can be a good idea to make a plan for how to expand your list of clients and stay profitable over the years. HVAC business owners typically spend time on administrative tasks each week too.12

Many contractors choose to specialize in one area, such as residential or commercial heating and cooling. They may also seek certifications from industry organizations to validate the quality of their work to customers.12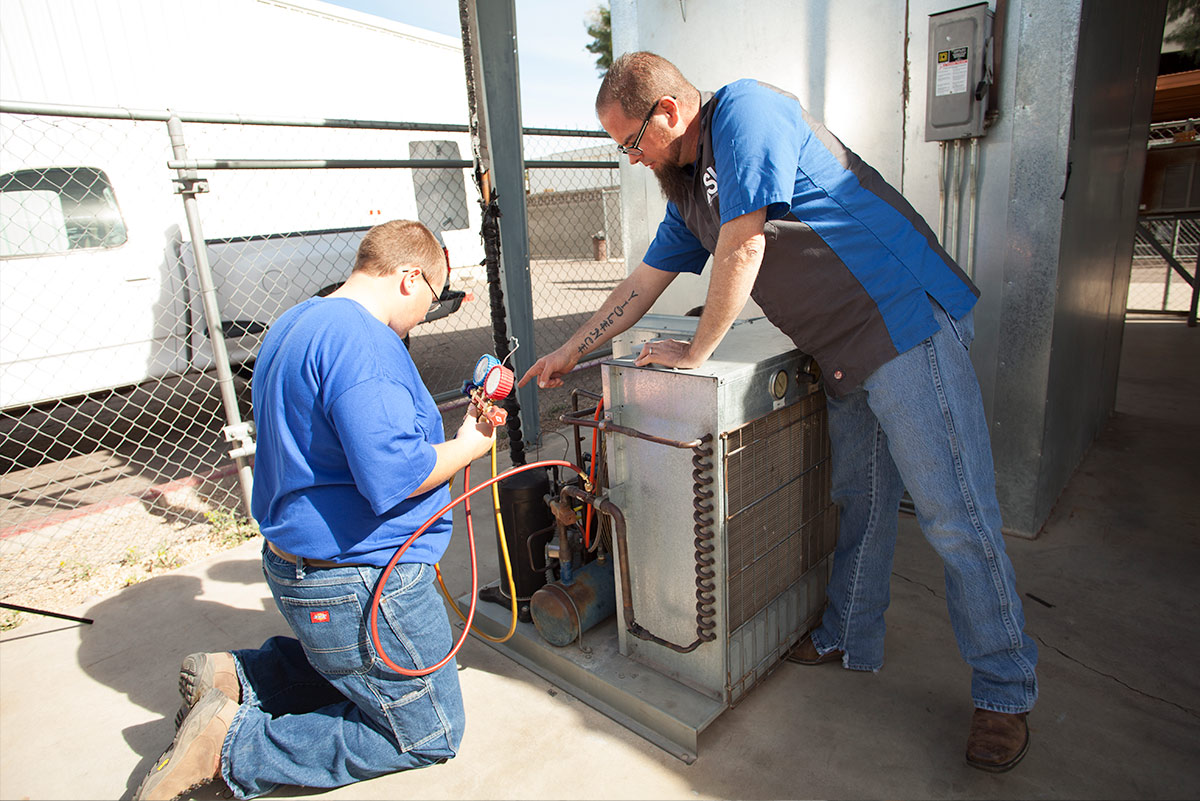 Section 5
Green HVAC Jobs
In the coming years, HVAC technicians may find jobs in the burgeoning green economy, according to the Occupational Information Network (O*NET). Specifically, they may find employment opportunities in the following two sectors:14
Green Construction

Job tasks may include erecting green buildings, installing green technologies and retrofitting commercial and residential structures with energy efficient equipment.14

Energy Efficiency

The focus of this sector is to increase energy efficiency. Activities may include improving the effectiveness of energy demand response and constructing "smart grids."14

The rise of green collar jobs in the HVACR sector presents exciting opportunities for technicians to play a role in creating a healthier planet for future generations.
Section 6
What Are Some HVAC-Related Careers?
The BLS classifies the following careers as HVAC-related:
Electricians
Plumbers, pipefitters and steamfitters
Boilermakers
General maintenance and repair workers
Sheet metal workers
Wind turbine technicians
Solar photovoltaic installers
Stationary engineers and boiler operators15
Section 7
Additional HVAC Career Considerations
As you can see, HVAC technicians can work in a variety of industries and positions. Beyond the healthy job growth and opportunities, there are other factors to take into account when considering a career in heating, ventilation, air conditioning and refrigeration.
Learn about HVAC technicians' earnings, training requirements and more in our HVAC Technician Career Overview.
*According to BLS data Arizona employed 10,000 Heating, Air Conditioning, and Refrigeration Mechanics and Installers (499021) through May 2020 http://data.bls.gov/oes.
1Title: Fundamentals of HVAC; Authors: Carter Stanfield and David Skaves; Air-Conditioning, Heating, and Refrigeration Institute; Second Edition; Textbook page 6 & 7
2https://www.bls.gov/ooh/installation-maintenance-and-repair/heating-air-conditioning-and-refrigeration-mechanics-and-installers.htm#tab-2
3https://www.bls.gov/ooh/installation-maintenance-and-repair/heating-air-conditioning-and-refrigeration-mechanics-and-installers.htm#tab-3
4https://www.bls.gov/ooh/construction-and-extraction/solar-photovoltaic-installers.htm#tab-3
5https://www.bls.gov/ooh/installation-maintenance-and-repair/heating-air-conditioning-and-refrigeration-mechanics-and-installers.htm#tab-1
6https://www.projectionscentral.com/Projections/LongTerm (search "Arizona" and select "Heating, Air Conditioning, and Refrigeration Mechanics and Installers" to generate job growth projection)
7https://www.projectionscentral.com/Projections/LongTerm (search "Colorado" and select "Heating, Air Conditioning, and Refrigeration Mechanics and Installers" to generate job growth projection)
8https://projectionscentral.org/Projections/LongTerm?AreaName=texas&Name=heating&items_per_page=10 (search "Texas" for state and "heating" for occupation)
9https://projectionscentral.org/Projections/LongTerm?AreaName=california&Name=heating&items_per_page=10 (search "California" for state and "heating" for occupation)
10https://www.projectionscentral.com/Projections/LongTerm (search for "Florida" and select "Heating, Air Conditioning, and Refrigeration Mechanics and Installers)
11https://www.thebalance.com/self-employment-taking-care-of-yourself-2385845
12https://smallbusiness.chron.com/tips-starting-hvac-business-2375.html
13https://www.bls.gov/ooh/architecture-and-engineering/mechanical-engineers.htm#tab-4
14https://www.onetonline.org/help/green/49-9021.01
15https://www.bls.gov/ooh/installation-maintenance-and-repair/heating-air-conditioning-and-refrigeration-mechanics-and-installers.htm#tab-8