How to Become an HVAC Technician
Updated: 07/12/2022
The 7 steps below are often taken to become an HVAC technician and make it a successful career:
Step 1: Take certain classes in high school.
Step 2: Graduate from high school or pass the GED test.
Step 3: Receive formal HVAC training at a trade school.
Step 4: Get an entry-level job and train with an experienced technician.
Step 5: Earn EPA certification.
Step 6: Obtain an HVAC license from your city or state.
Step 7: Continue your HVAC education and earn industry certifications.1*
Read more about each step on the path to becoming an HVAC technician in this article.
Have Questions?
A team of advisors are available to answer questions you may have.
M – Th: 7AM – 7:30PM (PST)
F: 7AM – 4PM (PST)
Sat: 8AM – 12PM (PST)
(855) 318-9203
E-Mail Us
Section 1
HVAC Technician Career Information
It may be helpful to first see an overview of the HVAC technician career before learning how to become one. This can lend insight into why certain requirements are necessary to enter this field.
The Job of an HVAC Technician

Cranking up the heater on a cold winter night or blasting the A/C in the middle of summer wouldn't be possible without HVAC technicians. That's because these tradesmen and women are the ones who install, maintain, repair and replace heating, ventilation and air conditioning (HVAC) equipment. Those who work on refrigeration systems are called HVAC/R technicians.2

Formal HVAC training, certification and licensing have become key steps to becoming a technician, a result of the increasing complexity of HVAC/R equipment and the environmental regulations that govern the use of refrigerants.1

The Work Settings of an HVAC Technician

HVACR technicians work just about everywhere:

Homes
Factories
Schools
Office buildings
Stores
Hospitals4

Many HVAC technicians, however, are self-employed (7%), setting their own schedules and responding directly to customer calls for repair and maintenance. Others may work in retail trade (3%), in state, local or private schools (3%) or in wholesale trade (4%).3

The Salary of an HVAC Technician

Several factors can influence how much an HVAC technician makes:

Training
Experience
Skills4
According to the BLS the median annual wages were $48,730 a year in 2019 in the US. This comes out to $23.43 an hour. Earners in the lowest 10th percentile made $30,610 a year ($14.72 an hour), and those in the 90th percentile took home $77,920 a year ($37.46 an hour).5*
Section 2
Important HVAC Technician Qualities and Skills
Are you a good candidate for HVAC work? What skills would you need to learn to become an HVACR tech?
Below are some of the skills, abilities, traits and knowledge that can be helpful or necessary for technicians to have. While some may come naturally to individuals, others can be developed through training.
HVAC Technician Physical Abilities
Physical Stamina
As an HVACR tech, you may spend hours standings or walking, so physical endurance can help prevent you from becoming easily fatigued.1
Realistic
Do you like practical, hands-on work? Working outdoors versus indoors in an office? Independence on the job over working closely with others? Handling machinery and tools? These are all considered realistic work styles and are characteristic of the HVAC career path.6
Conventional
As a conventional occupation, HVACR service and repair could have you following set routines and procedures, working with details and data more than concepts and answering to a clear line of authority.6
Section 3
HVAC Technician Practical Skills and Knowledge
Construction Skills
Reading blueprints and following design specifications for installing HVAC systems, in both new and existing buildings, is a key technical skill.6
HVAC Installation Skills
Techs may need to know how to properly connect HVAC systems to supply lines and install the necessary electrical wiring. The ability to connect the system to air ducts and handle other steps in the installation process may also be necessary.6
HVAC Equipment Knowledge
Understanding how heating and A/C units operate is important for being able to maintain and repair them.6
Government Regulations
The Environmental Protection Agency (EPA) mandates certification for HVAC technicians who purchase and/or work with refrigerants. Demonstrating knowledge of proper refrigerant handling is necessary for such certification.1Once working in the field, knowledge of proper refrigerant handling can help technicians adhere to government regulations concerning the recycling, recovery and conservation of refrigerants.2
Proper HVAC Tool Use
Mechanical knowledge can be helpful to HVAC technicians, specifically, understanding the uses, repair, maintenance and designs of machines and tools relevant to the job. This knowledge could come in handy when testing pipes with pressure gauges for leaks, testing electrical circuits for continuity or repairing faulty equipment, wiring or components.6
Computer Skills
HVAC technicians may need knowledge of how to employ software programs that allow them to locate job assignments. They may also need to know how computers can be used to control and maintain HVAC systems.6
Troubleshooting Skills
Installing heating and cooling systems is one major part of the job description of a HVAC technician, and identifying problems in malfunctioning equipment is another. An HVAC technician who can quickly and accurately detect and repair the problem may experience greater productivity on the job.6
Section 4
HVAC Technician Soft Skills
Communication Skills
Much of the job involves interacting with customers who report problems with their systems. Customers are usually not familiar with the language of the industry and explain problems with heating and cooling systems in possibly unusual terms.1 Technicians can benefit from listening carefully and patiently and knowing what questions to ask to help identify the problem.
Time-Management Skills
Since an HVAC technician may make multiple service calls to homes and businesses throughout the day, he or she can benefit from being able to stay on schedule and complete necessary work within set timeframes.1
Customer Service
In addition to communicating effectively with customers about equipment issues, HVAC technicians who can be friendly, punctual and polite may find greater success.1 Providing excellent customer service can foster loyalty, which benefits HVAC service companies.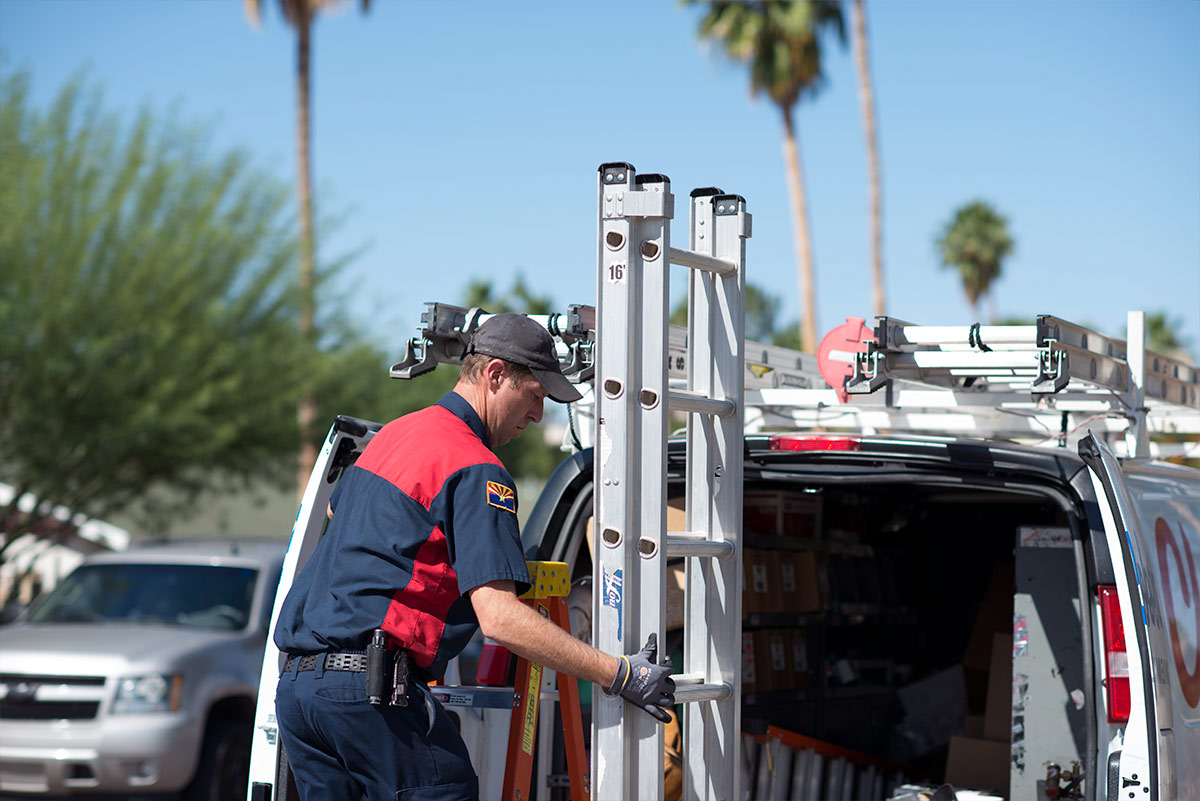 Section 5
7 Steps to Become an HVAC Technician
Below are steps individuals often take to become an HVAC technician. Keep in mind, however, that some workers may take fewer steps and others more on the path to this career.
We've also included time estimates for each step to help you with career planning.
Step 1: Take Certain Classes in High School to Prepare for an HVACR Career
The Bureau of Labor Statistics (BLS) indicates that high school students who want to pursue a career in heating, ventilation, air conditioning and refrigeration service and repair can take certain classes. These include math, physics and vocational education.1
While such courses may not be offered in traditional high schools, gaining an understanding of plumbing and electrical work or electronics can also be beneficial for aspiring technicians.1
Step 2: Complete an HVAC Training Program
Trade school HVAC training: 6 months to 2 years
Community college HVAC training: 6 months to 2 yearsApprenticeship: 3 to 5 years1
Students have a few options when it comes to training: trade school, community college or an apprenticeship. As noted above, trade school can offer the quickest training.1
HVAC School Coursework
What could you learn in an HVAC school? Below we take a look at HVAC training courses that The Refrigeration School (RSI) offers as part of the Refrigeration Technologies program.
Fundamentals of Refrigeration
Refrigerants are used in many types of HVAC units. They help with the transfer of heat. The Fundamentals of Refrigeration course includes instruction in the following subjects:

The laws of thermodynamics.
The science of refrigeration.
Pressure and temperature relationships.
Refrigerant management safety practices.
How to install, test and support a refrigeration system.

Fundamentals of Electricity
HVAC students also learn about electrical concepts and theories used in the HVAC industry. Lessons in the Fundamentals of Electricity course consist of a range of subjects:

Electrical distribution systems, voltage circuits and low voltage controls.
Wiring diagrams.
Installation and repair of electrical wiring and controls for residential and
commercial HVAC units.

Advanced Troubleshooting
When HVAC systems aren't working, techs often rely on basic and advanced troubleshooting techniques to diagnose and fix the problem. These methods can be learned in the Advanced Troubleshooting course:

Troubleshooting electric heat, gas furnaces, oil heating systems and heat pump systems.
Plotting the refrigeration cycle.

Comfort Systems—Residential and Commercial
RSI has two different courses for comfort systems:

Comfort Systems – Residential
Comfort Systems – Commercial

These courses teaches you how to work with residential and commercial refrigeration equipment. Instructions and training on the following are covered in these courses:

Cooling towers
Hydronic systems
Chilled water
Package units
Accessories
Safety
Installation procedures
Service
Split-systems
Geothermal ground source energy supplies
Dualfuel
Valves
The installation and servicing of residential and commercial HVAC equipment.

Refrigeration Systems and Practices
This course is an introduction to refrigeration systems and their parts. It includes training in how to install, test and service refrigeration systems. It also introduces students to piping, soldering, welding and brazing.
Step 3: Get an Entry-Level HVAC Job and Train with an Experienced Technician
After graduating an HVAC training program, the next step may be landing your first job in the industry.
New technicians usually start out working alongside more experienced technicians, performing basic duties like cleaning furnaces and insulating refrigerant lines.1
Advanced tasks come with more experience and can include checking electrical circuits and cutting and soldering pipes.1
Step 4: Earn Environmental Protection Agency (EPA) Certification
HVAC technicians who buy, handle or work with refrigerants are required by law to obtain certification in proper refrigerant handling from the Environmental Protection Agency (EPA).1
Types of EPA Certification
Type I
HVAC technicians who handle small appliances, such as window or room air conditioners, refrigerators, freezers and dehumidifiers, need Type I certification from the EPA.8 This covers refrigerant recovery requirements, recovery techniques and safety.9
Type II
If new HVAC techs will service high-pressure air conditioning and/or heating units, they need to be certified with this designation.8 The test for Type II certification covers additional issues related to high- and very-high-pressure appliances, including refrigerant leak detection, leak repair requirements and refrigeration.9
Type III
These certifications are necessary for HVAC techs who work with low-pressure refrigerants, commonly found in chiller units.8 The Type III certification exam also asks for knowledge regarding the following subjects:

Leak detection
Leak repair requirements
Recovery techniques
Recovery requirements
Recharging techniques
Refrigeration
Safety9

Universal
This exam covers low, high and very high-pressure appliances, as well as small appliances. This certification includes Type I, II and III.8
Step 5: Become Licensed with Your City or State
Some cities and states require HVAC certifications and licenses. Technicians can check with their local or state licensing departments for requirements and guidelines for becoming licensed.1
Step 6: Continue Your Education and Earn Industry Certifications
As the Bureau of Labor Statistics notes, the complexity of HVACR equipment has increased.1 If HVACR technology keeps advancing, taking continuing education courses could help technicians stay current with the latest innovations.
Earning industry certifications can be a good idea too because they can improve your professional knowledge and level, as well as lead to higher earnings.8
Resources to Help with Becoming an HVACR Technician
The steps above provide a brief overview of how to become an HVAC technician. Those seriously considering this career path may want to read additional HVAC technician career resources. Below are some articles that may be helpful: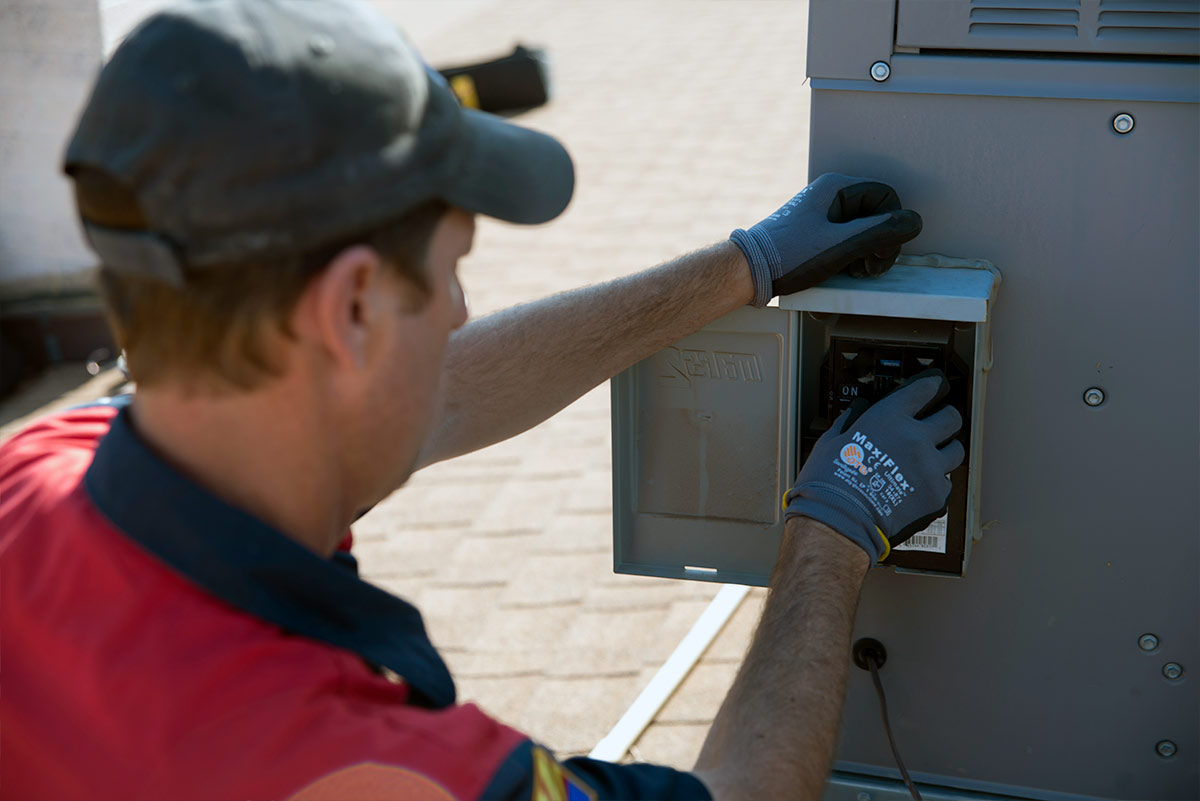 Section 6
Why Become an HVAC Technician?
Now you know what becoming a technician may entail, but
is HVAC the right career for you
?
If you like solving problems and helping people, then you might find working as an HVAC technician satisfying.
*Phoenix's annual mean wage is $48,420 and $23.28 hourly for Heating, Air Conditioning, and Refrigeration Mechanics and Installers (499021) reported by BLS for May 2019 http://data.bls.gov/oes. Average starting salary for Refrigeration Technologies is $35,584 for RSI graduates employed during the 12 month period of 7/1/18-6/30/19.
1https://www.bls.gov/ooh/installation-maintenance-and-repair/heating-air-conditioning-and-refrigeration-mechanics-and-installers.htm#tab-4
2https://www.bls.gov/ooh/installation-maintenance-and-repair/heating-air-conditioning-and-refrigeration-mechanics-and-installers.htm#tab-2
3https://www.bls.gov/ooh/installation-maintenance-and-repair/heating-air-conditioning-and-refrigeration-mechanics-and-installers.htm#tab-3
4https://www.bls.gov/careeroutlook/2015/article/wage-differences.htm
5https://www.bls.gov/oes/current/oes499021.htm
6https://www.onetonline.org/link/summary/49-9021.01
7https://www.livestrong.com/article/201326-hand-dexterity-exercises/
8http://www.hvwtech.com/hvac-certification/
9https://www.epa.gov/section608/section-608-technician-certification-test-topics