You've completed your HVAC program. Congratulations! That's a huge accomplishment.
Now you're ready to hit the job market, right? Not so fast…
Preparing for a job search after trade school can be a process in itself: from composing a resume and collecting references, to practicing for interviews, to looking for jobs. On top of all of this, you'll need to maintain your finances and student loans until you land a position in the HVAC industry.
Fortunately, you're not alone. Nearly every graduate, whether from trade school or college, must learn how to navigate this transition. So many, in fact, expert advice on this process abounds.
Check out the tips below for getting career ready after trade school.
Get Started on the Path to a New Career
Fill out our form to learn how we can help you change your life.
7 Tips to Prepare for a Career after Trade School
You learned how to troubleshoot basic HVAC problems and repair air conditioners and furnaces in refrigeration school, which is great because employers generally prefer applicants with formal training.[1] But landing a job as an HVAC technician can take more than technical know-how.
"Interviewers know that technical skills can be taught but personality traits are much more difficult to change," explained Alex Freund, a career coach located in New Jersey.
Soft skills like communication, time management, critical thinking and customer service are also important to highlight to hiring managers.
Learn more about how to impress employers with your practical and soft skills, as well as how to handle the time in between vocational school and career.
Tip 1: Set a Realistic Time Frame to Find a Job
Sure, you may have picked up part-time jobs while in trade school easily and quickly. But getting a job in a professional industry after graduation may take longer.
On average, it takes college graduates six months to find a job, depending on their field. With jobs for HVAC techs expected to be added at a rate nearly twice as fast as the national average (15 percent vs. 7 percent) through 2026, it may not take as long for you.
Still, it's important to be prepared to look for a while.
Tip 2: Create a Budget and Manage Student Loans
How will you manage your bills until you find a job as an HVAC tech? A budget.
Include all of your expenses: phone bill, rent, utilities, car payment and groceries. Don't forget about a nice shirt for job interviews too.
Most student loans have a six-month grace period before you have to start making payments but check to make sure. This is also a good time to get to know your loan servicer.[2] Staying in communication with them can help ensure you're not enrolled in a repayment plan that doesn't work for you.[3]
Tip 3: Take Internships and Part-Time Work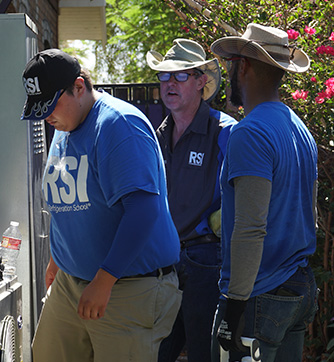 Having an income while looking for a position in the HVAC industry can help with bills. Plus, it shows the HVAC companies you interview with that you're employable—that you have those soft skills mentioned earlier to show up on time and work well with others.[4] You generally want to avoid large employment gaps on your resume, too.[5]
Sometimes paid, internships can be a great way to solve the post-graduation conundrum: you have the right education for the job but no relevant work experience yet. Even better? Internships can lead to jobs within the HVAC company.
"For many employers, the internship is an extended interview," said Ethel Badawi, a career development specialist.
It's also a great way to network, get professional feedback and improve your resume.
Tip 4: Prepare a Professional Resume
Speaking of resumes, you're going to need one. Here's what some industry insiders say they're looking for in a skilled trades resume:
Relevant work experience and skill set.
Correct industry terminology (basically, you know what you're talking about).
Not too long. Limit yourself to two pages.
Training, certificates, past projects and background information.
Proper grammar and spelling.
Clear and concise.
Work experience listed in chronological order.
Includes references.
While cover letters are the standard for office-based careers, you may be able to get by without one in the skilled trades.
References, however, can be important. Ask former instructors if you don't have many past employers to provide them.[6][7]
Tip 5: Find Skilled Trades Job Boards
Online jobs boards are among the top sources companies use to recruit new hires. Niche job boards are smaller and tailored to a specific industry. Recruiters often use these to improve the chances that qualified candidates apply to their job ads.[8]
Finding job boards for HVAC or skilled trades in general may help save time for job seekers because they don't have to weed through as many unrelated jobs. For example, U.S. Trades LLC is a job board for craftsmen and women in the electrical and mechanical trades.
Doing some research to find boards specific to HVAC or the trade you're working in can be a good idea.[9]
Tip 6: Practice Interviewing for Jobs
One common interview mistake is to focus only on what you want to get out of the company, not what you could bring to it.
"The job search process is all about the 'buyer' or the hiring team at a company. Everything you do and say should focus on their job description, their company values and know what the business does," explained Dana Manciagli, a job search coach.
She recommends studying the job description and preparing your interview responses around how you best fit that description.[10]
When that interview day finally comes, make sure to follow up afterward to show your interest in the position.[11]
Tip 7: Be Willing to Compromise
Since you lack experience, the first position you land may not be your dream job—it often isn't. But you need to gain work experience, so be willing to compromise. You have years ahead of you to work your way into the position you want, but right now, you need to start working.[12]
Getting Your Start in the Skilled Trades
The time between trade school and career can be as exciting as it is stressful. Preparing yourself for the process and managing expectations can help minimize anxiety and improve your chances of landing a job in the field.[13]
Above are just 7 suggestions to help with this process, but there are many more tips for HVAC job seekers out there.
[1] https://www.bls.gov/ooh/installation-maintenance-and-repair/heating-air-conditioning-and-refrigeration-mechanics-and-installers.htm#tab-1
[2] https://www.thebalance.com/making-it-between-college-and-your-first-job-2386193
[3] https://www.nbcnews.com/feature/maria-shriver/life-ed-how-manage-student-loan-debt-n129521
[4] https://www.wikijob.co.uk/content/interview-advice/competencies/transferable-skills
[5] https://www.thebalancecareers.com/how-do-you-overcome-an-employment-gap-1918103
[6] https://careers.workopolis.com/advice/how-to-craft-a-skilled-trades-resume/
[7] https://www.thebalancecareers.com/what-is-a-professional-reference-2062823
[8] https://www.icims.com/resources/the-power-of-niche-job-boards/
[9] https://www.jobspikr.com/blog/top-50-niche-job-boards/
[10] https://www.learnhowtobecome.org/career-resource-center/cant-find-job-after-college/
[11] https://www.learnhowtobecome.org/career-resource-center/cant-find-job-after-college/
[12] https://www.learnhowtobecome.org/career-resource-center/cant-find-job-after-college/
[13] https://www.verywellmind.com/tips-cope-with-job-interview-anxiety-3024324
This blog has been labeled as archived as it may no longer contain the most up-to-date data. For a list of all current blog posts, please visit our blog homepage at https://www.rsi.edu/blog/