Career college, vocational school, technical school and trade school are all postsecondary institutions that prepare students for a specific profession. These schools typically take two years or less to complete and award diplomas, degrees and certificates. Trade schools offer hands-on training in skilled trades like HVAC maintenance and repair, welding and electrical work.[1][2]
Should I Go to Trade School?
Is trade school right for you? Start by asking yourself these three questions:
How much money can I spend on or borrow for my education?[3]
What length of study would work best for me, especially if I won't be working full time while in school?
What do I want to learn, and how will those skills or knowledge transfer into the job market?
These are important considerations because the outcomes of trade school can be significantly different from the outcomes of traditional college. It comes down to cost and potential student debt, program length and career potential.[4]
Considerations for Choosing Trade School
Enter the job market right away, go to college or train at a trade school are some options after high school graduation. Answering the questions below can help you weigh them.
How Much Does Trade School Cost?
The cost of trade school varies with the school and program. Trade school programs can cost as little as $1,000 and as much as $30,000.[5]
Get Started on the Path to a New Career
Fill out our form to learn how we can help you change your life.
Compared to community college and university, trade school can be less expensive. For example, four-year institutions cost $26,000 a year in 2016, and two-year colleges cost about $10,000 a year.[6]
It's important to consider program length when evaluating the cost of a post-secondary education. Many students these days take six years instead of four to earn a bachelor's degree.[7] Studies have found that earning an associate degree can take 3 years or longer.
How Long Is Trade School?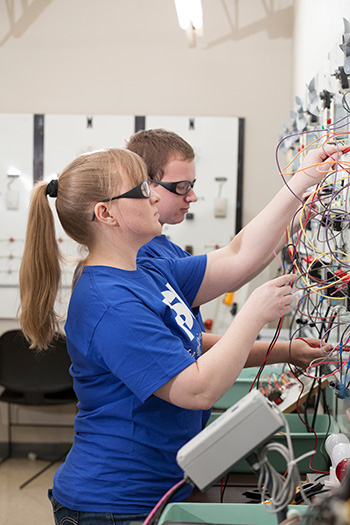 Trade school usually takes two years or less to complete. It can be a relatively quick way to prepare for a career, notes the BLS.[8] How long it takes each individual student, however, depends on the particular program and his or her pace of learning.
Trade School Program Lengths
Below are some examples of how long specific trade school programs could take to earn a certificate:
HVAC Technician Training
Six months of HVAC training for entry level positions as an HVAC/R service and installation technician, refrigeration service and installation technician or commercial refrigeration technician.
Electrician Training
Three months of electrician training for entry-level positions as a maintenance electrician, new construction electrician or power plant field technician.
Welder Training
As little as seven months of welding training for entry level jobs in structural welding, pipe and pipeline welding and thin alloy welding for the construction, manufacturing, petroleum and transportation fields.
With trade school, you can learn the skills to work in growing fields like these in less than one year.10[9][10]
What Can I Learn in Trade School?
Trade schools can prepare students for positions in the skilled trades. For example, in HVAC school, much of the instruction is usually hands-on, with students spending as much or more time in the lab than the classroom.2
Skilled Trades Job Growth
Just as important as what you'll learn is where you could apply those skills in the job market. Check out the projected job growth through 2026 for some careers you could train for in trade school below:
HVAC Technician
15 percent job growth versus the 7 percent national average for all occupations.10
Pipefitter
16 percent job growth.[11]
Ironworker
13 percent job growth.[12]
Electrician
9 percent job growth.2
Solar Panel Installer
105 percent job growth.[13]
Is Trade School Better than College?
Trade school and college are two different paths to a career. Which is better depends on how much money you want to spend, time you have to study, and the career you want. When it comes to making a decision about this big investment in your future, it's important to weigh the pros and cons of trade school versus college.
[1] https://www2.ed.gov/students/prep/college/consumerinfo/index.html
[2] https://www.bls.gov/careeroutlook/2015/article/career-planning-for-high-schoolers.htm
[3] https://blog.ed.gov/2016/03/4-things-to-consider-when-choosing-a-college/
[4] https://www.trade-schools.net/articles/trade-school-vs-college.asp
[5] https://www.trade-schools.net/articles/trade-school-cost.asp
[6] https://nces.ed.gov/fastfacts/display.asp?id=76
[7] https://studentclearinghouse.org/blog/the-new-reality-for-college-students-earning-a-bachelors-degree-takes-5-to-6-years-and-students-attend-multiple-institutions/
[8] https://www.bls.gov/careeroutlook/2015/article/career-planning-for-high-schoolers.htm
[9] https://www.bls.gov/ooh/production/welders-cutters-solderers-and-brazers.htm
[10] https://www.bls.gov/ooh/construction-and-extraction/electricians.htm
[11] https://www.bls.gov/ooh/construction-and-extraction/plumbers-pipefitters-and-steamfitters.htm
[12] https://www.bls.gov/ooh/construction-and-extraction/structural-iron-and-steel-workers.htm
[13] https://www.bls.gov/ooh/construction-and-extraction/solar-photovoltaic-installers.htm
This blog has been labeled as archived as it may no longer contain the most up-to-date data. For a list of all current blog posts, please visit our blog homepage at https://www.rsi.edu/blog/