Is HVAC a Good Career?
Updated: 07/12/2022
Yes, HVAC can be a good career if you enjoy building and fixing things and helping people. Other benefits of becoming an HVAC technician can include relatively short training time, healthy job growth and pay, and the potential for daily variety in tasks and work locations.1,2*
Find out more about why a career in heating, ventilation, air conditioning and refrigeration could be a good fit for you in this article.
Have Questions?
A team of advisors are available to answer questions you may have.
M – Th: 7AM – 7:30PM (PST)
F: 7AM – 4PM (PST)
Sat: 8AM – 12PM (PST)
(855) 318-9203
E-Mail Us
Section 1
7 Reasons Why HVAC Can Be a Good Career
Whether you're thinking about a career in HVAC service and repair or another occupation, looking at certain factors can help you weigh your options:
Training time and cost3
Job growth3
Pay3*
Job duties3
Risk of outsourcing2
Career advancement opportunities3
Potential for job satisfaction2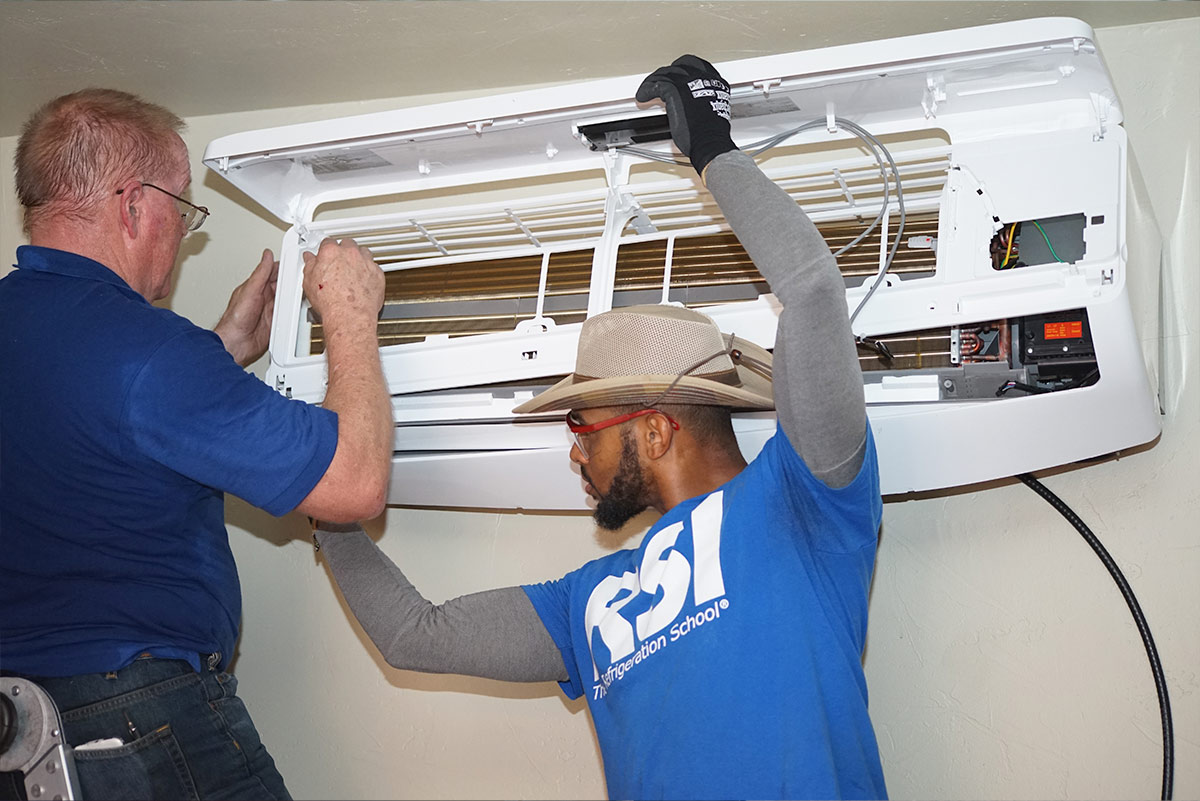 Many of these factors are so important the Bureau of Labor Statistics collects data on them for each occupation to help workers make informed career decisions.3
Let's see how these factors apply to the field of HVAC service and repair.
1. Shorter Training Time than College
Completing HVAC training at a vocational school typically takes less time than going to a university or community college. In fact, you can train to become an HVAC technician in as little as 6 months.4 Compare this to the two years to earn an associate degree or four years for a bachelor's degree, and take into account that many students take five years or longer to get either credential.5
You may be less likely to rack up student debt than if you attended a traditional two- or four-year college, because each additional year in school can bring more tuition and fees to pay.
Another advantage of vocational training is that students can enter the workforce more quickly, potentially moving to financial independence faster.
2. Faster than Average Job Growth
The Bureau of Labor Statistics (BLS) reports that job growth for heating, ventilation, air conditioning and refrigeration mechanics and installers (HVACR) is at 4% through 2029.1
Faster Job Growth in Certain States
Job growth can depend on where HVAC technicians work. Arizona, for example, is expected to add HVACR jobs at a rate of 21% through 2028.6
Techs working in Colorado could see 30% job growth through 2028.7
Texas should add HVACR jobs at a rate of 16% through 20288
Texas was among the top employers of HVAC technicians in 2020, with companies there employing 28,010 techs that year.9 Other states boasting the highest concentration of employment of techs were Florida, California, New York and Pennsylvania.9
Job Growth Drivers
Trends driving job growth in the HVACR industry include:
Residential and commercial construction projects.
The growing popularity of complex climate control systems.
New, eco-friendly regulations, such as the R-22 phase-out that requires companies and homeowners with old air conditioning systems to either replace or modify these to use new refrigerants.10
Key Skills
As the BLS notes, "Job opportunities for HVACR technicians are expected to be good."11 But, who could they be best for? Certain skills can set some techs apart from others:
Basic HVAC troubleshooting skills11
Maintenance and repair skills11
Familiarity with operating electronics and tablet computers11
3. Pay
The average annual salary for HVAC mechanics and installers was $53,410 in 2020, according to the BLS.9 The salary range for technicians was $31,910 in the lowest 10th percentile of earners and $80,820 in the top 90th percentile.9*
HVAC Pay Factors
How much an HVAC technician makes can depend on these factors:
Geographic location
Industry or employer
Experience and skills
Credentials
Job duties
Performance12
Generally, technicians with more experience, skills, credentials like HVAC certifications and licenses, complex job duties and records of high performance can earn more than entry level workers.12
Top-Paying States and Industries for HVAC
States with the highest wages for HVAC technicians in 2020 were Alaska, the District of Columbia, Hawaii, Washington and Massachusetts.9*
Industries where technicians made the most money included:9
Aerospace product and parts manufacturing
Natural gas distribution
Telecommunications
Monetary authorities-central bank
Electric power generation, transmission and distribution9
Overtime Pay
Many HVAC technicians work full-time and take on evening and weekend overtime shifts during the summer and winter seasons, which can also increase earning potential.13*
4. Daily Variety in Job Duties and Environments
Depending on the type of HVAC career or job you choose, you could be called on to work in a variety of commercial and residential environments.
An HVAC technician can do a range of tasks in a host of different locations and settings. You may visit a number of places to install, repair and/or maintain heating and cooling units.13
The potentially varied HVAC work settings and job duties may be more engaging than working in the same place on the same types of tasks all day.
Job Satisfaction
A recent PayScale survey found that, on average, HVAC technicians are highly satisfied with their jobs. Among the reasons techs cited for liking their jobs were "work flexibility," "working conditions," and "the freedom of being out on the road every day."14
Active Occupation
Traveling to several different locations throughout the day to make HVAC service calls may also give technicians more opportunities to stand and walk around, so the occupation could be active when compared to an office job.13
Outdoor Work
If you like getting outdoors, then you might have another reason to appreciate a career in HVAC. The BLS says that working outside, such as on heat exchangers, is not uncommon.13
5. Low Risk of Outsourcing
Installing, maintaining, repairing and replacing HVACR equipment is typically an on-site job and cannot be done remotely from another country. This means the field of HVACR service and repair generally has a low risk of jobs being outsourced.
Considering the improbability of outsourcing and faster-than-average job growth predicted for HVACR technicians, the career could hold healthy job prospects and stability in the coming years.2*
6. Career Advancement Opportunities
Did you know career advancement is one of the most important factors for retaining employees at a company and keeping them happy? When employees can expect opportunities to take on more responsibilities and earn higher wages throughout their careers, they tend to be more motivated and focused.15*
If, like many workers, having the chance to change and grow professionally is important to you, then you may be happy to know there is room for career advancement in the field of HVACR service and repair.16*
HVAC Service Sector
After completing an HVAC training program at a trade school, individuals may start out as a technician or installer and then work their way up into the position of a supervisor. Leadership roles and business ownership sit at the top of the HVAC career ladder.16
Clean Energy Sector
With the rise of clean energy and green collar jobs, technicians may be able to move into entirely new positions, such as green-technology specialist, equipment performance-testing specialist and energy auditor.17
Product Management and Development
Some technicians take a different career trajectory altogether, transitioning from installers to project managers and then into product development positions.17
As you can see, there are diverse career advancement options in HVAC.
7. Potential for Career Fulfillment
Perhaps the most important career consideration is job satisfaction. Will you find the work satisfying?
If you like helping people, then you might find working as an HVAC technician immensely satisfying, because these are the men and women who often save the day for families left freezing when the furnace dies in the middle of winter. They're the pros who restore the A/C for workers who are in an office on a sizzling summer day.18
And the impact of HVAC and refrigeration extends well beyond keeping the occupants of homes and buildings comfortable.
Proper ventilation helps provide optimal learning environments to children by promoting healthy indoor air quality in schools.19
In hospitals, HVAC systems are essential for preventing the spread of airborne diseases.20
Refrigeration systems enable the safe storage and transport of food, medicine and perishable items. Just imagine what havoc could be wrecked if the world went too long without refrigeration: food shortages, Internet outages, the loss of life-saving medicines and worse outcomes in hospitals—the situation could be downright apocalyptic.18
Global hunger is a current and dire problem, and HVACR can play a role in its solution.21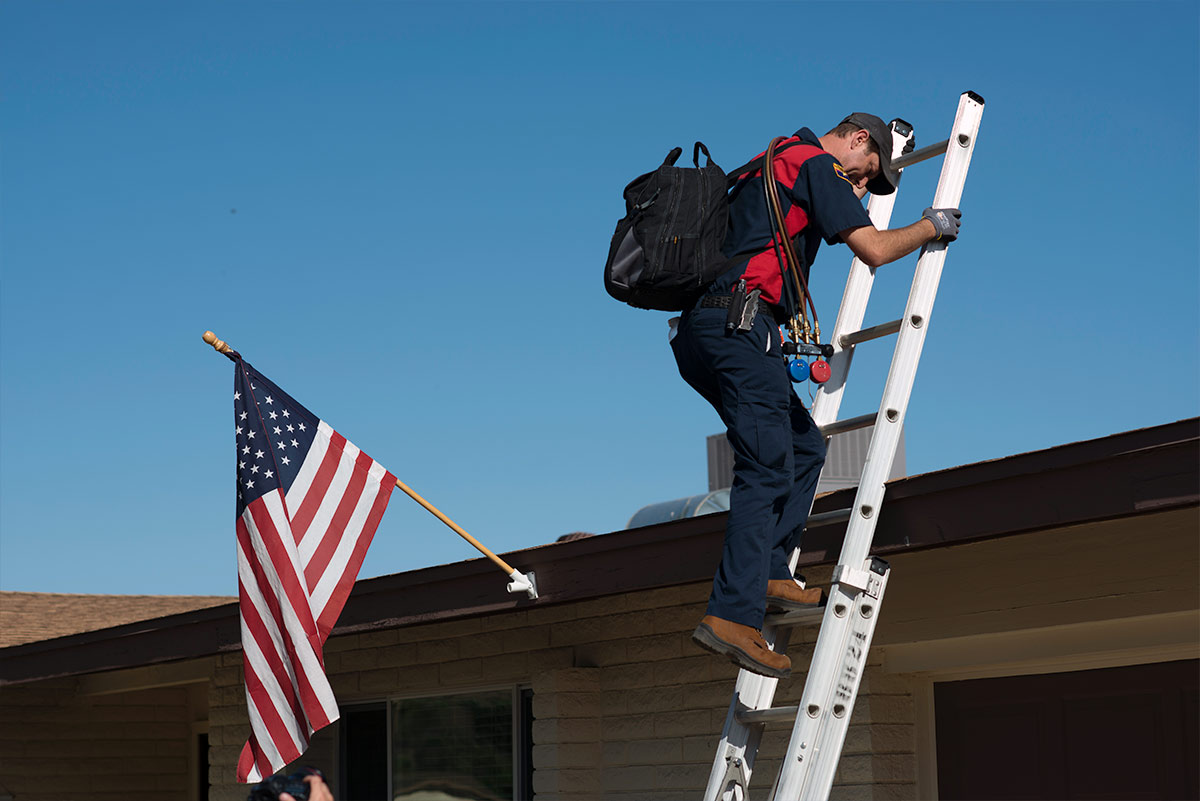 Section 2
Is HVAC the Right Career for You?
**According to BLS data Arizona employed 10,000 Heating, Air Conditioning, and Refrigeration Mechanics and Installers (499021) through May 2020 http://data.bls.gov/oes.
1 https://www.onetonline.org/link/summary/49-9021.01
2 https://www.bls.gov/oes/current/oes499021.htm
3 https://www.bls.gov/ooh/installation-maintenance-and-repair/heating-air-conditioning-and-refrigeration-mechanics-and-installers.htm
4 https://www.bls.gov/ooh/installation-maintenance-and-repair/heating-air-conditioning-and-refrigeration-mechanics-and-installers.htm#tab-4
5 https://www.bls.gov/ooh/installation-maintenance-and-repair/heating-air-conditioning-and-refrigeration-mechanics-and-installers.htm#tab-3
6 https://www.bls.gov/ooh/installation-maintenance-and-repair/heating-air-conditioning-and-refrigeration-mechanics-and-installers.htm#tab-2
7 Title: Fundamentals of HVAC; Authors: Carter Stanfield and David Skaves; Air-Conditioning, Heating, and Refrigeration Institute; Second Edition; Textbook page 6-7
8 https://www.bls.gov/oes/current/oes_nat.htm#00-0000
9 https://www.bls.gov/careeroutlook/2015/article/wage-differences.htm
10 https://www.projectionscentral.com/Projections/LongTerm (search for "Florida" and select "Heating, Air Conditioning, and Refrigeration Mechanics and Installers)
11 https://www.projectionscentral.com/Projections/LongTerm (search "Arizona" and select "Heating, Air Conditioning, and Refrigeration Mechanics and Installers" to generate job growth projection)
12 https://projectionscentral.org/Projections/LongTerm?AreaName=california&Name=heating&i tems_per_page=10
13 https://www.projectionscentral.com/Projections/LongTerm (search "Colorado" and select "Heating, Air Conditioning, and Refrigeration Mechanics and Installers" to generate job growth projection)
14 https://projectionscentral.org/Projections/LongTerm?AreaName=texas&Name=heating&item s_per_page=10
15 https://www.thesimpledollar.com/investing/college/why-you-should-consider-trade-school-instead-of-college/
16 https://education.seattlepi.com/advantages-ged-1135.html
17 http://www.hvwtech.com/hvac-certification/