Guide to HVAC Certifications and Licenses
Updated: 07/18/2022
In order to become an HVAC technician, you may need to become certified and licensed. For example, the Environmental Protection Agency requires all workers who handle refrigerants to pass one or more of the Section 608 Technician Certification tests.1
Several industry organizations offer HVAC certifications, as well, and these may be helpful for demonstrating knowledge in specialized skills and advancing in the field.2
Lastly, some cities and states require HVAC technicians to be licensed.3
Learn more about the different types of HVAC certifications and licenses in this article.
Have Questions?
A team of advisors are available to answer questions you may have.
M – Th: 7AM – 7:30PM (PST)
F: 7AM – 4PM (PST)
Sat: 8AM – 12PM (PST)
(855) 318-9203
E-Mail Us
Section 1
Why Are HVAC Certifications and Licenses Important?
A quick overview of the HVAC technician career can be helpful in explaining why HVAC certifications and licenses are important:
Why HVAC Certifications and Licenses May Be Required

What HVAC technicians do can have an impact on the environment. Specifically, how they handle the refrigerants used in many types of heating and cooling systems. That's because many refrigerants, especially older ones, can be harmful to the ozone layer or contribute to global warming.

EPA regulations, therefore, aim to improve environmental conditions by minimizing or preventing the emission of harmful refrigerants.4 Mandating that HVAC technicians pass tests in proper refrigerant handing is one way the EPA advances its objective.

Cities and states may want to ensure HVAC technicians are knowledgeable not only in their trade but also regional safety practices, building codes and other rules. This is one reason why HVAC licenses may be legally required depending on where the HVAC technician works.3

When HVAC Certifications and Licenses Can Be Helpful

There are many types of HVAC careers and jobs, and some may require specialized knowledge. For example, some technicians specialize in solar panels and may want to seek solar certifications and licenses.5 Certification can be a way to validate skills and knowledge in specific areas of the industry to potential employers. Technicians may seek certifications to obtain certain positions, climb the HVAC career ladder or make more money.2

Which HVAC certification or license could prove most beneficial to a technician depends on the path he or she chooses and comparing HVAC careers may help with the decision.
Section 2
How Do I Become a Certified HVAC Technician?
The path to HVAC certification can depend on the granting organization's requirements. Since many HVAC technicians are legally obligated to obtain EPA certification, we'll look at the process for earning that credential.
How to Become EPA Certified
Below are some steps that individuals may find helpful for obtaining EPA Section 608 Technician Certification.
Step 1: Familiarize Yourself with EPA Section 608 of the Clean Air Act
Before you learn about this HVAC certification, it might help to know a bit about the law that requires technicians to have it. Section 608 of the Clean Air Act was created to prevent HVAC techs from knowingly releasing refrigerants that are bad for the environment into the air.
These are refrigerants that deplete the ozone layer or contribute to global warming. In the coming years, some of these refrigerants, for example HCFC-22, will be completely phased out. Techs will need to know their HCFC-22 replacement options.6
Section 608 Refrigerant Handling Laws for HVAC Technicians
HVAC techs must have at least one of four types of EPA certification depending on what type of equipment they work on.
After certification, HVAC techs can only release tiny amounts of harmful refrigerants into the environment during the course of their work.
Techs must follow specific guidelines for removing refrigerants from equipment, reclaiming refrigerants, and addressing refrigerant leaks.
They also have to abide by record keeping rules, as well as refrigerant purchasing and disposal laws.6
Step 2: Determine which EPA Section 608 Certification Test to Take
If you service, maintain, fix or dispose of equipment that might emit harmful refrigerants, you are required by the EPA to be certified.1
Types of EPA HVAC Certification
The EPA offers four types of HVAC certification. Each one is based on the kind of equipment you work on:
Type I: Small Appliances
Type II: Medium to Large High-Pressure Appliances
Type III: Low-Pressure Appliances
Universal: All Appliances
You'll have to pass a different test to get each certification.7
EPA Certification Test Topics
All of the Section 608 Technician Certification tests cover the same core set of topics:
Ozone depletion
Clean Air Act and Montreal Protocol
Section 608 regulations
Substitute refrigerants and oils
Refrigeration
Three R definitions (recover, recycle and reclaim)
Recovery techniques
Dehydration refrigerant evacuation
Safety
Shipping8
Each test also has a set of unique topics:
Type I
Refrigerant recovery requirements
Recovery techniques
Safety8
Type II
Leak detection
Leak repair requirements
Recovery techniques
Recovery requirements
Refrigeration
Safety8
Type III
Leak detection
Leak repair requirements
Recovery techniques
Recharging techniques
Recovery requirements
Refrigeration
Safety8
Universal
Covers the topics on Type I, II, and II8
Step 3: Learn the Fundamentals of Refrigeration at an HVAC School
Some people who want to become heating, air conditioning and refrigeration (HVACR) mechanics and installers are enrolling in HVAC schools, notes the Bureau of Labor Statistics.
HVAC programs can help students learn about the fundamentals of refrigeration.
Schools can help students acquire basic knowledge about refrigerants and the proper handling of them that can be helpful for passing the certification test.3
Step 4: Take EPA Certification Practice Tests
Reviewing EPA certification practice tests can give you a preview of the real ones. Plus, taking practice tests could be one way to prepare for the test. You can find practice tests online.9
Step 5: Schedule and Take the EPA Certification Test
The final step is to find a testing center and take the EPA certification exam. Testing locations can be found throughout the country.10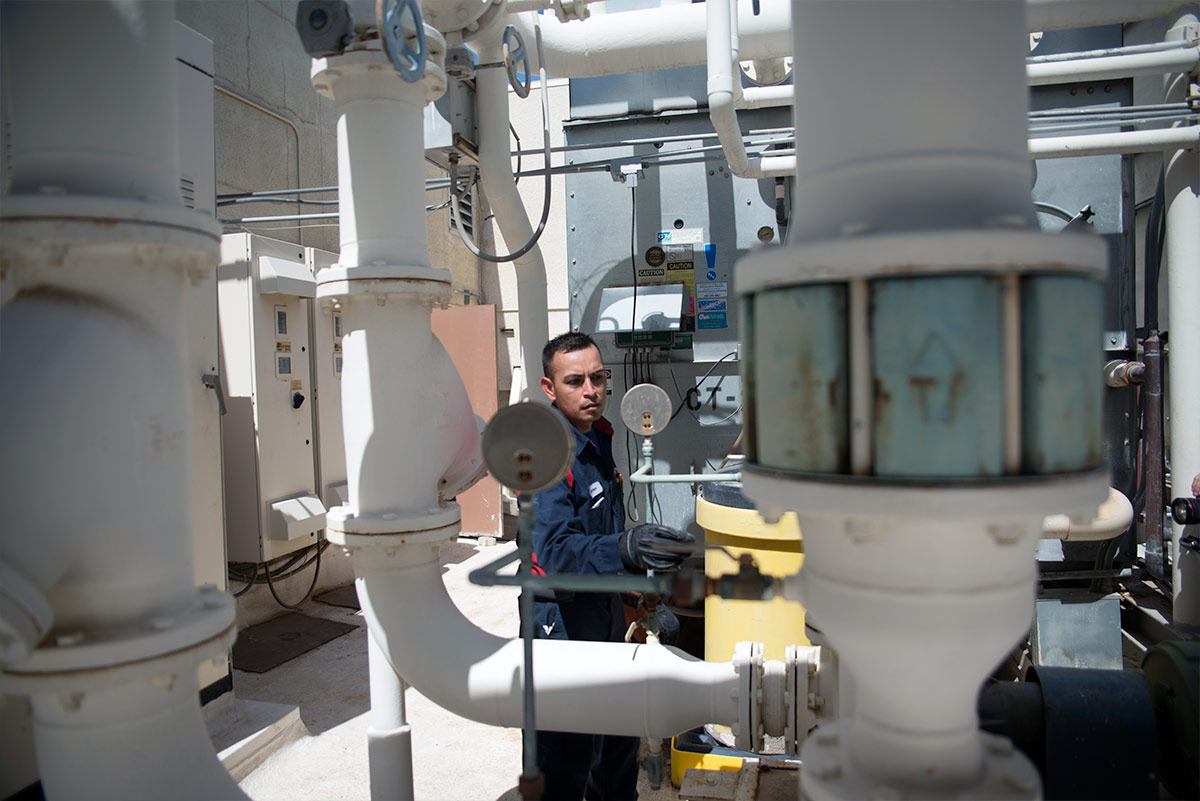 Section 3
Overview of HVAC Industry Certifications
Beyond EPA Section 608 Technician Certification, several HVAC organizations offer certifications. These credentials are often optional and can allow technicians to demonstrate the skills necessary for specific positions or general competence in HVACR service and repair best practices.11
North American Technician Excellence (NATE) Certification
North American Technician Excellence (NATE) is an independent institute that provides certification for HVAC technicians.
The organization was developed and is supported by the HVAC industry, including the American Society of Heating, Refrigeration and Air Conditioning Engineers (ASHRAE) and the EPA.12
The only form of national HVAC certification accepted by HVAC contractors and manufacturers alike, NATE certification validates a technician's working knowledge of HVAC systems and competency in specific areas of the field.13
Types of NATE Certification
Several types of NATE certification are available, as well as a couple of certificates.
NATE Certificates for New HVAC Technicians
NATE offers two types of certificates for technicians who are just entering or have only worked in the industry for a short time.
1. Ready to Work
Individuals without formal HVAC training or instruction can take this online exam to test their knowledge of the field.
2. HVAC Support Technician
Techs with 6 to 12 months of experience may take the HVAC Support Technician exam.
NATE Certifications for Experienced HVAC Technicians
NATE certifications are divided into three categories, each with a recommended amount of relevant work experience before taking the test.
Installation: 2 years of experience.
Service: 2 years of experience.
Senior: 5 years of experience.14
Tests
Each certification can be earned after passing two exams
Core Exam: This exam covers general HVAC and construction subjects, such as tools of the trade; safety and basic science; and construction and electrical principles.15
Specialty Exam: This exam focuses on specific areas of installation, service maintenance and/or repair of HVAC equipment.14
Benefits of NATE Certification
There can be many benefits of NATE certification: for one, it can help new technicians validate their skills to potential employers.11
HVAC Excellence Certifications
HVAC Excellence has been confirming the competency of HVAC professionals since 1994. The organization's progressive certifications can highlight technicians' industry strengths, regardless of where they are in their careers.
HVAC Excellence offers specialty certifications that can help graduates of vocational training programs validate specific skills to potential employers.16
HVAC Excellence Specialty Certifications
HVAC Excellence offers numerous specialty certifications.
Specialties
System Performance: covers combustion efficiency, airflow and refrigerant charging.
Duct and Envelope Tests: duct leakage terminology and testing procedures via written and hands-on exams.
Green Awareness: includes energy management, energy efficiency and comfort heating
and cooling combination systems.
Residential Heat Load Analyst: exams cover how to determine whether test takers can
properly identify structures' heating and cooling loads.
R-410A: focuses on the handling, application and safety of R-410A systems.
Residential Energy Auditor: written and hands-on tests required for certification.
Hydrocarbon Refrigerant Certificate: a 50-question, open-book exam on Hydrocarbon
Refrigerants listed as acceptable for use and application under the EPA Significant New Alternative Program (SNAP).17
Benefits of HVAC Excellence Specialty Certification
The specialty certifications from HVAC Excellence help professionals remain up to date with changes to codes and equipment while also addressing such topics as energy efficiency, sustainability, safety and warranty cost.17
By obtaining certifications in these and other areas, HVAC professionals can prove that they possess the knowledge and skills needed to successfully accomplish a variety of on-the-job tasks. For example, an HVAC professional employed by a company that prizes energy efficiency could benefit greatly from HVAC Excellence's Green Awareness Certification.18
National Inspection Testing Certifications (NITC)
NITC is a third-party provider that offers certifications in the piping industry. Specifically, the organization tests and certifies personnel in medical gas, plumbing, HVACR, fire protection and safety systems, as well as other fields that use piping. Certifications are available for several professional levels, including journey and master level. Furthermore, NITC certifies according to city, county and state government requirements.19
STAR HVACR Mastery Certification
The NITC's STAR HVACR Mastery certification is for HVAC technicians who have the relevant skills and experience in operations, planning, blueprint reading, safety as well as the practical installation, repair and service of HVACR systems. The certification applies to residential, commercial and industrial settings. This encompasses design, construction, installation, retrofitting, repair and maintenance of the following systems:
HVAC air handling.
Ductwork.
Refrigeration piping.
Process piping heating and cooling.
A qualified Master Mechanic can perform any of these HVACR tasks alone or may supervise other individuals instead.20
NITC Certification Requirements
Candidates are expected to have completed HVACR training and bring a minimum of five years of documented work experience in installing and servicing HVACR equipment and piping systems. To pass the test, candidates need to obtain a score of at least 82 percent. The certification is valid for five years.
After five years, HVAC techs can get recertified. Recertification consists of passing a fifty- question multiple-choice exam. The exam is proctored, but candidates may use textbooks or HVACR manuals. The passing score for the recertification exam is 80 percent. The exam must be completed within two hours.20
NITC Certification Benefits
HVACR is not just about ensuring comfort but also safety for those occupying homes, businesses and factories. Strict certification standards can make certain that industry professionals are familiar with HVACR equipment, technology and regulations. Getting certified can demonstrate to employers and clients across the country that you possess the skills and knowledge they are looking for in an HVACR tech.19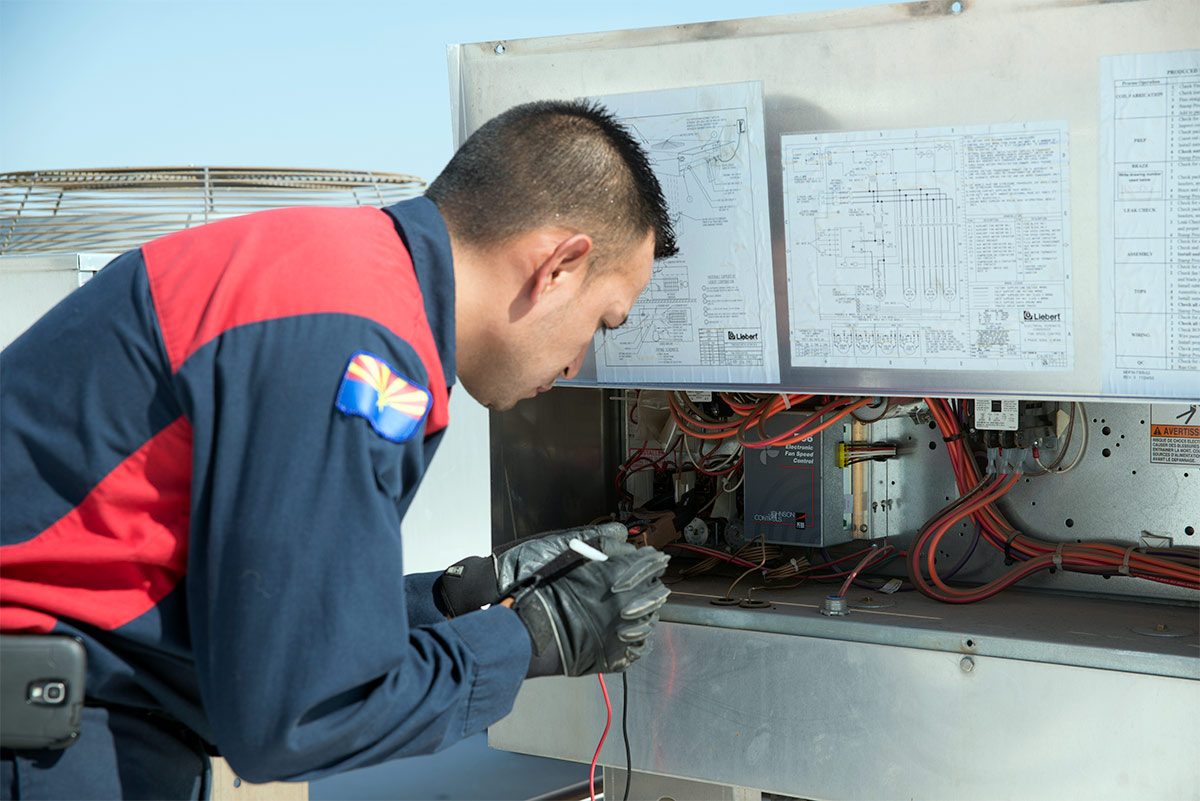 Section 4
What Are the HVAC Licensing Requirements by State?
Some cities and states require HVAC workers to be licensed. Refer to the chart below to see whether or not HVAC licenses are required where you work.
State HVAC Licensing Requirements21
| | | HVAC License Not Required |
| --- | --- | --- |
| | | |
| | | |
| | | |
| | | |
| | | |
| | | |
| | | |
| | | |
| | | |
| | | |
| | | |
| | | |
| | | |
| | | |
| | | |
| | | |
| | | |
| | | |
| | | |
| | | |
| | | |
| | | |
| | | |
| | | |
| | | |
| | | |
| | | |
| | | |
| | | |
| | | |
| | | |
| | | |
| | | |
| | | |
| | | |
| | | |
| | | |
| | | |
| | | |
| | | |
| | | |
| | | |
| | | |
| | | |
| | | |
| | | |
| | | |
| | | |
| | | |
| | | |
| | | |
Section 5
Why Become a Certified HVAC Technician?
As you can see, HVAC certification and licensing is a common step on the path to becoming an HVAC technician, one that can help workers meet local, state and federal government requirements; demonstrate skills to employers; and assist in career advancement.
Beyond the advantages of certification and licensing, there can be many benefits to a career in HVAC. These include a relatively short training time, healthy job growth, the opportunity to help people on a daily basis and many more.22,5
1 https://www.epa.gov/section608/section-608-technician-certification
2 http://www.hvwtech.com/hvac-certification/
3 https://www.bls.gov/ooh/installation-maintenance-and-repair/heating-air-conditioning-and-refrigeration-mechanics-and-installers.htm#tab-4
4 https://www.epa.gov/ods-phaseout
5 https://www.bls.gov/ooh/installation-maintenance-and-repair/heating-air-conditioning-and-refrigeration-mechanics-and-installers.htm#tab-2
6 https://www.epa.gov/sites/production/files/2015-08/documents/section_608_of_the_clean_air_act.pdf
7 https://www.epa.gov/section608/section-608-technician-certification-0
8 https://www.epa.gov/section608/section-608-technician-certification-test-topics
9 https://www.hvaccertificationpracticetests.com/epa-608/
10 https://www.epa.gov/section608/section-608-technician-certification-programs
11 https://hvactraining101.com/hvac-technician-certification/
12 https://www.trane.com/residential/en/resources/glossary/what-is-nate-certification/
13 https://trademasters.com/about/nate-certification
14 https://www.natex.org/site/337/Technicians/Exams-Offered
15 https://www.natex.org/site/338/Technicians/Exams-Offered/Core-Test
16 https://www.escogroup.org/hvac/
17 https://www.escogroup.org/certifications/specialty.aspx
18 https://work.chron.com/upgrade-hvac-certification-20620.html
19 http://nationalitc.com/about-nitc.cfm
20 http://nationalitc.com/certifications/star-hvacr-mastery.cfm
21 https://www.next-insurance.com/blog/hvac-license-requirements/
22 https://www.bls.gov/ooh/installation-maintenance-and-repair/heating-air-conditioning-and-refrigeration-mechanics-and-installers.htm