HVAC Technician Career Comparisons
Updated: 05/20/2022
Are you undecided about becoming an HVAC technician or training for a different skilled trade?
Well, comparing HVAC to other career paths may help you with this important decision. Applying the following questions to each occupation can be a good place to start:
What are the training requirements for the career?
How strong is the job market for these tradespeople?
Where do they work?
What do they do?
How much do they make?1
Find answers to these questions for the HVAC technician versus plumber, electrician and solar photovoltaic installer career paths in this article.
Have Questions?
A team of advisors are available to answer questions you may have.
M – Th: 7AM – 7:30PM (PST)
F: 7AM – 4PM (PST)
Sat: 8AM – 12PM (PST)
(855) 318-9203
E-Mail Us
Section 1
HVAC Technician Career Profile
Let's start by looking at an overview of the HVAC technician career:
HVAC Technician Job Description
While what HVAC technicians do may vary by position and industry, generally these workers service, repair or replace heating, ventilation and air conditioning equipment. These days, it's also common for them to work on refrigeration systems as well—in which case, they would be called HVACR technicians.2
HVAC Technician Work Settings
Most modern buildings have some sort of heating and/or cooling system, so HVAC
technicians can work in an array of settings:
Schools
Factories
Homes
Office buildings
Hospitals
And more2
They may work outdoors or indoors, sometimes in cramped spaces. Since equipment can break down at any time, it's common for HVAC techs to work irregular hours, especially during the busy summer and winter seasons.2
HVAC Technician Salary
Geographic location, industry, experience, training, credentials and a host of other factors can influence how much HVAC technicians make.3 Their annual median salary in the US in 2020 was $50,590, which is $23.32 per hour.2
HVAC Technician Job Growth
The Bureau of Labor Statistics predicts 4% job growth for HVAC technicians through the year 2029. This is as fast as average.2**
Job growth for these tradespeople can be even faster in some states. For example, in Arizona, HVAC jobs are expected to be added at a rate of 24% through 2028.4**
HVAC Technician Training Requirements
Heating, ventilation, air conditioning and refrigeration equipment is becoming more complex all the time, according to the BLS. Consequently, many employers in the industry would rather hire workers with a postsecondary HVAC education. HVAC training programs can typically be completed in 6 months to 2 years.5
Apprenticeship is another training option but can take much longer, usually between 3 and 5 years.5
Following formal training, entry level HVAC technicians generally receive some on-the- job training.
Federal, state and local governments may require that technicians have HVAC certifications and licenses. For example, any technician handling refrigerants must have Environmental Protection Agency (EPA) certification.5
The EPA test can take a couple of hours to complete and a few weeks to get the results.6
The time it takes to obtain other types of HVAC certifications can vary.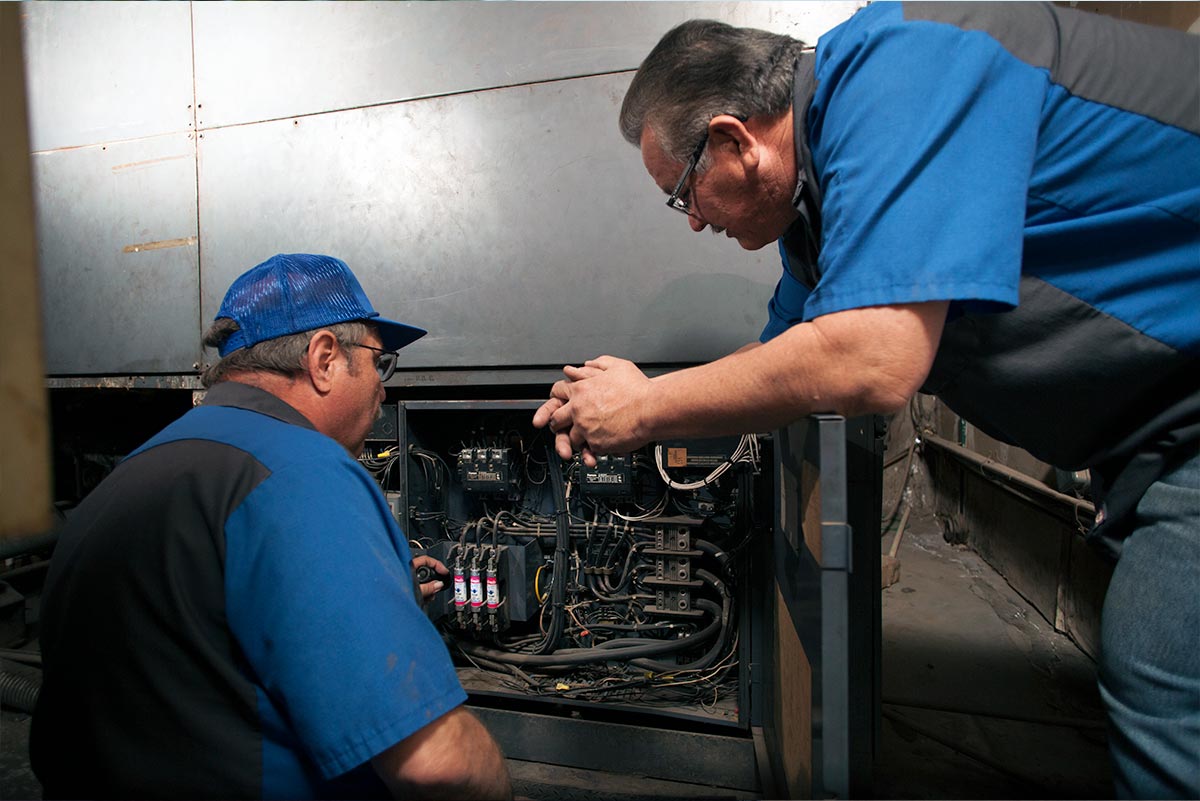 Section 2
HVAC Technician Career vs. Other Skilled Trades
Are you unsure if a career in HVAC sounds like a good choice? Reviewing the requirements for and occupational data like salary and job growth for some other skilled trades might help you make your decision.
HVAC Technician vs. Plumber Career Path
Installation and repair are common duties for both HVAC technicians and plumbers, pipefitters, and steamfitters. What sets these two trades apart are the types of equipment that the tradespeople work on. HVACR techs work on heating, ventilation, air conditioning and refrigeration equipment, while plumbers focus on the pipes used for gas, drainage and water in businesses, homes and factories.7
HVAC Technician vs. Plumber Job Duties
Aside from the fact that HVAC techs and plumbers are working on different equipment, job duties can be pretty similar:
Installing HVAC units or piping systems
Inspecting and testing these systems and their components
Troubleshooting basic HVAC or piping problems
Repairing or replacing defective or worn parts8
Master plumbers may help create blueprints for the location of fixtures and pipes. These blueprints can help ensure the structure meets local building codes.8
The refrigerants HVAC technicians often handle are strictly regulated by the government, so they must abide by the rules for the conservation, recovery and recycling of these substances.9
HVAC Technician vs. Plumber Work Settings
Whether you train to become an HVACR technician or a plumber, chances are you would report to the same type of employer: a plumbing, heating and air-conditioning contractor. Such companies employed 66% of the 376,800 HVAC technicians and 65% of the 490,200 plumbers, pipefitters and steamfitters working in the U.S. in 2020, according to the BLS.10 ,11**
Another similarity: 7% of HVAC techs and 8% plumbers worked for themselves that year.10,11**
Here are the remaining top employers for plumbers:
Heavy and civil engineering construction (4%)
Government (3%)
Manufacturing (4%)10
Here are the other industries accounting for the majority of employed HVAC technicians:
Retail trade (3%)
Educational services (3%)
Wholesale trade (4%)11
HVAC Technician vs. Plumber Salary
In 2020, plumbers, pipefitters and steamfitters earned an annual median salary in the US of $56,330. This was $27.08 an hour and more than the median wage of $24.32 per hour ($50,590 annually) that HVAC technicians made.2,7*
HVAC Technician vs. Plumber Job Growth
Job growth for plumbers is predicted to be 4% through 2029, which is as fast as the BLS projected for HVAC technicians.2,7*
HVAC Technician vs. Plumber Training Requirement
Meeting the requirements to become a plumber can take longer than becoming an HVAC technician. As mentioned above, the HVAC training many technicians complete before landing their first job can take 6 months to 2 years. Many techs will also spend a couple hours taking an EPA certification test and a few weeks waiting for results.5,6
Spending 4 to 5 years in an apprenticeship is usually necessary to become a journeyman plumber, a status that qualifies the worker to perform duties on his or her own. After gaining several more years of experience and passing an exam, a plumber may advance to the master level, which may allow the plumber to obtain a trade-specific contractor's license.12
In most states, plumbers must pass a licensing exam demonstrating their knowledge of the trade and local plumbing codes in order to work without supervision.12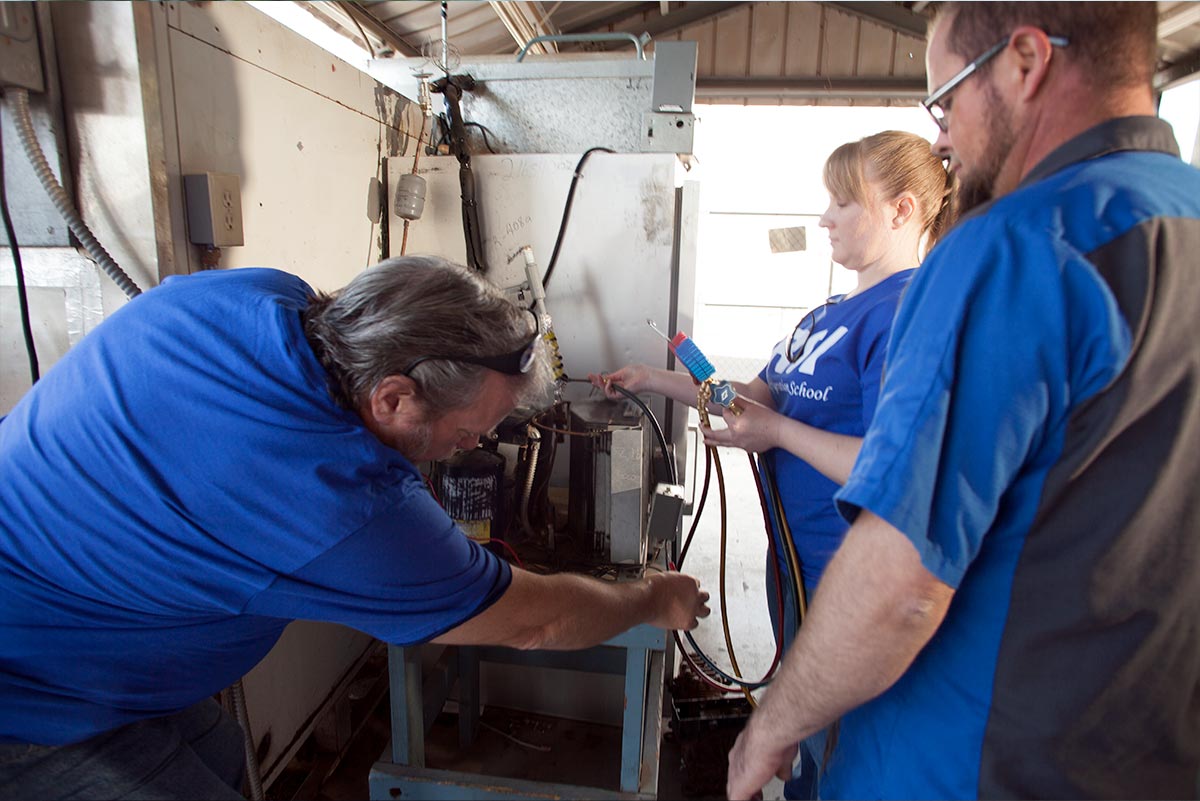 Section 3
HVAC Technician vs. Electrician Career Path
As with for HVAC technicians and plumbers, installation, maintenance and repair are the primary duties of electricians. But these tradesmen and women work on the wiring in communications, lighting, power and control systems.
HVAC Technician vs. Electrician Job Duties
Electricians follow many of the same steps as HVAC technicians throughout the course of their workweek but with different equipment. They read blueprints and install lighting, control and wiring systems. They inspect electrical parts and diagnose problems. When components are faulty or old, electricians repair or replace them.14
Just as HVAC technicians adhere to EPA regulations for working with refrigerants and plumbers follow building codes, electricians must abide by the National Electrical Code.14
HVAC Technician vs. Electrician Work Settings
Unlike HVAC technicians and plumbers, the majority of electricians worked for electrical contractors (67%) and other wiring installation contractors in 201. 7% reported working in manufacturing.**
Similar to HVAC techs and plumbers, a relatively large percentage of electricians (5%) were self-employed. Electricians also worked in the government (3%) and employment services (3%).15 **
HVAC Technician vs. Electrician Salary
Electricians earned a higher median annual and hourly income than HVAC technicians and plumbers in 2020: $56,900 a year and $27.36 per an hour2,13*
HVAC Technician vs Electrician Job Growth
The BLS predicts faster job growth for electricians compared to HVAC technicians. While HVAC techs are set to see jobs added at a rate of 4% through 2029, they will be added at a rate of 8% for electricians, which is much faster than the national average of 4% for all occupations.2,16*
HVAC Technician vs Electrician Job Growth
Becoming an electrician can take longer than becoming an HVAC technician. Even though HVAC technicians and electricians may both start out at trade school, many electricians also spend 4 to 5 years in an apprenticeship program. Upon completion of the apprenticeship program, workers are considered journeyman electricians and may perform tasks on their own, depending on state and local licensing laws.17
In most states, electricians must also be licensed and take continuing education classes to keep their licenses valid.17
Section 4
Additional HVAC Technician Career Comparisons
Want to see how a career in HVAC compares to even more skilled trades? Check out the articles below:
Section 5
HVAC Technician Career Path Resources
Have you made up your mind about pursuing a career in HVAC but are wondering where and how to get started? Reading HVAC career resources can be a good place to start. Such information can provide help for each step of the path to becoming a technician.
*Phoenix Area's annual mean wage for Heating, Air Conditioning, and Refrigeration Mechanics and Installers (499021) is $50,070 and hourly $24.07 as reported by BLS as of May 2020 http://data.bls.gov/oes. Average starting salary for Refrigeration Technologies is $35,670 for RSI graduates employed during the 12 month period of 7/1/19-6/30/20. Average starting salary for Electro-Mechanical Technologies is $35,978 for RSI graduates employed during the 12 month period of 7/1/19-6/30/20. Phoenix's annual mean wage for Electricians (472111) is $49,620 and hourly $23.86 reported by BLS for May 2020 http://data.bls.gov/oes. Average starting salary for Electrical Applications is $32,000 for RSI graduates employed during the 12 month period of 7/1/19-6/30/20.
**According to BLS data Arizona employed 10,000 Heating, Air Conditioning, and Refrigeration Mechanics and Installers (499021) through May 2020 http://data.bls.gov/oes. According to BLS data Arizona employed 13,650 Electricians (472111) through May 2020 http://data.bls.gov/oes.
1 https://www.bls.gov/k12/teachers/pdf/choosing_a_career.pdf
2 https://www.bls.gov/ooh/installation-maintenance-and-repair/heating-air-conditioning-and-refrigeration-mechanics-and-installers.htm
3 https://www.bls.gov/careeroutlook/2015/article/wage-differences.htm?view_full
4 https://laborstats.az.gov/employment-forecasts
5 https://www.bls.gov/ooh/installation-maintenance-and-repair/heating-air-conditioning-and-refrigeration-mechanics-and-installers.htm#tab-4
6 https://www.aireco.com/wp-content/uploads/2016/04/EPA-Testing-FAQs-Laurel-Arlington.pdf
7 https://www.bls.gov/ooh/construction-and-extraction/plumbers-pipefitters-and-steamfitters.htm
8 https://www.bls.gov/ooh/construction-and-extraction/plumbers-pipefitters-and-steamfitters.htm#tab-2
9 https://www.bls.gov/ooh/installation-maintenance-and-repair/heating-air-conditioning-and-refrigeration-mechanics-and-installers.htm#tab-2
10 https://www.bls.gov/ooh/construction-and-extraction/plumbers-pipefitters-and-steamfitters.htm#tab-3
11 https://www.bls.gov/ooh/installation-maintenance-and-repair/heating-air-conditioning-and-refrigeration-mechanics-and-installers.htm#tab-3
12 https://www.bls.gov/ooh/construction-and-extraction/plumbers-pipefitters-and-steamfitters.htm#tab-4
13 https://www.bls.gov/ooh/construction-and-extraction/electricians.htm
14 https://www.bls.gov/ooh/construction-and-extraction/electricians.htm#tab-2
15 https://www.bls.gov/ooh/construction-and-extraction/electricians.htm#tab-3
16 https://www.bls.gov/ooh/construction-and-extraction/electricians.htm#tab-6
17 https://www.bls.gov/ooh/construction-and-extraction/electricians.htm#tab-4