Where Do HVAC Technicians Work?
Updated: 07/13/2022
The majority of HVAC technicians (66%) work for plumbing, heating and air-conditioning contractors.1 These are the techs you might call to repair or maintain the furnace in a home or office building.1,2*
Another 7% of HVAC technicians worked for themselves, or were self-employed, in 2019, reported the Bureau of Labor Statistics for the last year data is available.1*
Other top employers of heating, air conditioning and refrigeration mechanics and installers, as the BLS calls them, included wholesale trade (4%), educational services (3%) and retail trade (3%).1*
These figures, however, don't tell the whole story about where HVAC technicians work. Continue reading for a more in-depth look at the industries, settings and locations where these pros ply their trade.
Have Questions?
A team of advisors are available to answer questions you may have.
M – Th: 7AM – 7:30PM (PST)
F: 7AM – 4PM (PST)
Sat: 8AM – 12PM (PST)
(855) 318-9203
E-Mail Us
Section 1
What Does an HVAC Technician Do on a Daily Basis?
HVAC technicians specialize in the installation, maintenance and repair of heating, cooling and air conditioning systems and machinery.2 HVACR techs may also work on different types of refrigeration systems.2
What an HVAC technician does on a daily basis can depend on his or her specific job but may include the following tasks:
Inspecting HVAC systems to evaluate conditions, troubleshooting problems and diagnosing failures in the system.
Identifying repair or replacement needs and recommending a maintenance plan.
Installing HVAC systems to enhance environmental conditions or upgrading existing equipment.
Maintaining tools and equipment to ensure optimal performance and safe operation.
Performing routine maintenance on HVAC systems.
Preparing documentation and paperwork for repair status, activity logs, work orders, etc.
Repairing HVAC systems or components to ensure the continued operability of the system.
Responding during or after work hours to repair broken equipment.
Reporting to one or multiple job sites each day to make service calls.2
When working as part of a team, HVAC technicians may be responsible for collaborating with foremen and other skilled workers, such as electricians, pipefitters and sheet metal workers.2,3
If you like mechanics, working with your hands or fixing things, then a career in HVAC may be a good choice.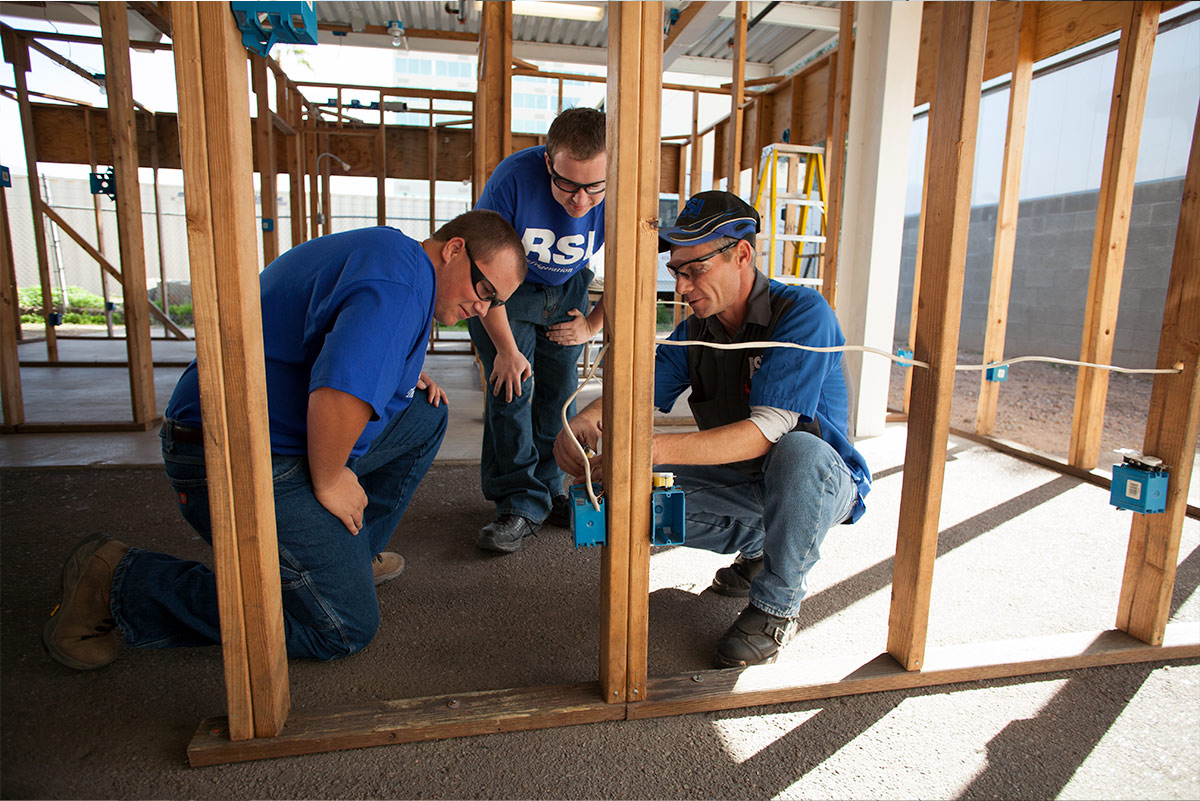 Section 2
What Are the Work Environments and Conditions of an HVAC Job?
Would a career in HVAC have you working indoors or outside? What kind of work schedule might you keep? Would you have to wear safety gear while on the job?
Explore the work settings, schedules and safety gear typical of a career in heating, ventilation, air conditioning and refrigeration service and repair below.
HVAC Technician Work Settings
From extreme temperatures to confined spaces, here are just some of the different environments you might work in as an HVACR technician. Keep in mind that work settings can vary with the specific job, and comparing the different HVAC careers can give you a better idea of what conditions you might encounter as a technician.
Cold and Hot Environments
When technicians are called to repair the HVAC system in a building, such as a school, factory, home, office building or store, they may experience hot or cold indoor temperatures because the heating or cooling equipment isn't working.1
Outdoor work, which can be hot or cold, depending on the climate in the area of repairs and the season, is another possibility. The condenser on residential cooling units is often outdoors on the ground.4 Businesses in tall buildings generally install cooling units on the rooftop.5
Cramped Spaces
HVAC technicians may work in confined spaces when repairing or maintaining equipment, such as units in a closet, crawl space or attic.1 Many HVAC technicians also work in enclosed vehicles and equipment.3
Rooftops
HVACR technicians can specialize in one particular area of expertise, such as testing and balancing, commercial refrigeration or solar panels.2
Solar panels are generally installed on a roof or a tall structure and may require a ladder to reach them for maintenance, testing and repairs.6
HVAC Technician Work Schedules
Schedules are typically full-time, but the nature of their work means that having hours outside of the typical office shift can be common. During the sweltering heat of summer or freezing cold of winter, HVAC technicians may have to work evenings and weekends. These times of year may mean working irregular hours and/or overtime.1
Safety Gear for HVAC Techs
As the Bureau of Labor Statistics (BLS) notes, working with refrigerants can come with risks. HVAC technicians must be trained in the proper use and handling of these substances.1 HVAC safety practices include, among other things, wearing safety gloves and goggles at all times when handling refrigerants.7
General safety gear may include slip-resistant shoes to ensure steady footing when dealing with potential leaks and slippery floors.8 Technicians working in an environment where objects may fall from above may wear a hardhat or helmet.8 Earplugs should be worn by those working in loud settings for extended periods of time.8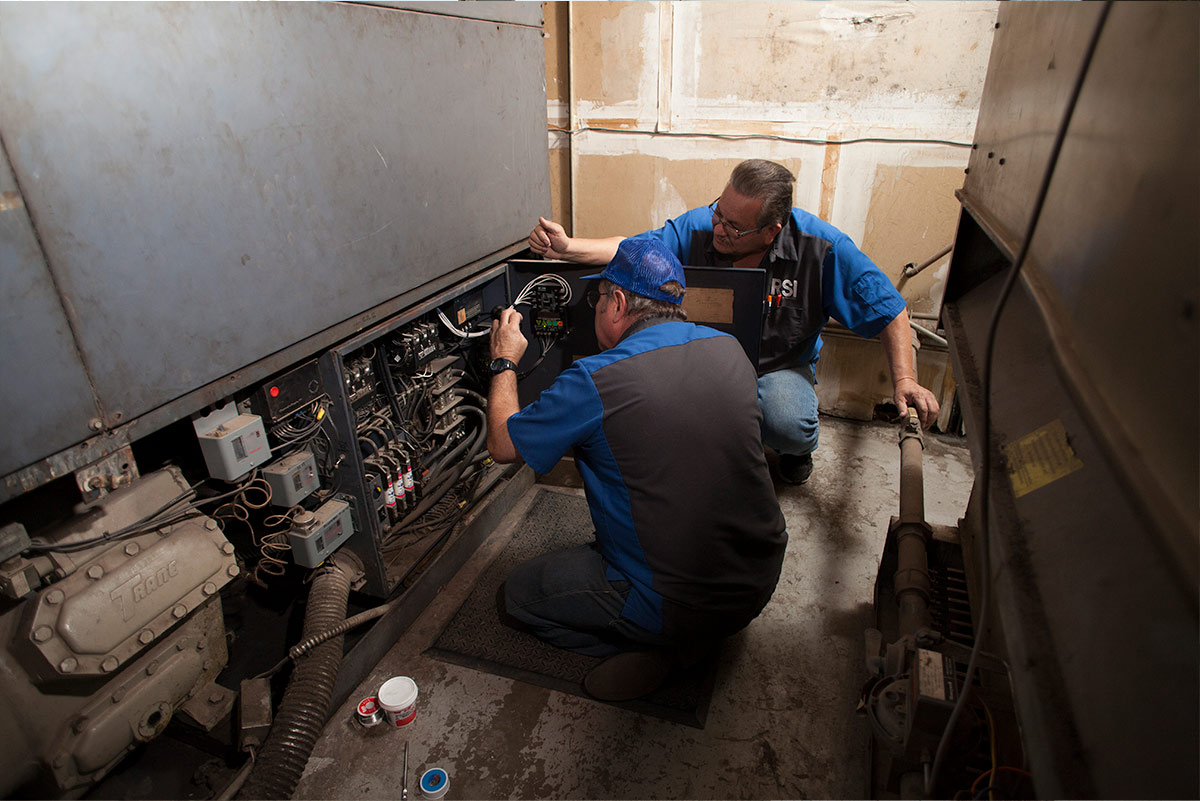 Section 3
Industries Where HVAC Technicians Work
In 2020, 344,020 HVACR technicians were employed in the U.S., according to the BLS.9 Common work settings for HVAC technicians include homes, office buildings, stores, schools, hospitals and factories.1*
The industries below were the largest employers of these tradespeople.9*
Industries with the Highest Levels of Employment for HVAC Technicians in 2020
| | |
| --- | --- |
| Building Equipment Contractors | |
| Merchant Wholesalers, Durable Goods | |
| Direct Selling Establishments | |
| | |
| Colleges, Universities, and Professional Schools | |
Within and outside of these fields, HVAC technicians worked in a host of different types of industries and sectors within those industries. Below is a sampling of them to give you a better idea of the many types of HVAC careers and jobs.
Locations Where HVAC Technicians Work
HVAC technicians are employed across the country, but certain states and metropolitan areas have higher concentrations of these tradespeople than others. Job growth in these states tends to be higher than the national average of 4% for HVAC techs over the next decade.10*
Top States for HVAC Technician Employment in 2020
| | Number of Employed HVAC Technicians in 2020 | Projected Job Growth for HVAC Technicians through 2028 |
| --- | --- | --- |
| | | |
| | | |
| | | |
| | | |
| | | |
9*
State Spotlight: Arizona's Hot HVAC Job Mark
Guess which state is predicted to have 21% job growth for HVAC technicians through 2028? Arizona.16*
The U.S. Department of Labor projects the state's labor force of heating, air conditioning and refrigeration mechanics and installers to grow from 3,780 technicians in 2018 to 4,590 technicians in 2028.16 Job prospects are expected to be good for other skilled trades workers in Arizona as well.*
Recent HVAC school graduates looking for a hot job market might want to consider Arizona in the coming years.
Top Metropolitan Areas for HVAC Technician Employment in 2020
| | Number of HVAC Techs Employed |
| --- | --- |
| New York-Newark-Jersey City, NY-NJ-PA | |
| Los Angeles-Long Beach-Anaheim, CA | |
| Miami-Fort Lauderdale-West Palm Beach, FL | |
| Houston-The Woodlands-Sugar Land, TX | |
| Phoenix-Mesa-Scottsdale, AZ | |
| Philadelphia-Camden-Wilmington, PA-NJ-DE- MD | |
| Dallas-Fort Worth-Arlington, TX | |
| Chicago-Naperville-Elgin, IL-IN-WI | |
| Washington-Arlington-Alexandria, DC-VA-MD- WV | |
| Atlanta-Sandy Springs-Roswell, GA | |
9 *
Learn More about a Career in HVAC
Now you know where HVAC technicians typically work. What else is there to discover about this occupation?
Quite a lot: how much they make, how to become one, what types of certifications and licenses they need and much, much more. Reading an HVAC Technician Career Overview may be the best place to start to learn more about this growing field.
*According to BLS data Arizona employed 10,000 Heating, Air Conditioning, and Refrigeration Mechanics and Installers (499021) through May 2020 http://data.bls.gov/oes.
1https://www.bls.gov/ooh/installation-maintenance-and-repair/heating-air-conditioning-and-refrigeration-mechanics-and-installers.htm#tab-3
2https://www.bls.gov/ooh/installation-maintenance-and-repair/heating-air-conditioning-and-refrigeration-mechanics-and-installers.htm#tab-2
3https://www.onetonline.org/link/summary/49-9021.01
4https://www.hydesac.com/what-is-the-role-of-your-air-conditioners-outside-unit-in-the-cooling-process/
5https://hvacdirect.com/commercial-hvac-equipment/commercial-rooftop-units.html
6https://www.bls.gov/ooh/construction-and-extraction/solar-photovoltaic-installers.htm#tab-3
7https://www.servicetitan.com/blog/guide-to-hvac-safety
8https://www.contractingbusiness.com/residential-hvac/5-important-safety-guidelines-new-hvac-technicians
9https://www.bls.gov/oes/current/oes499021.htm
10https://www.bls.gov/ooh/installation-maintenance-and-repair/heating-air-conditioning-and-refrigeration-mechanics-and-installers.htm#tab-1
11https://www.careeronestop.org/toolkit/careers/occupations/occupation-profile.aspx?keyword=Heating,%20Air%20Conditioning,%20and%20Refrigeration%20Mechanics%20and%20Install ers&onetcode=49902100&location=Florida
12https://www.careeronestop.org/toolkit/careers/occupations/occupation-profile.aspx?keyword=Heating,%20Air%20Conditioning,%20and%20Refrigeration%20Mechanics%20and%20Install ers&onetcode=49902100&location=California&onet=49902100
13https://www.careeronestop.org/toolkit/careers/occupations/occupation-profile.aspx?keyword=Heating,%20Air%20Conditioning,%20and%20Refrigeration%20Mechanics%20and%20Install ers&onetcode=49902100&location=Texas&onet=49902100
14https://www.careeronestop.org/toolkit/careers/occupations/occupation-profile.aspx?keyword=Heating,%20Air%20Conditioning,%20and%20Refrigeration%20Mechanics%20and%20Install ers&onetcode=49902100&location=New%20York&onet=49902100
15https://www.careeronestop.org/toolkit/careers/occupations/occupation-profile.aspx?keyword=Heating,%20Air%20Conditioning,%20and%20Refrigeration%20Mechanics%20and%20Install ers&onetcode=49902100&location=Pennsylvania&onet=49902100
16https://www.careeronestop.org/toolkit/careers/occupations/occupation-profile.aspx?keyword=Heating,%20Air%20Conditioning,%20and%20Refrigeration%20Mechanics%20and%20Install ers&onetcode=49902100&location=Arizona&onet=49902100
17https://www.bls.gov/oes/current/oes_az.htm