HVAC Technician Career Overview
Updated: 07/12/2022
What might you expect from a career as an HVAC technician? Below are just some of the benefits the occupation could offer:
Getting outdoors and staying active on the job.
Daily variety in job duties and work environments.
Hands-on problem solving.
Healthy job growth and pay.1*
Should you become an HVAC technician? Learning more about this skilled trade may help you decide. Find information in the career overview below.
Have Questions?
A team of advisors are available to answer questions you may have.
M – Th: 7AM – 7:30PM (PST)
F: 7AM – 4PM (PST)
Sat: 8AM – 12PM (PST)
(855) 318-9203
E-Mail Us
Section 1
HVAC Technician Career: Quick Facts and Stats
| | |
| --- | --- |
| HVAC Technician National Average Pay (2020) | $53,410 annually / $25.68 hourly.2* |
| HVAC Technician National Job Growth (through 2029) | 4% (As fast as average).3** |
| HVAC Technician Education Requirements | Post-secondary HVAC training.3 |
| HVAC Technician Certification and Licensing Requirements | EPA Section 608 technician certification required for working with refrigerants. HVAC license required in some states.4 |
| HVAC Technician Work Environments | Indoors and outdoors. Full-time and overtime/irregular hours during peak heating and cooling seasons.3 |
| HVAC Technician National Average Pay (2020) | $53,410 annually / $25.68 hourly.2* |
| HVAC Technician Industries | Plumbing, heating and air-conditioning contractors; schools; wholesale trade; and self-employment.5 |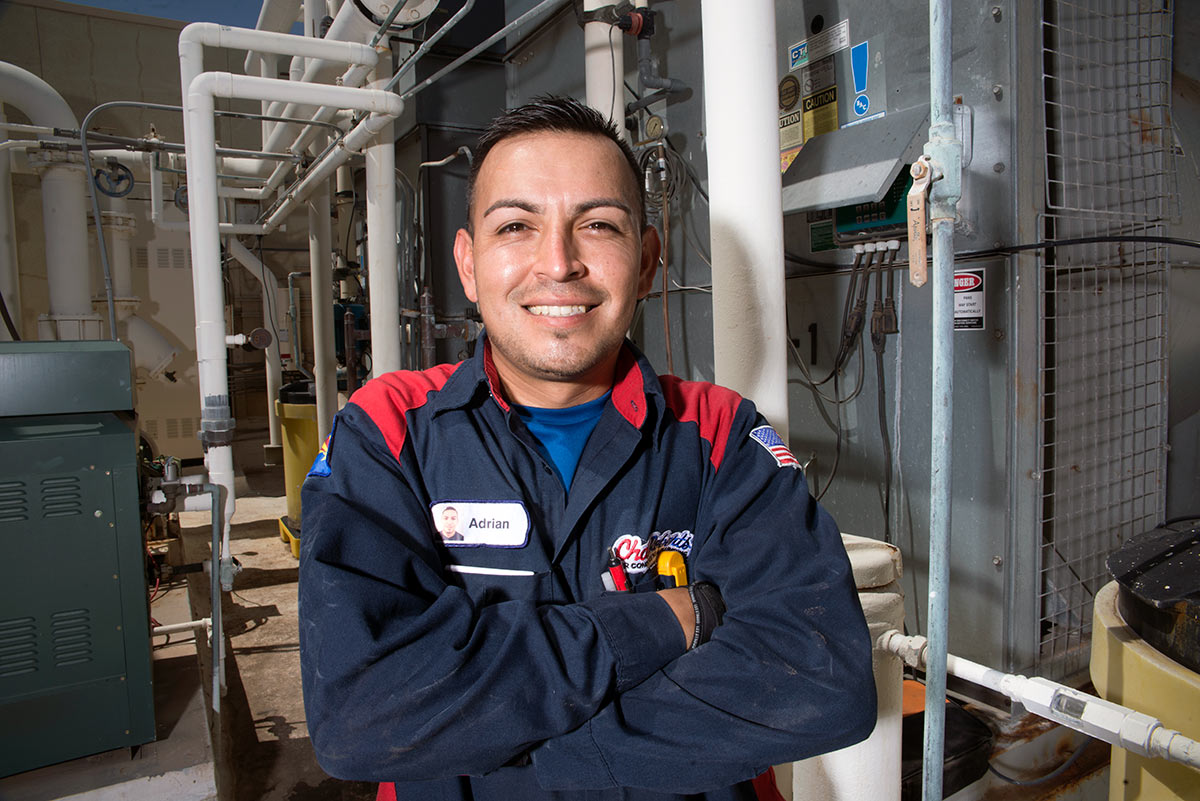 Interested in a career in HVAC? Learn more about what an HVAC technician does.
Section 2
HVAC Technician Job Description and Salary
What you do and how much you make in an occupation can be important considerations because these factors can impact everything, from job satisfaction to your ability to reach other life goals like buying a home or starting a family.
See what the HVAC career path has to offer in terms of job duties and pay.
What Is an HVAC Technician?
Let's start by answering the question, "What Is HVAC?" "HVAC" stands for heating, ventilation and air conditioning. These days, it's common to see the term "HVACR," and the "R" is for refrigeration. So, what do HVAC technicians do with this equipment? Installation, maintenance, repair and replacement of HVACR systems accounts for a large part of their jobs.6
HVAC Technician Roles and Responsibilities
There are different types of HVAC careers and jobs, so the roles and responsibilities of each individual worker may vary.
HVAC Technician Roles
For example, some HVAC technicians may focus on residential air conditioning and heating systems, while others might specialize in commercial HVAC or industrial and commercial refrigeration. Comparing the various HVAC technician career paths can help you determine which one may align best with your interests.7Within the field of HVACR service and repair, workers can advance from entry-level helpers to rough-in installers to start-up technicians and service technicians.7
HVAC Technician Responsibilities
As you might imagine, tasks typically become more complex the higher up the HVAC career ladder a worker climbs.Entry-level helpers do a lot of the carrying, lifting and placing of parts. It's common for new technicians to work alongside more experienced ones. They may start out handling basic jobs like cleaning furnaces and insulating refrigerant lines. Over time, they're given more challenging duties, such as checking electrical circuits and soldering pipes. 4 By the time a worker reaches the level of service technician, he or she is examining equipment and troubleshooting basic HVAC problems.7 Below are other common HVAC technician duties:

HVACR system installation and cleaning.
Routine system maintenance: system inspection, duct cleaning, filter replacement and refrigerant replenishment.
Electrical wiring and component installation.
HVACR equipment inspection and testing. Faulty system diagnosis. Communication with customers.
Customerservice. Defective component repair or replacement. System maintenance planning and recommendations.
Work recordkeeping.6
For large projects in which workers may be represented by unions, other skilled tradespeople may take care of some of the above tasks. Electricians may install the electrical wiring, and pipefitters, plumbers and steamfitters may put together the networks of pipes.6
Interested in a career in HVAC? Learn more about about the job.
Section 3
Do HVAC Technicians Make Good Money?
While each individual worker may define "good money" differently, compared to many occupations, HVAC technicians made healthy wages. For instance, nationally they earned a median hourly wage of $24.32 in 2020.8*
HVAC Technician Salary
On average, nationally HVAC technicians earned $53,410 a year, or $25.68 an hour in 2020. HVAC technician salaries overall, however, varied. Below are the Bureau of Labor Statistics percentile wage estimates for these tradespeople.2*
HVAC Technician National Percentile Wage Estimates2*
10th Percentile: $31,910 yearly and $15.34 hourly.
25th Percentile: $39,320 yearly and $18.90 hourly.
50th Percentile: $50,590 yearly and $24.32 hourly.
75th Percentile $64,350 yearly and $30.94 hourly.
90th Percentile: $80,820 yearly and $38.86 hourly.
Highest Paying States for HVAC Technicians2*
Why Incomes for HVAC Technicians Vary
What sets an HVAC technician in the 10th percentile of earners apart from one in the 90th? A host of factors.
Higher earners may have more work experience and in-demand skills. They may also possess vocational training certificates, EPA and industry HVAC certifications, and state or local licenses. Credentials like these can demonstrate proficiency in specific skills and knowledge to employers.9
An HVAC technician's job duties can also influence how much he or she earns. As mentioned earlier, entry level-technicians tend to handle simpler tasks than experienced techs do. Even within the same career level, technicians with better performance records may earn more than those with less impressive ones.9
Geographic location and industry are two other factors that can impact how much an HVAC technician makes.9 Check out the BLS data below to see the highest paying states and industries for techs in 2020.
Highest Paying Industries for HVAC Technicians2*
| | HVAC Technician Hourly Pay | HVAC Technician Yearly Pay |
| --- | --- | --- |
| | | |
| Aerospace Product and Parts Manufacturing | | |
| Monetary Authorities-Central Bank | | |
| | | |
| Electric Power Generation, Transmission and Distribution | | |
Highest Paying States for HVAC Technicians2*
| | HVAC Technician Hourly Pay | HVAC Technician Yearly Pay |
| --- | --- | --- |
| | | |
| | | |
| | | |
| | | |
| | | |
What's clear from the HVAC technician salary data is that wages can differ depending on several variables, such as training, certifications, licenses, skills, experience and performance. Earning such credentials, as well as working in the most lucrative industries and highest paying- states, may lead to higher incomes as an HVAC technician.
Interested in a career in HVAC? Learn more about how much you could make as an HVAC technician.
Section 4
Is There a Demand for HVAC Technicians?
Yes, demand for HVAC technicians in terms of job growth is set to be much faster than average. The BLS projects 4% job growth through 2029.3**
Depending on where an HVAC technician works, job growth may be even faster than the national average for this occupation.
| | |
| --- | --- |
| | Predicted HVAC Technician Job Growth** |
| | |
| | |
| | |
| | |
| | |
HVAC Technician Employment Levels
Just as pay for HVAC technicians can depend on location and industry, so too can levels of employment. Check out the states and industries with the highest levels of employment for techs below.
States with the Highest Levels of Employment of HVAC Technicians
A total of 344,020 HVAC technicians were employed in the U.S. in 2020. Below were the states with the highest levels of employment of techs:

Florida: 33,210 HVAC Technicians.
California: 32,410 HVAC Technicians.
Texas: 28,010 HVAC Technicians.
NewYork: 16,730 HVAC Technicians.
Pennsylvania: 14,900
HVAC Technicians.2**

Industries with the Highest Levels of Employment of HVAC Technicians
Homes, stores, schools, hospitals, factories and office buildings can all be places where HVAC technicians ply their trade.5 Below were the specific industries with the highest levels of employment of HVAC technicians in 2020:

Contractors of building equipment: 254,320 HVAC Technicians.
Direct selling establishments: 9,250 HVAC Technicians.
Merchant wholesalers, durable goods: 10,770 HVAC Technicians.
Commercial and industrial machinery and equipment: 6,670 HVAC Technicians.
Pennsylvania: 14,900
Universities, colleges and professional schools: 5,780 HVAC Technicians.2**
Interested in a career in HVAC? Learn more about the types of HVAC careers
Section 5
Is HVAC Technician a Good Career?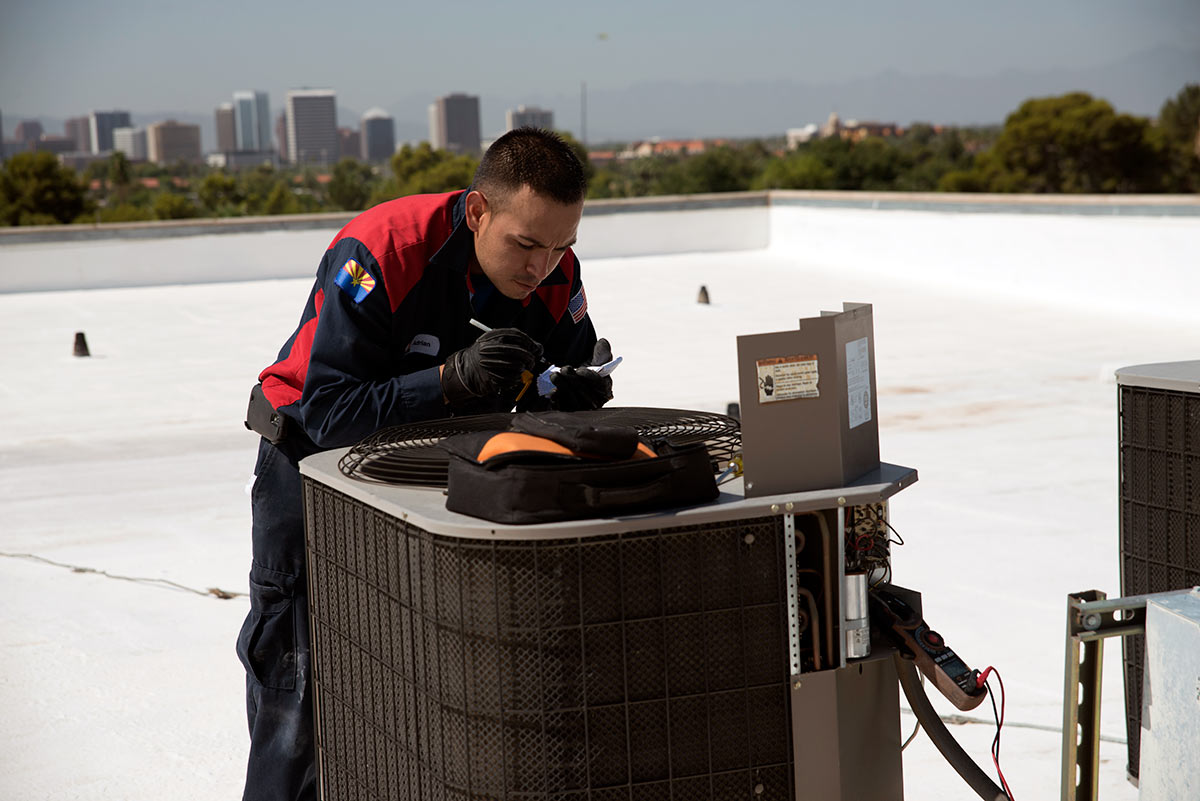 Whether or not you would consider HVAC to be a good career path depends on your resources, goals and preferences. For instance, how much time can you afford to spend in school instead of in the job market? What tuition price range best matches your resources? Where would you want to work, and what would you like doing?
Think about these questions as you review what a career in HVAC might have to offer.
Career Preferences
Working outdoors instead of in offices.
Hands-on work.
Solving practical problems.
Handling tools and machinery.
Minimal paperwork.
Working independently instead of close to others.
Following set procedures and routines.
Dealing with details and data more than ideas.
Answering to a clear line of authority.
Investigating problems.
Career Goals
Becoming a skilled tradesman or woman.
Entering a growing industry.3**
Enjoying opportunities for career advancement and higher earnings.2*
Obtaining certifications and licenses.4
Being self-employed or starting your own HVAC service company.5
Career Preparation Resources
Shorter training time than for professions requiring 4 years or more of college (6 months to 2 years).4
Fewer years of tuition to pay for and possibly lower tuition costs.15
Flexible training options for working students and parents.
Of course, there may be other factors to take into account when choosing a new career. During this time, conducting research, utilizing HVAC technician career resources and speaking with HVAC school representatives can help you learn more about the occupation and whether or not it's a good fit.
Interested in a career in HVAC? Learn more about why being an HVAC technician is a great career
Section 6
What Are the HVAC Technician Training Requirements?
What skills are needed to be an HVAC technician? Is vocational training necessary? Do HVAC technicians need to be licensed?
These are important questions to ask when considering becoming an HVAC technician. Find answers to them below.
HVAC Technician Education Requirements
High School Diploma or GED
Many post-secondary institutions that provide HVAC training, such as trade schools and community colleges, require students to have a high school diploma or GED. It's also common for employers to require one or the other.16While in high school, taking classes in math, physics and vocational education can help with preparing to become an HVAC technician, according to the BLS. Learning about basic electricity and plumbing can also be beneficial.4
HVAC Training
Due to the increasing complexity of the equipment, many employers prefer to hire workers with formal HVAC training from a trade school or community college.4 The Refrigeration Technologies program at The Refrigeration School (RSI), for example, has the following courses:

Fundamentals of Electricity
Fundamentals of Refrigeration
Comfort Systems – Commercial
Comfort Systems – Residential
Refrigeration Systems & Practices
Advanced Trouble-Shooting Techniques
HVAC Certification and Licensing Requirements
HVAC technicians who handle refrigerants are required to have Environmental Protection Agency (EPA) Section 608 Technician Certification. It's common for HVAC schools to help prepare students for this test.4
Beyond the EPA mandate, HVAC certifications and licenses may be beneficial for certain positions or required in some states.4 Industry organizations that grant general or specialized HVAC certifications include HVAC Excellence and North American Technician Excellence (NATE).17
Interested in a career in HVAC? Learn more about the training requirements.