What do concerts, basketball, ice hockey and boxing all have in common? HVAC/R.
These all occur in massive indoor arenas.[1] And a lot can go wrong without indoor climate control.[2] Think warm beer, stuffy air and even MVPs like Lebron James stuck out on the sidelines with leg cramps.
Sometimes referred to as a Swiss army knife, sports arenas host an array of different events in a short span of time: the floors may be switched from ice for hockey to hardwood for basketball to stages for concerts.
They can go from an occupancy of zero to tens of thousands in a matter of hours. With all these factors in play, keeping these massive structures the right temperature can be a huge challenge.[3][4]
HVAC/R equipment and technicians have a much bigger hand in making major sporting events possible than you might realize.
Get Started on the Path to a New Career
Fill out our form to learn how we can help you change your life.
Overcoming HVAC/R Challenges in Sports Arenas
Meeting the heating, cooling, ventilation and refrigeration needs of these huge, multi-functional spaces requires complex HVAC/R systems. Below we break down some of the types of equipment you might encounter while servicing a sports arena.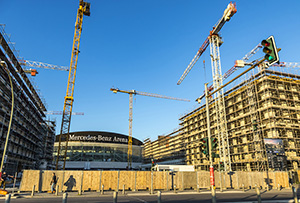 Heating
How does a large venue like the MetLife Stadium in New Jersey keep its upwards of 75,000 fans warm for football and other winter sports?
High-efficiency natural gas heaters are common in large stadiums and ice arenas, while infrared heating systems are typically used in indoor soccer, tennis and track facilities.[5][6]
Some sports arenas save energy by using green HVAC technologies. The Scheels Arena in Fargo, North Dakota, employs a geothermal HVAC system to recover waste heat from the ice compressors used for its enormous hockey rinks. The heat is stored in 200-foot-deep wells and retrieved during the winter to keep fans toasty.[7]
Air Conditioning
If you've ever escaped the sweltering Arizona summer heat to catch a Cardinals game at the University of Phoenix Stadium, then you may have marveled at how this big, barrel-cactus shaped building is kept cool.
Standing at 1.7 million square feet and holding as many as 72,200 people, the U.P. Stadium requires a whopping 8,000 tons of cooling power—enough to cool 2,300 valley homes.
Huge structures like this typically rely on centralized air conditioning systems. Usually, several units are placed in one location, known as the central cooling station.
To spare fans from the noise this equipment makes, central cooling stations are usually placed in the basement or on the roof of stadiums.
Each floor of the stadium holds several air handling units, which distribute the cooled air through ducts. Rather than pump the same temperature and amount of air throughout the entire building, each area is zoned for its specific needs.
For example, the halls where fans access concession stands could require cooler air to compensate for the heavy foot traffic and cooking.[8]
Ventilation
The large size and varied uses and occupancies of sports arenas make for unique air distribution challenges.
Significant swings in outside air requirements to combat quickly rising carbon dioxide levels requires a demand-control ventilation system. Many arenas overcome this challenge with a dedicated outdoor-air system (DOAS). These systems work independently of the cooling and heating units to channel fresh outside air into the building.
Not only can a DOAS reduce the amount of fan energy needed, but it can also improve indoor air quality and serve as a dehumidifier.[9] Dehumidification is essential to maintaining ice rinks.[10]
Refrigeration
What type of refrigeration system does it take to freeze the 12,000 to 15,000 gallons of water needed to make a professional ice rink? A complex network of chillers and steel pipes embedded in concrete or refrigerant-cooled brinewater underneath the ice to keep it frozen. Get more details on the system in "Ice Hockey Rink Refrigeration."
Not all winter sports require the same temperature of ice:
| | | | |
| --- | --- | --- | --- |
| Ice Hockey | Curling | Figure Skating | Recreational Skating |
| 22°F | 24°F | 26°F | 28°F |
Ice temperature controls are used to meet the needs of the various sports.[11]
Working Behind the Scenes
HVAC/R technicians play a vital role in keeping all of this equipment properly maintained and functioning. Without them, mishaps like the air conditioning going out at the 2014 NBA Finals game at the AT&T Center can make fans and basketball stars, such as Lebron James, extremely uncomfortable. As you might have guessed (or already know), the Spurs won that game.[12]
If you're interested in working behind the scenes in sports arenas, formal HVAC/R training can help get you there. Most employers are looking for applicants with a postsecondary education due to the complexity of the equipment.[13]
Learn more about this exciting field in What Does a Commercial Refrigeration Technician Do? Here's What You Need to Know.
[1] https://www.kieferusa.com/blog/sports-flooring-indoor-outdoor-use/
[2] http://www.sportvenueconstruction.com/products/hvac/
[3] https://www.snipsmag.com/articles/93129-how-hvac-design-can-boost-arena-revenue
[4] http://info.ebmpapst.us/ebm-papst/bid/171411/How-to-tame-the-HVAC-beast-in-sporting-arenas
[5] http://ugienergylink.com/natural-gas-arenas/
[6] http://www.superiorradiant.com/industries/sports-facilities
[7] http://recmanagement.com/feature_print.php?fid=200907su01
[8] http://www.donleyservice.com/media/articles/2016/09/surprising-university-phoenix-stadium-air-conditioning-facts/
[9] https://www.controleng.com/single-article/the-art-of-designing-sports-entertainment-and-specialty-structures-hvac/f60589bbd10e6df36a7a7d9c0a59c409.html
[10] https://c03.apogee.net/contentplayer/?coursetype=ces&utilityid=gulfpower&id=1018
[11] https://c03.apogee.net/contentplayer/?coursetype=ces&utilityid=gulfpower&id=1018
[12] https://www.si.com/nba/point-forward/2014/06/05/finals-air-conditioning-att-center-spurs-heat
[13] https://www.bls.gov/ooh/installation-maintenance-and-repair/heating-air-conditioning-and-refrigeration-mechanics-and-installers.htm#tab-4
This blog has been labeled as archived as it may no longer contain the most up-to-date data. For a list of all current blog posts, please visit our blog homepage at https://www.rsi.edu/blog/