If you need a new career, 3 blue-collar occupations in particular may be worthwhile looking into: HVAC technician, electrician and welder.
Check out what these 3 careers could hold in store for you in this article.
What Are Blue-Collar Jobs?
Blue-collar jobs are a type of employment that usually involves working with your hands and outdoors. Originally, blue-collar workers were those who wore darker clothing, such as miners or construction workers.1,2
There can be benefits to being a blue-collar worker these days: many have a formal education, have learned a special skillset and earn a healthy income. Typically, a few fields fall under the blue-collar category:
Construction
Maintenance
Mining
Manufacturing
What's the Difference between White-Collar and Blue-Collar Jobs?
While the stereotypical differences between white-collar and blue-collar jobs usually involve earnings or social class, the true quantitative differences these days are not so clearly defined.2
Get Started on the Path to a New Career
Fill out our form to learn how we can help you change your life.
Essentially, white-collar workers may wear a suit and tie, may work behind a desk and could handle administrative work. Blue-collar workers may report to outdoor worksites, may work with equipment or machinery and may have skills learned in a trade school.
Similarities between both "collar colors" and their roles are increasingly growing. With technology playing a bigger role in blue-collar occupations, the lines between white- and blue-collar jobs are fading. Plus, many white-collar professionals are not making much more than those in blue-collar positions these days.2
3 Blue-Collar Careers to Check Out in 2021
1. HVAC/R Technician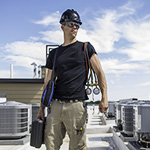 A heating, air conditioning and refrigeration (HVAC/R) mechanic or installer may work on heating or cooling systems, ventilation systems or refrigeration systems in both commercial and residential settings.
With HVACR systems becoming more complex in form and function, most employers look for applicants who have either completed an apprenticeship or an HVAC and refrigeration training program at a trade or technical school. In some states, technicians may also have to obtain a license.
2. Electrician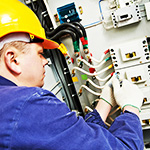 Electricians install, repair and maintain electrical control, lighting, communications and power systems in residences, businesses and commercial settings like factories.
The paths to becoming a licensed electrician can vary. Most professionals in this field receive their electrician training by working alongside a seasoned professional as an apprentice, but many also complete a trade school program. Courses related to basic electrical systems, circuitry and safe electrical practices are common in these programs
3. Welder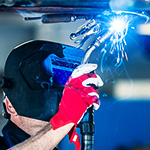 Welders use equipment to cut and join metal parts together, often for massive infrastructure projects like bridges and buildings.
While you don't need a college degree to be a welder, employers prefer welders who have at least a high school diploma and some prior hands-on training, like the sort of training offered at RSI.
Train for a Blue-Collar Career this Year
HVAC technician, electrician and welder are just 3 examples of blue-collar jobs to consider in 2021.
For more details on how to prepare for these careers, reach out to us at The Refrigeration School. We'd be happy to tell you about our skilled trades training programs.
1https://www.investopedia.com/terms/b/bluecollar.asp
2https://www.investopedia.com/articles/wealth-management/120215/blue-collar-vs-white-collar-different-social-classes.asp
This blog has been labeled as archived as it may no longer contain the most up-to-date data. For a list of all current blog posts, please visit our blog homepage at https://www.rsi.edu/blog/