The answer: Yes. It's no longer a man's world in construction and other traditionally male-dominated fields.
That's because the skilled trades are becoming an increasingly attractive career choice for women. And after years of making up only a small part of the skilled trades workforce, their numbers are rising.[1]
The day when a women's image comes to mind when you think of a plumber, electrician or HVAC technician might not be that far off.
Let's take a closer look at the potential the skilled trades hold for women.
What Are Skilled Trades Jobs?
Skilled trades jobs are positions that require a specialized skill, knowledge or ability that can be obtained through vocational training rather than a four-year college education.
Examples of vocational schooling include electrical technology, automotive mechanic or HVAC/R training. There are many different kinds of skilled trades, including manufacturing and construction.[2]
The good news is that skilled trades professionals are often in high demand! Many skilled trades jobs are in fact growing much faster than average.
Some of the most promising skilled trades jobs in terms of projected job growth from 2016 to 2026, per the U.S. Bureau of Labor Statistics, are listed below.
Are There Opportunities for Women in the Skilled Trades?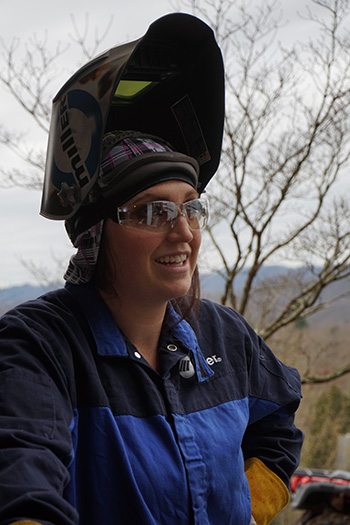 There are plenty of opportunities for women in the skilled trades. Women can do any of the jobs men can do—and are.
Female HVAC/R technicians: 4 percent of the workforce.
Female plumbers, pipefitters and steamfitters: 3.5 percent of the workforce.
Female solar photovoltaic installers: 0 percent of the workforce.
As you can see, there is great opportunity for women to increase their ranks in the skilled trades. Efforts are also being made to make more women aware of the benefits of skilled trades careers.
Programs to Highlight Opportunities for Women in Skilled Trades
Women have been traditionally underrepresented in the trades, so encouraging this largely untapped segment of the workforce may help alleviate the industry's labor shortage. Given the skilled trades' dire need for qualified workers, industry experts and government agencies alike are highlighting the benefits of a blue-collar career to women.
Construction Camp for Girls
In Iowa, for example, several public and private stakeholders have organized a summer camp together to get middle and high school girls interested in construction. Women account for less than 10 percent of all construction workers in the U.S. and just over 12 percent of all construction workers in Iowa.
The Construction Camp for Girls seeks to introduce girls to careers that they might not have considered otherwise, such as:
Construction
Carpentry
Plumbing
Masonry
Electrical technology[3]
HVAC
Joist
Carpenter Nolee Anderson founded Joist, an initiative that offers young girls and women a safe environment to explore trades skills.
"It was to give them a space where they could just find out opportunities about trades work that they probably wouldn't find anywhere else; that no one else would bring to them and encourage them to do it… Our goal was to tell girls that the trades were an awesome option, a profitable option and a satisfying one, too," Anderson told Forbes.
Scholarships for Women in Trades
There are special scholarships available to women interested in a skilled trades career that can help support their vocational training. Whether you want to become an HVAC/R technician or pursue welding training, these scholarships for women can make your career journey easier:
Get Started on the Path to a New Career
Fill out our form to learn how we can help you change your life.
Tradeswomen Organizations
Since female trades workers are still in the minority, joining a professional organization specifically for women is a great way to connect with and support each other. Here, women workers can exchange advice, share experiences and celebrate milestones. Below are some examples of national tradeswomen organizations:
What Benefits Could Women in the Skilled Trades Enjoy?
A major concern for many women in the workforce—regardless of occupation or industry—is the gender pay gap. In 2018, women's median weekly earnings for full-time work were 81.1 percent of those of men's. Plus, male-dominated occupations tend to pay more than female-dominated ones at similar skill levels, which results in a gender pay gap between occupations.[4]
However, in one male-dominated industry women seem to have closed the gender pay gap: women in construction earn 103.5 percent of what men make. They make more money than their male counterparts.[5]
The skilled trades offer many more advantages for women:
Higher earning potential compared to many female-dominated jobs.
Affordable schooling due to short vocational training programs.
Oftentimes, plenty of interaction with consumers, including other women.
Steady careers that can be in high demand.
Career advancement opportunities in fields like welding.
Opportunity to be an example for the next generation of girls.[6] [7]
The skilled trades have much to offer women.  And women are proving they can be just as capable in HVAC/R, electrical technology or construction as men—and even outearn them.
If you'd like to read more about female workers in the trades, check out these success stories about women in HVAC/R.
[1] https://www.marketplace.org/2018/03/26/women-construction/
[2] https://www.jcisd.org/domain/307
[3] https://www.desmoinesregister.com/story/news/education/2019/07/12/iowa-department-education-des-moines-public-schools-construction-camp-trades-girls/1704164001/
[4] https://iwpr.org/publications/gender-wage-gap-occupation-2018/
[5] https://www.bls.gov/opub/reports/womens-databook/2018/home.htm, Table 19
[6] https://explorethetrades.org/women-in-the-trades/
[7] https://www.imipeople.com/2019/03/29/6-benefits-for-women-working-in-skilled-trades/
This blog has been labeled as archived as it may no longer contain the most up-to-date data. For a list of all current blog posts, please visit our blog homepage at https://www.rsi.edu/blog/