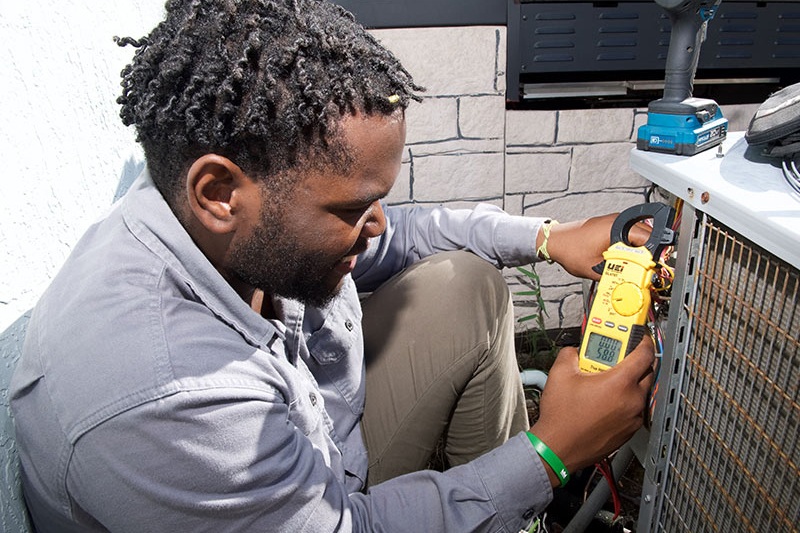 Is it better to go to college or do a trade? Whichever you choose should reflect your interests, aptitudes, and career goals. However, a 2022 study shows that for the first time in two decades, employers are valuing skills over degrees. It's food for thought if you're not sure which path to take, both have pros and cons.
Getting a college degree is an accomplishment. Universities offer a wide range of academic programs and credentials, emphasizing comprehensive education. But for some occupations, practical training offers more advantages; you won't learn hands-on electrical skills sitting in a classroom.
Trade school graduates typically receive a certificate or diploma upon program completion, demonstrating their proficiency in a specific trade, from welding to HVAC. These credentials alone are sufficient for entry-level positions in those fields, but programs also prepare students for vital industry certifications. Trade schools offer:
Fast, Job-Focused Training
It takes at least two years to earn a college degree. But full-time students can complete a trade school program in under a year. The curriculum is job-focused, teaching only the skills that will make you better at your chosen profession. It's an ideal way for adult learners with personal and financial responsibilities to further their education without going broke. You'll be back in the workforce before missing too many paychecks.
Get Started on the Path to a New Career
Fill out our form to learn how we can help you change your life.
Interactive Training
College students learn from books, trade school students learn by doing. The programs emphasize the practical skills employers in the welding, HVAC and electrical industries want from employees. You'll learn how to weld metal, rewire wall outlets, or fix air conditioners using the same tools, equipment and processes the pros use. Employers know that trade school graduates are a good investment because they're already trained and ready to work.
Industry-Seasoned Instructors
College professors are experts in their fields but not necessarily in yours; their knowledge is more general, and less career related. But that's no consolation to students who need to apply math to job-specific problems, such as how much load an electrical generator can take. Trade schools hire industry-experienced instructors with both theoretical and practical expertise.
Seasoned instructors also help students bridge the gap between the classroom and the field. Life doesn't happen in a laboratory, so there's a difference between what you learn in school and what you'll encounter on the job. Having worked their way through the ranks, instructors know what it takes to succeed. Not only will you get an education, but you'll also get a head start on advancement.
Career Services
A trade school's mission is to prepare students to fill vacancies in the workforce through career training in fields that need workers. They partner with local businesses to design curricula that meet industry-specific standards. So, when employers need qualified staff, they know who to call. Career advisers match students with jobs through comprehensive job placement services.
Colleges offer a broader curriculum that benefits people in certain professions. But trade schools offer common-sense choices for hands-on occupational training. Trade programs are fast, affordable, relevant, and lifestyle-friendly, connecting students with jobs that are in demand here and now.
Want To Learn More?
The Refrigeration School, Inc. was founded in Phoenix, AZ in 1965 and has since been working to train skilled HVAC/R technicians, welders, and electricians. We offer a variety of programs and class sessions to fit your needs. Call us today at (602) 607-0024 to learn more about our Trade programs.
Accredited School, ACCSC. Licensed by the Arizona State Board for Private Post Secondary Education. The AOS/MME program is the Associate of Occupational Studies in Mechanical Maintenance Engineering degree program and is not an academic degree. For more information about our programs, please visit our website at: http://www.rsi.edu/about-rsi/regulatory-information/.