Ah, the joys of summer: long afternoons laying out at the beach, sunset barbeques and, of course, baseball!
But many of us can stand the heat for only so long, especially in Southwestern cities like Phoenix, Arizona. Working, exercising and even sleeping in these hot regions would be extremely uncomfortable and downright dangerous for some people without air conditioning.
Air conditioning has changed the way we live and work, but the comfort and convenience air conditioning provides comes at a cost: $29 billion a year to the 75 percent of American homeowners who have an A/C unit![1]
Educate yourself and save money. Use our guide below to learn the simple ways you can cut down on the costs of A/C while staying cool all summer.

Hot Weather Health Risks
Extreme heat can make many people uncomfortable. For children, the elderly and those with certain health conditions, scorching temperatures can be a matter of life and death.
Get Started on the Path to a New Career
Fill out our form to learn how we can help you change your life.
When the heat index, a measure of the outdoor temperature and humidity, hits 91° F or higher, these individuals should stay indoors with the A/C on to avoid heat cramps or, worse, potentially lethal heatstroke.
Heat Stoke Symptoms
Heavy Sweating
Fatigue
Weak, Rapid Pulse
Muscle Cramps[2]
Scary Statistics About Heat Exhaustion
8,081 people died from heat-related causes in the U.S. from 1999 to 2010.
43 percent of the deaths occurred in Arizona, Texas and California.
81 percent of heat-related deaths occurred in urban areas.[3]
In Maricopa County, home to Phoenix, the Arizona Department of Public Health found that 79 percent of heat-associated deaths that occurred indoors in 2006 were in homes that lacked air conditioning.
Deaths related to high temperatures have also been a problem in Maryland, claiming 46 lives in 2012 and 17 lives in 2016.
Air Conditioner Maintenance Checklist for a Cooler Summer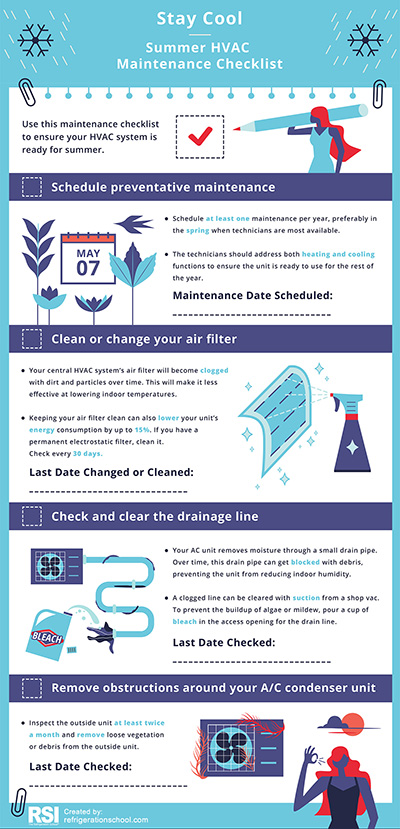 Like all machines with a lot of moving parts, air conditioners need routine maintenance to prevent unexpected break downs.
If you're counting on cool air from your A/C unit this summer, start giving it some attention as early as spring.
✔ Change or Clean Air Filters
Did you know that indoor air is two to three times more polluted than outdoor air? It's pretty alarming, especially when you consider that 90 percent of the average American's life is spent inside.
It's the job of air filters to remove pollution from the air in your house. But sometimes these helpful devices need to be cleaned.
Cleaning or replacing your air filter every 30 days can cut the energy your air conditioning unit uses by up to 15 percent.
Remember to keep track of air filter cleanings or replacements as part of your home HVAC maintenance routine.
✔ Check and Clear the Drainage Line
Humidity plays a big role in how hot you feel: 90° F heat can feel like 132° F at 100 percent humidity[4]. The key to maximizing your A/C system's dehumidification capacity is keeping the drainage line clear.
Suction out debris with a shop vac. Pour a cup of bleach in the access opening to prevent mildew, mold or algae from building up. Learn more about "Preventing Mold in Your Home."
Note when you've cleared the drainage line on your calendar.
✔ Clear Obstructions Around the Condenser Unit
Typically located outside, the condenser unit can get clogged with loose vegetation and debris. Clear it out at least two times each month, and be sure to mark them on your calendar to keep your HVAC preventative maintenance schedule up to date.
5 Ways to Save Money on Air Conditioning
Forty-eight percent of the energy used in a typical U.S. home is for cooling and heating. Keep cooling costs down in the summer with these HVAC energy efficiency tips.
1. Install a Smart Thermostat
Save up to $131 to $141 a year on air conditioning by automating temperature control with a smart thermostat. Learn more about smart homes and HVAC technology.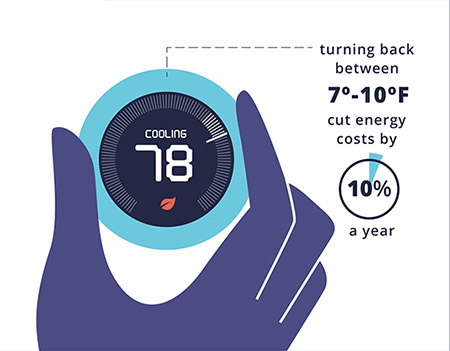 2. Adjust Temperature
Want to save 10 percent on your summer air conditioning bill? Turn the thermostat dial back by 10° F. The ideal setting is 78° F in hot months.
3. Turn on Ceiling Fans
Take advantage of the wind chill effect from ceiling fans. They'll also allow you to turn up the thermostat by 4° F.
4. Purchase Energy Efficient Windows
Windows can be huge energy wasters, impacting your energy use for cooling by as much as 30 percent. Paying the upfront cost of Energy Star windows can earn you huge returns: up to $465 a year. Discover more in "Windows and Home Energy Efficiency."
5. Seal Up Cracks in Windows and Doors
Your home is essentially an envelope, keeping its contents inside—including cool air. A gap as little as an eighth of an inch can let in as much air as a 2.4-inch diameter hole in a wall. Seal up leaks with weather stripping or caulk. If a dollar bill can still slip through, you're losing money by allowing conditioned air to escape.
5 Ways to Extend the Life of Your Air Conditioner
Central A/C units typically last about 20 years[5]. Make the most of them, and possibly even add on a few, with these tips.
1. Call HVAC Techs for Regular Check-Ups
Routine HVAC maintenance is usually much cheaper than repairs or replacements. In fact, a lack of maintenance is typically a factor in the failure of HVAC equipment. Regular HVAC maintenance also boosts A/C efficiency.
2. Don't Blast the A/C
It's tempting to fling the thermostat dial to 65° F on a sweltering summer day. Don't! It's really not necessary and will drive up your utility bill. Choose a realistic level to achieve air conditioning temperature setting energy savings.
Consider investing in a smart thermostat to regulate the temperature for you while you're away at work or sleeping.
3. Place the Air Conditioning Unit in a Cool Location
Sitting directly in the sun isn't a wise idea for you or your air conditioning equipment. Place the A/C unit on the north side of your home in the shade. The localized air temperature is lower, making operation easier for your unit and extending its life span.
4. Keep the Heat out With Energy Saving Blinds
Sun shining through your window may be beautiful, but that bright scenery comes at a price: higher cooling costs. The light carries heat into your indoor spaces. Keep it outside with energy saving blinds.
5. Give Your Unit a Break
Who doesn't want a little downtime now and then? Rest is restorative, even for HVAC equipment. Turn it off on spring and fall days when you don't need it.
Home Air Conditioner Troubleshooting Tips
A broken air conditioner in the middle of summer can be inconvenient and uncomfortable. But it's oftentimes a preventable problem. Here are some signs to watch out for that it may be time for an HVAC tune up.
1. Noisy Operation
Sound can be your first alert that something is amiss with your A/C unit. HVAC systems aren't usually silent while operating, but they shouldn't be loud, either.
A cracked or partially broken belt is a common source of noise. A faulty ignition can make a whining sound. These are signs that it's time to call out an HVAC technician to perform some home A/C troubleshooting.
2. Rapid Cycling
Is your air conditioner suddenly turning on and off quickly? It could have a problem known as "rapid cycling condition." This may be an indication that there's an issue with the wiring, thermostat or ignition.
3. Rising Monthly Utility Bills
A steady increase in your electric bill over the summer could be a sign that it's time to repair or replace it. Buying a new, energy-efficient HVAC unit can be a big up-front cost, but you'll save in the long run. Read "6 Tips to Updating Your HVAC System."
4. Poor Cooling Capacity
If you're blasting your air conditioner but not feeling any cooler, it may be time for maintenance. A/C components can fail during periods of extreme heat. Dirt or debris in the air filters or ductwork could be obstructing air flow, causing the evaporator coils to freeze.
Make your A/C Unit Season-Ready
Use these tips and techniques to ensure your air conditioner operates effectively and efficiently all summer. When the warm season draws to a close, it's time to make sure your heating system is ready for winter.
See our "Winter HVAC Maintenance Checklist" for more helpful tips and suggestions.
https://www.energy.gov/energysaver/home-cooling-systems/air-conditioning
https://www.mayoclinic.org/diseases-conditions/heat-exhaustion/symptoms-causes/syc-20373250
https://www.cdc.gov/pictureofamerica/pdfs/picture_of_america_heat-related_illness.pdf
http://iopscience.iop.org/article/10.1088/1748-9326/aaa00e
https://www.energy.gov/articles/you-asked-we-are-answering-your-home-efficiency-questions
This blog has been labeled as archived as it may no longer contain the most up-to-date data. For a list of all current blog posts, please visit our blog homepage at https://www.rsi.edu/blog/