Running a successful business has long been considered the American Dream. And despite the odds stacked against many businesses right now, some are realizing their importance in the HVAC industry.1
Could a career in HVAC offer you the opportunity to run a successful business on your own?
It's possible. But first, you might want to consider getting started in the industry with formal HVAC training and an entry-level HVAC job.
Keep reading to see why. Plus, 3 tips for starting your own HVAC business after you've gained some experience in the field.
HVAC: A Solid Industry to Get Your Start In
A chance at business ownership isn't the only reason to consider a career in HVAC. There can be other benefits that are unique to this field.
Get Started on the Path to a New Career
Fill out our form to learn how we can help you change your life.
HVAC Is an Essential Industry
When the government started closing down businesses, many owners, representatives and advocacy groups called upon elected officials to deem the HVAC industry essential. These requests were heard, and many HVAC business owners were spared the forced closures that affected so many non-essential industries.[1][2]
There's a Lower Risk of Job Loss from Outsourcing
In several industries, there's a constant threat of jobs being transferred overseas. Even when the economy is stable, entering these fields can be risky. However, positions in the HVAC industry, along with other skilled trades, can be more stable and secure. It's not like businesses can hire overseas labor to install an HVAC unit within the week. Outsourcing simply isn't as much of a threat to this field as it is to other industries.2
The Job Outlook for Qualified HVAC Technicians Is Healthy
Another advantage of working in the HVAC industry is a healthy job growth projection. The Bureau of Labor Statistics predicts commercial and residential building construction to drive the industry in the coming years, creating job opportunities for HVAC technicians.3
3 Tips for Starting Your Own HVAC Business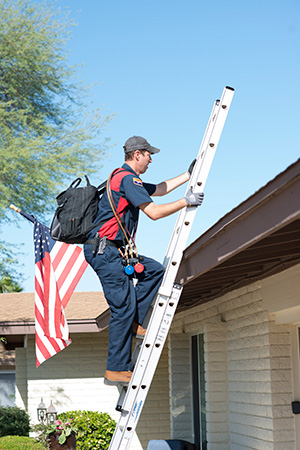 Whether you're just getting started in the field or have a few years under your belt, here are a few tips for starting your own HVAC company.
1. Learn from Industry Leaders
A great way to prepare yourself for becoming a boss is to learn from someone in the position already. Technicians who have the goal of starting their own business one day can benefit from spending time with the higher-ups at their current job. Not only can this eagerness help with landing promotions, but it could also teach you critical lessons about running an HVAC business.
2. Be Prepared to Work Hard
There's a mental element involved in moving from an HVAC technician role to that of a successful HVAC business owner. When you're the boss, you have significantly more responsibilities and investments than you do as an employee.
In order to succeed, you may need to be willing to put in a greater number of hours than normal towards this goal. It's a good idea to wait to make this move until the idea of working full-time as a technician loses its excitement. You don't want to start a business only to realize working 40 hours a week as a technician is more enticing to you.
3. Invest in Yourself with HVAC Training
The importance of education within the HVAC industry cannot be overstated. If you have dreams of starting your own business someday, it can be a good idea to learn the fundamentals in an HVAC training program.
Employers typically prefer to hire applicants with postsecondary training. And it's likely hard to get far in the field without understanding proper installation techniques, diagnostic procedures, basic HVAC troubleshooting practices and maintenance strategies.
After you gain experience in the field, enrolling in business and marketing classes, as well as taking on a mentor, could also prove helpful to advancing your goal of one day starting an HVAC business of your own.
1https://www.hvacinformed.com/insights/hvac-designated-essential-workers-covid-19-co-1571129776-ga-co-1571469098-ga-co-1573563455-ga-co-1573563728-ga.1585237366.html
2https://www.tradeworthyjobs.com/5-benefits-of-working-a-skilled-trade/
3https://www.bls.gov/ooh/installation-maintenance-and-repair/heating-air-conditioning-and-refrigeration-mechanics-and-installers.htm
**Essential workers: https://www.cisa.gov/publication/guidance-essential-critical-infrastructure-workforce
This blog has been labeled as archived as it may no longer contain the most up-to-date data. For a list of all current blog posts, please visit our blog homepage at https://www.rsi.edu/blog/