On average, an air conditioning system can last between 15 and 20 years if it is well-maintained. Yet, many AC systems will begin to lose efficiency around the 10-year mark, making this age the time for customers to consider whether to pay for major repairs or a replacement.1
Knowledge of an air conditioner's lifespan can be helpful to working as an HVAC technician because it can inform service recommendations. Techs can also benefit from learning the factors that influence how long an AC system lasts and the signs of when it's time for a new one.
Learn more about how to prolong the lifespan of your customers' air conditioner, as well as when it's time to replace it, in this article.
3 Ways to Make an Air Conditioner Last Longer
Even though the typical air conditioner age for replacement is between 15 and 20 years, some things can lead to a premature reduction in efficiency or component failure.
When entering the field after completing your HVAC training, learning these issues can help you keep your customers' systems running better and for longer.
Get Started on the Path to a New Career
Fill out our form to learn how we can help you change your life.
Some issues that can affect the lifespan of an air conditioner include the following:
1.   Routine HVAC Maintenance
Keeping an air conditioner well-maintained can be crucial to improving its longevity.
During an HVAC maintenance visit, you can thoroughly clean your customer's system, check refrigerant levels, look for worn or damaged parts and look for any restrictions in airflow.
Staying on top of cleaning and small repairs can prevent larger problems from occurring that can damage your customer's unit and reduce the length of time it will function efficiently.2
2.  Programmable Thermostat
Using an air conditioner more than needed can lead to additional wear and tear, which can result in an overall shortened lifespan.
Encourage your customers to use a programmable or smart thermostat. This technology can allow them to increase the temperature in the home during times when they are away, reducing energy usage and stress on the AC system.3
A programmable thermostat can also allow the system to slowly adjust to the desired temperature instead of straining to quickly cool the space.3
3.   Proper Outdoor Unit Placement
Another common issue that can not only affect the efficiency of an HVAC system but also how long it could last is the area where the outdoor components, such as the compressor, are placed.
Ideally, the exterior unit should be in a shaded area that is free from falling leaves and branches, overgrowth, tall grasses and debris.3
Inform your customers that there should be a two-foot area cleared around the outdoor unit to allow it to work as optimally as possible.4
3 Signs an Air Conditioner Is Past Its Prime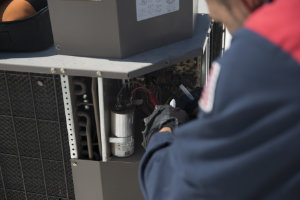 Since how long an air conditioner lasts can vary, it can be helpful to learn the signs that it's time to replace the unit.
With such information, technicians can better advise their customers on whether it is more prudent to repair their current system or invest in a new installation.
Some of the signs that a customer may be better served by retiring their AC system include the following:
1.   High Utility Bills
If your customer seems to notice that their monthly energy use has jumped recently, it could be a sign that their system is running less efficiently and coming to the end of its optimal lifecycle.5
2.   Humidity
An air conditioning unit is designed to remove the moisture out of the air to improve humidity levels in your customer's home, making it more comfortable. If your customer has had concerns about higher than normal humidity, the system may be to blame.5
3.   Weakened Airflow
If your customer regularly maintains their air conditioner, but the airflow becomes weak, it could be a sign that the system needs to be replaced.5
Keep Customers Informed
Educating your customers about the importance of air conditioner maintenance can help them to keep their system functioning for as long as possible.
But if you notice the signs above, and the unit has exceeded the 10-year mark, it may be time to discuss upgrading to a new HVAC system.
1. https://www.energy.gov/energysaver/central-air-conditioning
2. https://www.donleyservice.com/five-things-shorten-life-your-ac/
3. https://airconditioningsoutheast.com/tips/air-conditioning-mistakes-to-avoid/
4. https://www.airspecialist.com/articles/keep-your-outdoor-air-conditioner-free-from-debris/
5. https://www.chasroberts.com/8-signs-its-time-to-replace-your-air-conditioner/
This blog has been labeled as archived as it may no longer contain the most up-to-date data. For a list of all current blog posts, please visit our blog homepage at https://www.rsi.edu/blog/