These days it's all about connectivity: smartphones, smartwatches and even smart homes.
Thanks to the Internet of Things (IoT), homeowners can remotely control the operation of everything from their refrigerators to speakers to flower pots. But most start with a smart thermostat.[1]
This means students in HVAC classes now will likely work with these devices once they enter the field.
So what are smart thermostats and why are they so popular?
How Do Smart Thermostats Work?
Smart thermostats are an HVAC technology trend that isn't going away anytime soon. They allow people to control the temperature of their homes from their internet-connected devices, like smartphones, tablets and computers.
Get Started on the Path to a New Career
Fill out our form to learn how we can help you change your life.
Each device is typically made up of three parts:
Part 1: The component that plugs into the HVAC system and communicates with the thermostat control
Part 2: The thermostat control
Part 3: The smart thermostat app that is downloaded to a mobile device
That's the basic setup of a smart thermostat, but some come with more bells and whistles:
Extra sensors for zoning to help reduce energy usage
Smartphone tracking to allow for temperature adjustments
Smart learning models that don't require programming to reap the energy-saving benefits of a connected device[2]
How Popular Are Smart Thermostats?
In a survey home improvement website Houzz conducted a couple years ago, 45 percent of homeowners said they planned to install smart devices or systems when they renovated their homes, and smart thermostats were among the top three systems cited.[3]
By 2017, 13 percent of households with broadband owned a smart thermostat, according to a study by Park Associates, an IoT market research and consulting firm.
Today, some HVAC contractors are reporting that 95 percent of their thermostat sales are either Wi-Fi or smart units.[4]
Why Are People Buying Smart Thermostats?
It's not just a hot new trend. More and more homeowners are opting for smart thermostats for some good reasons.
Control
The need for some degree of control is nearly universal, and customers get a lot of it with a smart thermostat. Unlike more advanced home automation equipment, connected thermostats are pretty straightforward.
People can install them and start managing the temperature of their homes from any location at any time.[5] This can be a gamechanger for elderly or disabled homeowners who can't easily get up and adjust their thermostats.[6]
Energy Efficiency
Heating and cooling can account for upwards of 40 percent of a home's total electricity consumption. Smart thermostats are a way for homeowners to save money and energy.
A recent survey by Nest Labs found that smart thermostats can save customers 10-12 percent on their heating bills and 15 percent on cooling. This comes out to about $131-$145 in savings a year.
Considering that these devices usually cost around $250, customers can recoup what they paid in about two years.
This of course varies on how heavily homeowners rely on their HVAC systems, the climate in which they live, the cost of utilities in their region and a host of other factors.[7]
Environmentally Friendly
When homeowners are saving on utility bills, they're also contributing to a cleaner environment. Keeping their indoor temperature just 3 degrees higher in the summer and lower in the winter could cut carbon dioxide emissions by 1,050 points.[8]
What HVAC Technicians Need to Know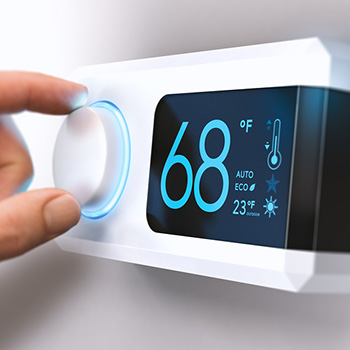 Whether techs will be tasked with selling or installing smart thermostats, there are some important considerations to take into account.
Selling Points
Educating customers about the benefits of smart thermostats is crucial. Many customers who come to a store or HVAC contractor to replace or upgrade their thermostat don't have a specific type in mind.
No matter how great your pitch is, some customers won't want to spend the money on a smart thermostat. They're looking for the cheapest and most basic unit available.[9]
Technical Tips
Newer HVAC systems will typically be more compatible with smart thermostats than older equipment.
If an HVAC system's thermostat wiring isn't compatible with the smart thermostat, attempting to connect them could damage the system's control panel.
Smart thermostats have reporting capabilities, such as alerting you when parts are malfunctioning or need maintenance.
Adaptive or intelligent thermostats are best for heat pumps because they can override the emergency setting that switches to electricity when the heat pump fails to sufficiently warm the home.[10]
Keeping Up with Innovation in the HVAC Industry
One thing is certain in the HVAC industry: things are always changing. Technology is making the equipment smarter and more efficient, and laws are lessoning the environmental impact of indoor climate control systems.
That's why it's important for HVAC techs to stay current with the latest legislation and innovation.
Get up to speed on 2018 EPA refrigerant regulations HVAC techs need to know.
[1] https://www.iotevolutionworld.com/smart-home/articles/435786-why-smart-thermostats-most-popular-smart-home-devices.htm
[2] https://mrelectric.com/blog/how-does-a-smart-thermostat-work
[3] https://www.energy.gov/eere/articles/connected-thermostats-offer-gateway-increasing-energy-savings
[4] https://www.achrnews.com/articles/139917-hvac-contractors-talk-todays-thermostat-market
[5] https://www.iotevolutionworld.com/smart-home/articles/435786-why-smart-thermostats-most-popular-smart-home-devices.htm
[6] https://www.achrnews.com/articles/139917-hvac-contractors-talk-todays-thermostat-market
[7] https://smartthermostatguide.com/how-and-how-much-money-you-can-save-with-a-smart-thermostat/
[8] https://www.iotevolutionworld.com/smart-home/articles/435786-why-smart-thermostats-most-popular-smart-home-devices.htm
[9] https://www.achrnews.com/articles/139917-hvac-contractors-talk-todays-thermostat-market
[10] https://temperaturepro.com/everything-need-know-smart-thermostats/
This blog has been labeled as archived as it may no longer contain the most up-to-date data. For a list of all current blog posts, please visit our blog homepage at https://www.rsi.edu/blog/