As a recent graduate or prospective HVAC training program student, you might be wondering about which of the three main HVAC fields to go into: residential, commercial or industrial.1,2
It can be a good idea to investigate these three different tracks, talk to people about their experiences and ultimately understand the differences before deciding on which route to pursue.1
Keep reading to get a closer look at the industrial HVAC technician career path.
Residential Vs. Commercial Vs. Industrial HVAC
In short, a residential HVAC technician will primarily service customer homes, installing or fixing a heating or cooling system for an individual household.1
A commercial HVAC technician will work on projects for bigger businesses or properties, which may involve larger and more complex HVAC systems.1
Get Started on the Path to a New Career
Fill out our form to learn how we can help you change your life.
Industrial HVAC technicians, on the other hand, will service large factories or warehouses, which sometimes have their own custom HVAC systems. These systems might also be the most complex because they are often custom-made.2
Why Become an Industrial HVAC Technician?
In the world of HVAC, individual preferences may vary, and you may find you enjoy one track more than others. Industrial HVAC may not be for everyone, but here are some reasons why professionals in this field love working in industrial HVAC:
✓ It's Complex, Challenging Work with Unique Systems and Processes
If you're interested in industrial manufacturing and how products are made, you might enjoy the industrial work environment.2 Industrial HVAC generally puts workers in large spaces to work with large equipment, such as walk-in coolers or industrial fans.3 Each machine may contain their own set of unique issues to understand, troubleshoot and problem solve.2
✓ Employers Generally Allow Plenty of Time to Do the Job Thoroughly and Safely2
Because you're visiting large facilities with specific repair or maintenance issues that may take some time to fix, rather than a home where a customer just wants their HVAC system back up and working ASAP, it may be a slower-paced, more challenging work environment.1,4
✓ Because You Visit Facilities with Custom HVAC Systems, You Often Get to Work with New and Exciting Equipment
You may enter a facility and encounter machines or equipment you have never seen before! This is great for people who like learning something new all the time and being constantly challenged to think on their feet.2,4
✓ Pay and Benefits May Be Better than in Residential HVAC4
Typically, an industrial HVAC job may pay at a higher rate than residential HVAC, especially if a union is involved.5 This is partly because industrial HVAC requires more years of experience and a higher skill level. You would not generally expect to get an industrial HVAC job right out of HVAC school, but after you've worked for a few years in the field.5
Industrial HVAC Job Requirements

Every company and situation will have different hiring requirements, of course, but it might be helpful to have a basic overview of industrial HVAC job requirements. After working a few years in the field, you might be able to transition from residential or commercial HVAC into industrial.4
Industrial HVAC jobs require an ability to diagnose and repair large-scale, complex HVAC problems in manufacturing facilities.2 This type of in-depth knowledge and skillset is generally acquired only after working many years in the industry.5
Here are some general requirements for an industrial HVAC job:
✓ High School Diploma
This is a fairly basic requirement for most jobs, and most industrial HVAC jobs will require a high school diploma.6
✓ 3-5 Years of Industry Experience
Industrial HVAC employers generally will not hire an HVAC tech at an entry-level position, instead requiring at least three to five years of work experience in many cases.6,7,8
✓ Local HVAC Certifications and Licenses
Some states require HVAC certifications and licenses. If your state requires a license, your employer will also require you to be licensed.9
✓ Trade School Certificate or Accredited HVAC Training
While not every industrial HVAC employer will say it's necessary to have a trade school certificate, it's usually either required or highly recommended.6,7,8
✓ EPA Certification
Some employers will require this, while others will strongly recommend it.6,7,8
✓ Valid Driver's License
An industrial HVAC tech can be expected to drive to and from manufacturing plants, so a driver's license is usually required.6,7,8
How to Be an Extra Competitive Job Candidate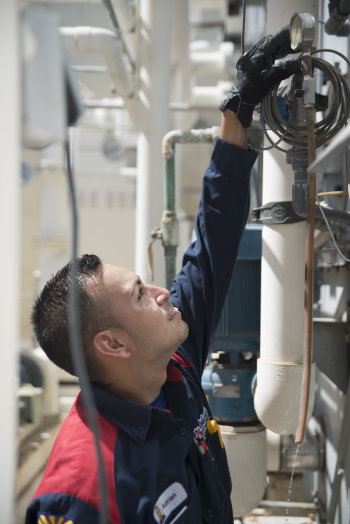 The best way to work your way towards an industrial HVAC job is to gain as much experience as you can. Though not all employers will require an HVAC training certificate, EPA certification, industry certifications or continuing education, these are great assets to have.10,11
✓ A Trade School Certificate
While not required by federal law to work in HVAC, a trade school certificate can show an employer that you have spent the time learning entry-level HVAC skills from an accredited school. The Refrigeration School offers a number of HVAC training programs to choose from.10
✓ EPA Certification
EPA certification may not always be required by an employer, but it's a good idea to have regardless. If you work with refrigerants in any way, it is a federal requirement that you have EPA certification for the type you are working with.
There are three types of EPA certification relevant to HVAC techs. You might just decide to get universal EPA certification, which certifies that you are competent in all three. Universal EPA certification can be the most attractive to employers because, once again, it shows that you have achieved the highest level of skill and expertise possible in this category.11
✓ Industry Certifications
HVAC certifications are another great way to show employers that you are motivated and experienced. Additional certifications like NATE or HVAC Excellence may or may not be required for an industrial HVAC job, but it doesn't hurt to get as much experience under your belt as you possibly can, especially if you have your sights set on a higher-level HVAC job.11
✓ Continuing Education
Additional education can be a great way to stay sharp, keep learning new skills, and increase your competitiveness as a job candidate. You might decide to niche down and find an area of expertise to study even further, since industrial HVAC jobs rely so heavily on experience.4
Get Started with an HVAC Certificate
Landing an industrial HVAC job may take a few years of working in the field, but if you think you would enjoy the satisfaction of working with large-scale manufacturing equipment rather than with small-scale residential HVAC, keep increasing your skill level and gaining experience.2,4 You might want to take any entry-level job to get started as an HVAC technician, then work your way up to your industrial HVAC career goals.4
Whatever your HVAC career goals may be, employers often prefer applicants who have a training certificate from an HVAC school.10 If you're ready to take the first step, call The Refrigeration School at (888) 671-5803 to learn about the exciting prospect of enrollment!
1https://www.smartservice.com/smart-service-blog/commercial-vs-residential-hvac/
2https://youtu.be/D9oFQgK2ExY – Industrial environments—approx. 0:39-0:59 / Types of facilities/custom-made products—approx. 2:45-3:32 / Examples of work/fulfillment—approx. 4:50-6:20
3https://www.reddit.com/r/refrigeration/comments/7li8lh/opportunity_to_go_into_industrial_refrigeration/
4https://www.reddit.com/r/HVAC/comments/4vo6zz/guys_who_have_worked_both/
5https://www.hvacschool.org/commercial-industrial-vs-residential-hvac-work/
6https://www.indeed.com/viewjob?cmp=Data-Processing-Air-Corporation&t=Commercial+HVAC+Service+Technician&jk=40e07ec60f02b43d&sjdu=QwrRXKrqZ3CNX5W-O9jEvXj4f6Np4B7ehkH5T9rUofW4tkugc8lZjcVQ0fx4UHdzD3MqZB6vUWkJ77eUzVZGIe8rpLbblPoJACXuJTTngXg&tk=1eda3lu6j1ths000&adid=353504546&pub=4a1b367933fd867b19b072952f68dceb&vjs=3
7https://www.indeed.com/viewjob?cmp=California-Industrial&t=Commercial+Industrial+Refrigeration+Chiller+Field+Service+Technician&jk=f54a507d87129547&q=Industrial+HVAC+Technician&vjs=3
8https://www.indeed.com/viewjob?cmp=California-Industrial-Refrigeration-and-Machines&t=Boiler+Field+Service+Technician&jk=0fa31826f4ecfc9e&sjdu=QwrRXKrqZ3CNX5W-O9jEvS4pevFqlvRYqQnXEjxH_4mtAACOdpgiyPq9ESkp_2xwzTXMy8XqyL8ikbnPyL3h3kbJ_aqJgGqodSgSKri-Kr2j8Bvf9v5wba7s58Tr3yCU&tk=1eda3lu6j1ths000&adid=353964836&pub=4a1b367933fd867b19b072952f68dceb&vjs=3
9https://www.nextinsurance.com/blog/hvac-license-requirements/
10https://www.intercoast.edu/blog/become-hvac-technician/
11https://www.auto.edu/blog/3-must-have-hvac-certifications-for-top-techs/
This blog has been labeled as archived as it may no longer contain the most up-to-date data. For a list of all current blog posts, please visit our blog homepage at https://www.rsi.edu/blog/