Our CEO's Corner
This is the time to reflect on the past year, to celebrate accomplishments, to learn from our mistakes and to set personal and professional goals for the new year ahead. It is also a time to pause and reflect on what we're thankful for.
I'm so grateful for having the opportunity to positively impact the lives of our RSI graduates.  I'm grateful for my passionate, talented, hard-working team who cares for and support our students, and who positively impacts their lives, their families, and the communities and employers they serve.
It's critical that we focus on investing in our culture to achieve our future goals for growth, transformation, and positive life change.
Our school beliefs:
Diversity and inclusion.
Equity and access to education.
The ability for everyone to succeed with the right support.
Addressing America's growing infrastructure needs through the skilled trades, and in meeting those needs, helping our graduates change their lives.
I can't wait to work on enhancing our "People First Culture" and positively influencing the lives of my colleagues, our students, or employer partners, and our communities. Let's make 2023 the best year yet!
Get Started on the Path to a New Career
Fill out our form to learn how we can help you change your life.
With gratitude, appreciation, and excitement,
— Mary
Mary Kelly, President and CEO
Corporate Social Responsibility
As we close out the year at RSI, we look back on how we've achieved our goal of corporate social responsibility, positively impacting each other and the communities we serve.
The Refrigeration School, Inc. Donates $100,000 in Scholarships to Fresh Start Women's Foundation
As part of our commitment to expanding training opportunities to everyone in the skilled trades, we are excited to announce that we are providing Fresh Start Women's Foundation with $100,000 in scholarships. These scholarships will help women who are served by Fresh Start to train at The Refrigeration School in our training program. Graduates will be prepared with the skills they need to pursue entry-level job opportunities as HVAC/R technicians, welders, and electricians.
Fresh Start Women's Foundation is a non-profit that supports women with work training, education, social services, and more. Their mission as a nonprofit is consistent with our mission as a school: helping people find new life paths for long-term success and personal fulfillment. Read the full announcement.
Supporting the Susan G Komen Foundation
The Refrigeration School proudly supported Susan G. Komen in their mission of raising awareness of breast cancer and providing resources for breast cancer patients.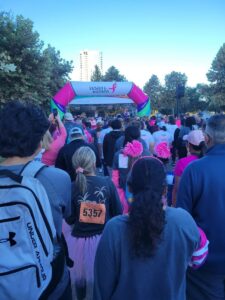 Breast cancer is a disease that can affect people from all walks of life. We believe strongly in supporting the health and general wellness of not just our students, but of skilled trades workers in general. Sometimes it's hard to remember that in the welding, HVAC/R and electrical industries, taking care of the body is just as important as doing the job right. Susan G Komen's mission is consistent with ours, which is one of the many reasons we're so happy to partner with them.
To learn more about how Susan G Komen supports breast cancer patients, visit https://www.komen.org/.
Celebrating Hispanic Heritage Month
Hispanic Heritage Month (Sept. 15-Oct.15) celebrates the history, culture, and contributions of the American Latino community in the U.S.
At StrataTech, we celebrated Hispanic Heritage Month by reflecting on the awesome accomplishments of some of our Hispanic graduates. One story in particular stands out to us: RSI graduate John Nunez.
John worked as a behavioral health technician for at-risk youth and at an adult recovery home for about 4 years until he decided he needed to do something to better his life. He wanted something new, something that let him work with his hands.
John ended up enrolling in the Refrigeration Technologies program at RSI and loved the hands-on training. He was anxious when he first started the program, and sometimes he felt like he couldn't do what was being asked of him in class. But the hands-on training from his instructors helped him realize he CAN do this.
After graduating, he got hired at Goettl Air Conditioning as a service technician. He found this opportunity through one of RSI's career fairs.
John's advice to new HVAC students:
"Just go in with an open mind and apply yourself. Learn what the instructors are telling you and take as many notes as you can, because that's what helped me."
RSI and StrataTech Participate in Turkey Tuesday
Serving our communities is one of our top priorities at The Refrigeration School, Inc. and StrataTech. We are proud sponsors of NBCTV12's Turkey Tuesday holiday food drive to support St. Vincent de Paul's holiday food drive. Happy Thanksgiving! Click here to watch the NBC segment.

Innovation and Technology
Career Education Review Recognizes StrataTech, Tulsa Welding School, and RSI.
Three of our team members have been named to the Career Education Review's (CER) Top 20 People Changing Career Education!
This recognition highlights individuals positively impacting the private career school sector and changing career education.  Congratulations to Mary Kelly, President and CEO at StrataTech Education Group, Chris Shuler, Director of Training and Student Services at Tulsa Welding School, and Alex Declair, Business Development Representative and Regional Training Manager at StrataTech, for their innovation of OcuWeld.
Ocuweld is virtual reality training technology, transforming welding education by bringing hands-on training into a virtual environment.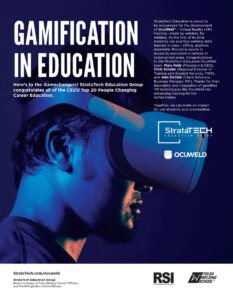 "StrataTech Education Group is honored to be named among those making an impact in career education for the innovation and development of OcuWeld – providing virtual reality (VR) training for welding," said Mary Kelly, president and CEO of StrataTech Education Group. "Addressing the need for equity and inclusion in education, we developed OcuWeld, using the power of virtual reality, to provide training to underserved areas. Without requiring access to the Internet or WIFI, we can reach our students where they are, eliminating technological and geographic barriers to education. In addition, the OcuWeld VR platform fosters heightened student engagement through gamification. Finally, by integrating the latest technology in technical education, we can help our students be better prepared for current and future workforce and employer demands. We'd also like to thank the team at ForgeFX for their help with the coding to bring OcuWeld to market."
RSI Launches Virtual Reality Labs at all locations
RSI launched the first-of-its-kind Virtual Reality Labs in October, allowing individuals to try out our innovative virtual reality technology, OcuWeld and Interplay.
OcuWeld simulates the experience of being a welder, while Interplay simulates the experience of being an HVAC/R technician or electrician, without the need for physical tools or being in a physical booth or classroom. Read and watch the full story.
Thank you to Fox 10 Phoenix for stopping by the campus to chat about the OcuWeld's capabilities and our welding training program! Click here to watch the segment.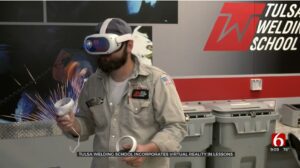 B2B and Workforce Development
RSI Launches Solar Technician Course for Amazon Employees
RSI launched a new 10-week solar technician course for Amazon's hourly employees as part of the Amazon Career Choice program. This solar technician course trains students in photovoltaic (PV) science, the fundamentals of solar energy, and wiring and electrical issues.
RSI Joins Grow with Google's Indigenous Career Readiness Program
RSI has joined the Grow with Google Career Readiness Program, which trains Native students with digital skills. Grow With Google has a goal of training 10,000 Native students for career readiness by 2025, and it aligns with our goal of expanding skilled trades training opportunities to even more people in our communities. Read the full announcement.
RSI's Apartment Maintenance Pathway Program Honors Its Latest Graduates
We are so proud of our newest graduates of the Apartment Maintenance Pathway program. These amazing individuals took a chance to change their lives and learn new skills they can take with them anywhere. Who they were or what they did before entering this program didn't matter. The past is the past, and as graduates of our program, they now have a bright future with endless possibilities ahead of them.
The Apartment Maintenance Program is a 4-week hands-on training course that trains students in the fundamentals of apartment maintenance.
Univision, the largest Spanish language TV network in the United States, was present to show the graduation ceremony and talk about the program to its audience. Supporting the Hispanic community and providing career training opportunities for Hispanic people is one of our primary goals as a school, and we are grateful to Univision for their excellent coverage. Click here to watch the segment.

In the News
CNN Looks to RSI & HVAC Expert David Heiman for National Story
In August, CNN ran an article about what to do when things in your home break. It ran through common appliances susceptible to breakdowns: plumbing systems, smoke detectors, and HVAC systems.
What's a homeowner to do when their HVAC system breaks on a hot summer day? David Heiman, Senior Director of Training at RSI, shared some wisdom about the causes of HVAC system malfunctions and how often they require maintenance to continue running. Read the full article.
 Mary Kelly Challenges Industry for More Inclusive Language in the Skilled Trades
We are committed to fostering inclusivity, equity, and diversity at RSI. That means giving everyone a chance to become a skilled tradesperson, no matter where they come from.
In her newest article on construction and building industry news site Construction Dive, our CEO Mary Kelly talks about why we need to begin using more inclusive language in the skilled trades. Even using "trades professional" instead of "tradesman" can make a difference. Mary also talked about the positive impact female grads like Celia Reyes and Brenda Hay are having on the skilled trades. This industry is for everyone, not just men.
Click here to read Mary's piece about the importance of gender inclusivity in the skilled trades.
The Refrigeration School, Inc. Donates $40,000 in scholarships to the Boys & Girls Club of the Valley.
 RSI began a partnership with the Boys & Girls Club of the Valley to introduce kids to the career opportunities that an education in the skilled trades can open to them at an early age. We're excited to take our partnership with them to the next level: We are donating $40,000 in scholarships to the club! These scholarships will go toward club members who want to begin training for career opportunities in HVAC/R, welding and electrical. Watch the full news segment.
Graduates Making an Impact!
Adrian Belmontes – The Refrigeration School, Inc.
Adrian Belmontes, a military Veteran, was in the Airborne Infantry for 13 years. Toward the end of his military career, he worked in an office, and it was, in his own words, the worst year of his life.
He was looking for a different purpose, a way to continue serving, so he enrolled in the Electro-Mechanical Technologies program at The Refrigeration School, Inc. During this 9-month hands-on training program, he learned the fundamentals of HVAC/R, electrical, and solar. After graduating, Adrian accepted a job at Cool Runnings International, Inc., a company that specializes in international refrigeration installation and cold storage solutions. He works there as a junior technician.
He especially values his relationships with his coworkers—he's forged relationships with them similar to how he forged relationships in the Army.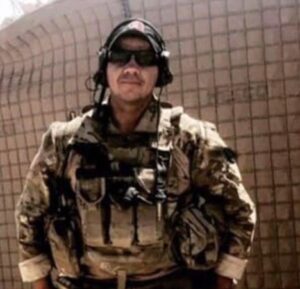 Upcoming Events
RSI's National Open House
Wednesday, January 4th, 3:00 pm – 7:00 pm. Saturday,
January 7th, 9:00 am – 1:00 pm.
Location: 4210 East Washington Street Phoenix, AZ, 85034. Near Sky Harbor airport – just off 44th street and Washington – right across from Washington St. Valley Metro Rail. RSVP now!